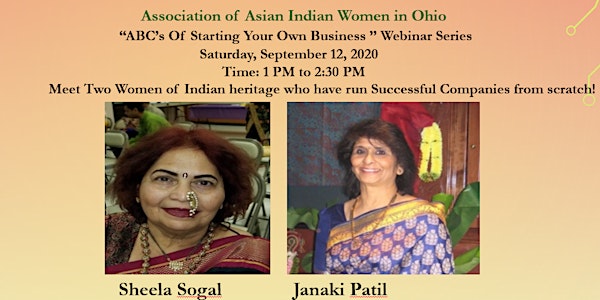 "ABC's of Starting Your Own Business " Webinar Series
This is a Webinar event focusing on Indian origin women entrepreneurs who have built non-traditional businesses from scratch.
About this event
Association of Asian Indian Women in Ohio (AAIWO) presents the first of the series of Business Seminars focused on female business owners who will speak about their career journey and share more about their experiences and key learnings for starting a business venture.
Sheela Sogal
Founder of Saffron Patch Restaurant in Cleveland. Started a home-based catering business and expanded to a successful restaurant creatingjobs for hundreds of Clevelanders.
Janaki Patil
Went from being a homemaker to a self-made Millionaire through Café ownership in office Buildings in Atlanta, GA.
This is a free event and open to participants of all age groups and will streamed live on Zoom.