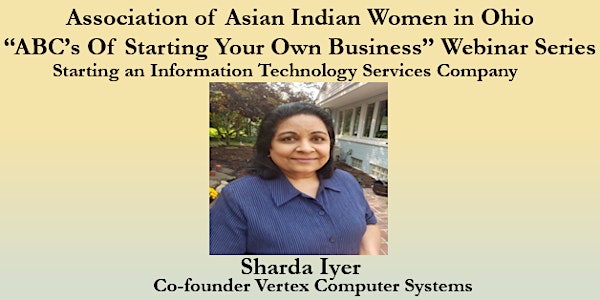 "ABC's of Starting Your Own Business" Webinar Series October
This is a Webinar series event focusing on Indian origin women entrepreneurs who have built non-traditional businesses from scratch.
About this event
Association of Asian Indian Women in Ohio (AAIWO) presents the second of the series of Business Seminars focused on female business owners who will speak about their career journey and share more about their experiences and key learnings for starting a business venture.
Sharda Iyer
Sharda Iyer is the co-founder of Vertex Computer Systems which is an organization that provides information technology services to Fortune 500 companies. Sharda immigrated to USA with her family at an early age. She holds a bachelor's degree in Electrical Engineering from Cleveland State University and a master's degree in Computer Science from Stevens Institute of Technology, NJ. Sharda and her husband, Ganesh, co-founded Vertex in 1989 and bootstrapped on savings to get the business off the ground. Sharda and Ganesh built the company while weathering the growing pains and the many stresses and burdens of rapidly changing technology and marketplace. Vertex currently has sales and software development offices in Cleveland, Cincinnati, Boston, and Hyderabad, India, and employs 200 dedicated and highly qualified individuals in its various locations .
This webinar event is open to attendees of all age groups.
We look forward to your participation in our event.