Description
The Association of Black Cardiologists, Jesse McGee, MD and Wilma McGee, RN welcome you to Cardiovascular Prevention and Wellness: A Community Leaders' Call To Action Forum.
We encourage community-wide participation in heart disease prevention, education, detection and lifestyle changes that can improve the cardiovascular health status of all communities such as Memphis.
This exclusive and complimentary forum is designed to galvanize and educate influential leaders around trends impacting the health status of their community including access to healthcare, diversity in clinical trials, advances in cardiovascular diagnosis, treatment, and management as well as strategies to improve the quality of life in our communities. A complimentary dinner reception will proceed the forum from 6:00p-7:00pm.
We welcome your presence. Kindly RSVP by October 27, 2017
For more information contact: 800-753-9222 | admin@abcardio.org
This invitation is transferrable
This event is supported by AMGEN, Allergen Foundation, Novartis, and Kroc Memphis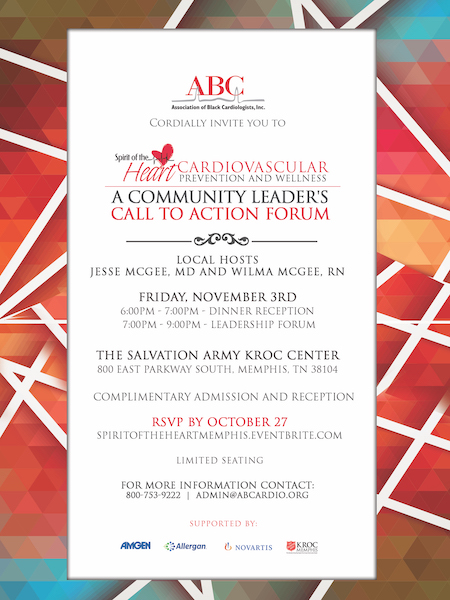 .