Abby Smith Rumsey at The Interval: How Digital Memory Is Shaping Our Future

Tuesday, March 29, 2016 from 6:30 PM to 8:30 PM (PDT)
Event Details
The Long Now Foundation welcomes
Abby Smith Rumsey
(historian, media expert, author)

"How Digital Memory Is Shaping Our Future"
@ The Interval at Long Now: check-in begins at 6:30; talk will start at 7:30 
Stay afterwards for drinks and conversation with our speaker
Abby's book When We Are No More will be on sale and she will sign it after the talk

Memory is not about the past, it is about the future. Historian and media expert Abby Smith Rumsey explores how digital memory, which cannot be preserved, will shape the future of knowledge and affect our survival.

Memory technologies from papyrus to print have given humans a unique survival advantage: allowing us to accumulate knowledge. These technologies shape our perception of history, time, and personal and cultural identity.

The capacity of our brains to remember lags far behind our capacity to generate information. Digital technology gives us an abundance of information, but creates a scarcity of attention that makes it hard for us to grasp what is important before it slips away. Unless we learn how to preserve memory in the digital age, we risk losing the traces of the past that are vital for building a future true to our commitment to democratic access to information.

What Oliver Sacks did for the physical mind, Abby Smith Rumsey is doing for our evolving digital mind—making the history and complexity of our collective memory vital to everyone.
— Brewster Kahle, Founder of the Internet Archive

Long Now members can access a free livestream of this event online. The Studio of Edward Burtynsky is sponsoring The Interval's live audio stream in 02016. Mercury Films and Studio Burtynsky's forthcoming project Anthropocene (02017) looks at how civilization has re-engineered the world in ways that will persist into geological time. Their support enables us to stream these events for our members all over the world.
Become a member for access to live audio streams of our Seminars and Interval events.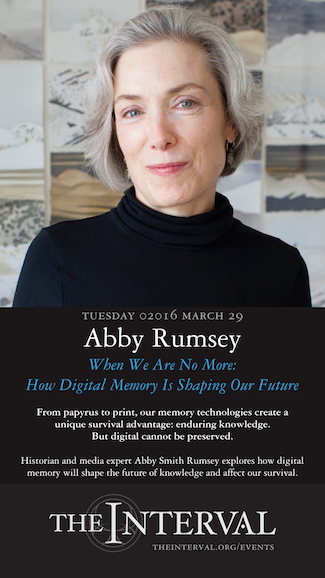 Abby Smith Rumsey is a historian who writes about how ideas and information technologies shape perceptions of history, of time, and of personal and cultural identity. She served as director of the Scholarly Communication Institute at the University of Virginia, and worked for more than a decade at the Library of Congress.
She has worked with former Soviet bloc governments and organizations directing programs to open up access to their libraries and archives. Rumsey has consulted on digital collecting and curation, intellectual property issues, and the economics of digital information for a variety of universities and the National Science Foundation.

Abby Smith Rumsey holds MA and PhD degrees in history from Harvard University where she specialized in Early Modern Russia and intellectual history. She has been a Fulbright Fellow and taught at Harvard and Johns Hopkins Universities. She lives in San Francisco.

"Rumsey takes us on a lucid and deeply thought-provoking journey into what makes the human species unique--the capacity to create external memory. This book will change how you think about our collective store of knowledge, and its future."
–Paul Saffo, Stanford University / Long Now Board of Directors
Join us for a compelling consideration of how our memories will reach into the future.
Long Now members hear about Interval events first: become a member today
When & Where

The Interval at Long Now
Fort Mason Center
2 Marina Blvd
San Francisco, CA 94123


Tuesday, March 29, 2016 from 6:30 PM to 8:30 PM (PDT)
Add to my calendar
Abby Smith Rumsey at The Interval: How Digital Memory Is Shaping Our Future