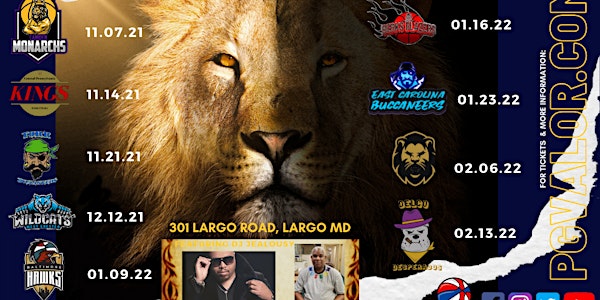 ABA Pro Basketball Team PG Valor's Season 5 November 2021-March 2022 Games
PG Valor Season 5 starts November 7, 2021! Be sure to get your tickets in advance. As of 11/21/21 PG Valor will be CASHLESS!
When and where
Location
301 Largo Rd 301 Largo Road Largo, MD 20774
Refund Policy
Refunds up to 7 days before event
About this event
Please visit our website to see the special theme for each night!
FAMILY FRIENDLY SPORTS ENVIRONMENT!
Games-Prizes-Contest-Fun-Music-Entertainment
Music by: DJ Jealousy (WPGC)
PA Announcer: Stacey Robinson (Dunbar Legend)
Halftime events!
A ticket is required for all adults and youth age 4 and older. Holder of this ticket voluntarily assumes all risks and danger incidental to any event for which this ticket is issued and waives all claims against the event sponsor, the owner of the facility, the ticket producer or issuer. Admission is subject to compliance with all laws and facility rules and the ticket holder consents to reasonable examinations and searches to ensure compliance. No backpacks allowed except by home and away players and staff participating in today's game. No re-entry.
No loitering at the entrance or parking lot, Failure to comply with the law or facility rules may result in refusal of admission or expulsion. No unauthorized recording of event. Ticket holder must adhere to and follow any and all health and safety guidelines and restrictions, which can include but not be limited to wearing an approved face covering and social distancing. failure to comply will result in ticket holder having to leave the venue and event and no refunds or rescheduling will be given.
About the team: PG Valor is an American Basketball Association (ABA) team in Prince George's County, Maryland. In addition to competing in the ABA from November through March for regular season games and from March through April for playoff and championship games, PG Valor competes in charity games against other professional and local teams. At the end of its first season (2016-2017), PG Valor was ranked No. 2 in its conference. PG Valor was ranked No. 1 in its conference and the 2018 Chesapeake Division Champion in its second season (2017-2018). Since then, one former player has been invited to Las Vegas for the Ice Cube Big 3 (3-3 league) fourteen PG Valor players have received contracts to play overseas; one player was called up to the G-League; and one player participated in the 2018 ABA All-Star game. Recently, three players have been selected for the 2018 ABA Gold. In 2019 a PG Valor player was selected to participate in the ABA All star game and PG Valor ended season 3 in the second round of playoffs. Community Partnerships are also available for non profits and other members of the DMV Community. This is in addition to sponsorship opportunities for local, national and international businesses. PG Valor is minority and woman owned by LaDonna M. Smith, from Fairmount Heights, Maryland.
About the ABA: The ABA is a men's professional basketball league. The original ABA was formed in 1967. In 1976, four ABA franchises merged into the NBA: the Indiana Pacers, Denver Nuggets, New Jersey Nets and San Antonio Spurs. The lead attorney for the ABA during the merger was Dick Tinkham, who was a co-founder of the Indiana Pacers and the commissioner of the ABA. Opposing counsel was David Stern, who later became the commissioner of the NBA. In partnership with the NBA, the ABA was reformed in 2000.
Today, the ABA has over 100 teams and 1,500 players who are former NBA players, Division 1 and 2 NCAA players, McDonald's All-Americans, and international players. The ABA has introduced the ABA Gold, a new league that showcases the ABA's best players.