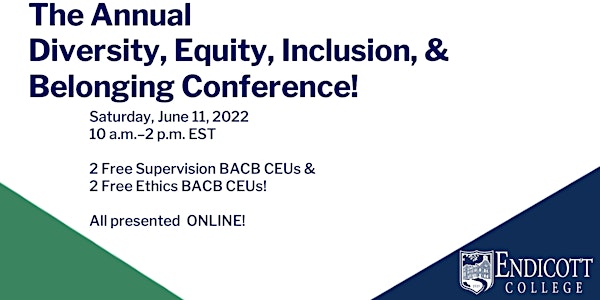 ABA Department DEIB Annual Conference
An online conference hosted by The Institute for Behavioral Studies at Endicott College's DEIB Task Force for professionals and students.
About this event
Zoom link to join conference:
https://endicott.zoom.us/j/95458930998?pwd=T2g4ZnV0SmhPcmNJSGpqRmNmeTdwZz09
Offered Live-Entirely Online! Please register for your spot. Details will be emailed to all participants.
The Annual DEIB Conference
BCBA professionals and students of behavior analysis are invited to a FREE conference that will provide information about increasing DEIB across behavior analytic practice, supervision, training, and education.
2022 Keynote Speaker
Advancing Humble Behavior and Cultural Humility in ABA (1 BACB Ethics CEU)
Nasiah Cirincione-Ulezi, Ed.D., BCBA
How the Supervision Process can Propel the Next Generation of DEI Minded Analysts (1 BACB Supervision CEU)
Pierre Lewis, BCBA
Where is the love? Evaluating the Ethical Considerations and Equity in ABA Service Delivery (1 BACB Ethics CEU)
Shawn Thomas Capell, MS., BCBA, LBA
Panel: The Culturally Responsive Supervision Self-Assessment Tool: Integrating Cultural Responsiveness into BCBA Supervision (1 BACB Supervision CEU)
Ksenia Gatzunis, Ph.D., BCBA-D; Kim Edwards, M. Ed.; Adriana Rodriguez Diaz, BCBA; Brian Conners, Ph.D., BCBA; Mary Jane Weiss, Ph.D., BCBA-D