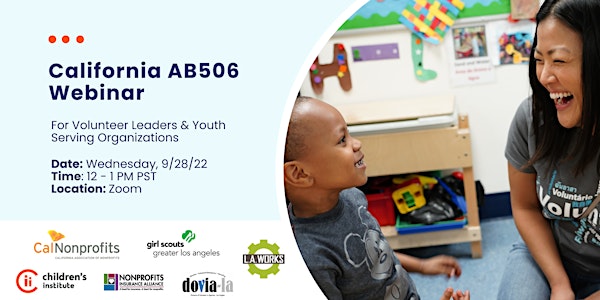 AB506 Webinar for Volunteer Leaders & Youth Serving Organizations
What Does AB 506 Mean for Your Youth-Serving Nonprofit?
About this event
Last year the legislature passed Assembly Bill 506, which changed some background check (and other) requirements for youth service organizations, particularly with regard to their volunteers. It also allows insurance companies to assess compliance. But much of this new legislation and its rollout left many in the sector unclear about how to proceed, and whether it applies to their organization or not.
Do you know what AB 506 means for your organization?
Join us for a discussion about new mandated reporter training requirements and other implications of this bill. In this one-hour webinar we will:
Explore the basics of AB506, with Kristen Anderson, Esq, the Law Firm for Nonprofits
Hear the insurance perspective, from Fred Harrington, Ph.D, Nonprofit Insurance Alliance
Examine the realities of implementation through a case study presented by Theresa Edy Kiene, Girl Scouts of Greater Los Angeles
Learn more about adjustment efforts, including comments from Assemblymember Azrin Nazarian, 46th District
Discuss together what more we need to do to comply
Audience:
Volunteer administrators, Risk Staff, HR, ED's
Open to all
Impacted: Youth-serving, Churches, Onboarding Youth Volunteers
Hosted by:
CalNonprofits
Children's Institute
DOVIA-LA
Girl Scouts of Los Angeles
L.A. Works
Nonprofits Insurance Alliance