AAUW California 2020 Convention: Remembering the Past, Rockin' the Future

Friday, April 17, 2020 at 10:00 AM

-

Sunday, April 19, 2020 at 1:30 PM (PDT)
Event Details
AAUW CALIFORNIA Remembering the Past, Rockin' the Future 2020


Convention Overview
Friday - April 17 (Remembering the Past)
8:00 AM – 6:00 PM Registration
FROM
TO
ACTIVITY

8:00 AM

 –    

6:00 PM

Registration

10:00 AM

 –  12:00 PM

Leadership Brunch and Program

1:00 PM

 –    2:30 PM

Remembering the Past Plenary

3:00 PM

 –    5:00 PM

Film: "I Stand Corrected"

5:15 PM

 –    6:00 PM

No-Host Reception, Meet the Candidates

6:00 PM

 –    7:30 PM

Dinner

7:30 PM

 –    9:30 PM

Annual Business Meeting

 

 

Branch Recognitions

 

 

Grant Awards

 

 

Address by Aileen Rizo
---
Saturday - April 18 (Rockin' the Future)
7:00 AM - 5:00 PM Registration
FROM
TO
ACTIVITY

7:00 AM

  –   

5:00 PM

Registration

8:00 AM

  –   6:00 PM

Marketplace and Branch Brag

7:30 AM

  –   8:30 AM

Breakfast Buffet

9:00 AM

  – 10:00 AM

Days for Girls

10:15 AM

  –  11:45 AM

Workshops Session A

12:00 PM

  –   2:00 PM

Speech Trek Luncheon

2:15 PM

  –   2:30 PM

AAUW Work Smart Overview

2:30 PM

  –   3:30 PM

Town Hall with National Board Members & Staff

3:45 PM

  –   4:45 PM

Guided Conversations with AAUW California Board

5:30 PM

  –   7:00 PM

No-Host Reception

6:00 PM

  –   6:45 PM

Legacy Circle and Mooneen Lecee Giving Circles              (by invitiation)

7:00 PM

  – 10:00 PM

AAUW Fund Gala Dinner
---
Sunday - April 19 (Rockin' the Future)
7:30 AM - 10:00 AM Registration 
| | | |
| --- | --- | --- |
| FROM | TO | ACTIVITY |
| 7:30 AM |   – 10:00 AM | Registration |
| 7:30 AM |   –   8:30 AM | Breakfast Buffet |
| 8:30 AM |   – 10:00 AM | Public Policy Plenary |
| 10:15 AM |   – 11:45 AM | Workshops Session B |
| 12:00 PM |   –   1:00 PM | Public Policy Luncheon |
| 1:00 PM |   –   1:30 PM | Public Policy Keynote Address |
|  1:30 PM |   | Convention Ends |
Convention Ends
---
Workshop Abstracts
Saturday
A1. Cultural Diversity, Education and Dignity: Women Globally. We live in a society consisting of various ethnic groups. Therefore, understanding each other is very important in order to facilitate collaboration and cooperation. A panel of speakers of different ethnicities will speak about the importance and positive outcomes of cultural diversity. Presented by Indrani Chatterjee, Chair, International Advocacy Committee.
 A2. A Roadmap for Branch Financial Management: All Your Questions Answered. In this workshop, a panel of peers and experts will show ways of making a branch finance officer's job easier. Using examples from branches, issues of budgeting, accounting, reviews, taxes, membership dues and fundraising will be covered. It is a very important area, as inability to recruit a treasurer or handle finances adequately can lead to branch closure. Presented by Roli Wendorf, Chief Financial Officer, AAUW California.
A3. Diversity and Inclusion: Sexual Orientation and Gender Identify. Approximately 10 million adults identify as lesbian, gay, bisexual, or transgender (LGBT). Inclusion of SOGI questions on official surveys is crucial to identify the demography and disparities in populations.What is SOGI? Come learn the answer and all the myriad complexities involved with sexual orientation and gender identity. Presented by Ellyn Bloomfield, RCFE, LGBTQ Senior Peer Counseling Coordinator, Peninsula Family Service.
 A4. How to Effect Real Change: A Guide to GOTV (Get Out the Vote) and Legislative Visits. Learn about connecting with legislators about AAUW priorities during this important election year. See how to maintain ongoing communication and benefit from hearing the successful experience of one AAUW California branch. Receive specific guidelines that govern permissible activities carried out in the name of AAUW, and how to develop messaging based on AAUW California public policy priorities. Learn about preparing voter guides, holding candidate forums, get-out-the-vote techniques, and collaborating with other groups in coalitions. Presented by Sue Miller, AAUW California Co-Chair, Public Policy Committee and Susan Karlins, San Jose Public Policy.
 A5. Keeping in Touch with your Tech Trekkers and Local Scholarship Winners – and Why You Should. Very experienced Tech Trek staff and active branch members will share successful ways to track down your former campers and local scholarship winners. Learn why this is significant for the branch and for the young women whose lives we have changed. Presented by Carol Holzgrafe, AAUW California Director.
 A6. The New and the Tried and True. Join the AAUW California Fund Committee and our panel of experts to learn what is "new" and what is happening with our "tried and true" Fellowships & Grants program. Branch AAUW Fund VP's will learn about new programs made possible with the Greatest Needs Fund along with valuable information and tools. Presented by Dianne Owens, President-Elect, Chair, AAUW California Fund Committee.
---
 Sunday
B1 Risk Management and ADA – Not Your BFF! ADA is not the name of your new AAUW Best Friend Forever! It's the acronym for the Americans with Disabilities Act and an important set of state and national laws that are critical for AAUW members to understand when hosting meetings, events or activities in public or private venues. Presented by Susan Negrete, AAUW California State Co-Coordinator Tech Trek Program.
B2 Understanding Diversity and Unconscious Bias. For effective external outreach to grow membership and diversity and inclusion (D&I) in membership, we must have a better understanding of diversity, including how issues surrounding unconscious bias can impact our organization's composition. This workshop provides attendees with a personal understanding of these issues, to make membership outreach more sustainable. Presented by AAUW California Diversity Committee.
B3 Beyond the Newsletter! How to Promote Your Branch Events. "Oh, I didn't know about that." How many times have you heard that comment? How can you get the word out? We'll explore an arsenal of publicity tools to promote branch events to your members and to the public. Get ready to learn step by step how to use familiar instruments like press releases, Facebook, Evite, and Eventbrite along with some exotic ideas like a Branch Buzz, robocalls, Nextdoor, LinkedIn, Twitter, Instagram and even the U.S. Postal Service. You know the old adage: "Throw enough mud at the wall and some of it will stick." Attend this workshop to get some throwing skills. Presented by Sandi Gabe, AAUW California Director, and members of the Communications Committee.
B4 Impact Future Members on Campus. Attendees will be updated on Work Smart and Start Smart presentations, including how you can get involved. Become acquainted with successful campus recruitment ideas and the benefits to student leaders to create an AAUW student organization or club on a campus. You will be enlightened by a National Conference for College Women Student Leaders (NCCWSL) student who will share her experiences and the importance of sending students to this conference. Presented by Donna Lilly, AAUW California Past President, Chair, State College/University Committee and Lee Winocur Field, State C/U Committee Member.
B5 "Gov Trek" How to Rock the Next Generation. Sometimes it's tempting to wonder why we still need an organization like AAUW in the year 2020. Why are we still fighting for gender equity? Why are we still fighting for social justice for women and girls? One branch thinks the answer may be that we don't have enough women in positions of power, and they have developed an innovative program to attempt a solution. This workshop will introduce you to GovTrek, a program designed to encourage high school junior and senior girls to consider a career in politics and to pursue a related course of study in college. The presenter will take participants step-by-step through the development and implementation of the program, as well as lessons learned. Join us and learn how to "rock the next generation." Presented by Kathi Harper, AAUW California Director, Co-Chair, Public Policy Committee.
B6 Engagement Promotes Action and Membership Growth. How do we as AAUW leaders support engagement of members and potential members? It is easy to think that we do this, but how successful are we at true engagement that results in action? The AAUW strategic plan calls for moving beyond aspirations. Engagement in branch projects helps us to do that. When we are engaged in a project that supports our mission, there is purpose and commitment with a reason to belong.   In talking with prospective members, mission-based engagement and commitment are important in their decision to join. Actions are critical to our success and engagement of members and prospective members is the key. Presented by Elaine Johnson, AAUW California Director, Chair, Leadership Committee.
---
Frequently Asked Questions
Can I register now and mail in a check?
Yes. Click on "show other payment options" under the big green "Order Now" button, then click the grey "Pay Offline" button. 
---
How can I make a reservation at the Westin San Francisco Airport?
RESERVATION CUT OFF: MARCH 20, 2020 No Exceptions. Don't wait to book as rooms at this reduced rate. Rooms may run out.
 Westin San Francisco Airport
1 Old Bayshore Highway
Millbrae, CA 94030
Westin RSVP 1-888-627-8404 or
Hotel Direct Line 1-650-692-3500

Other details
$186.76

(tax included) single/double

$15 reduced overnight parking fee

Complimentary roundtrip San Francisco Airport shuttle

Complimentary Wi-Fi in guest rooms

Double

Marriott Bonvoy points
Identify yourself as part of the AAUW California Convention 2020 group to receive the group rate.
---
What are my transport/parking options getting to the event?
How to Get There
Directions to the Hotel:
From the North: From 101 South, take Millbrae Avenue, Exit 420. Turn left onto Millbrae Avenue and then a right on Old Bayshore Hwy. Take first right into hotel lot.
From the South: From 101 North, take Millbrae Avenue, Exit 421. Turn right onto Millbrae Avenue and then right onto Old Bayshore Hwy. Take first right into hotel lot.
---
Is my registration/ticket transferrable?
If you are unable to attend and would like to offer your reservation to someone else, please contact the AAUW California office at office@aauw-ca.org to update the registration with the new attendees' information. 
---
What is the refund process?
Please note: No convention refunds will be processed after April 3, 2020.  All refund requests must be made in writing, sent to the AAUW California State Office and postmarked no later than April 3, 2020 or sent via email to office@aauw-ca.org.  All cancellations are subject to a $50.00 cancellation fee.
---
How can I contact the organizer with any questions?
Please contact the AAUW California Office at office@aauw-ca.org 916-692-5125 for questions.
---
Do I have to bring my printed ticket to the event?
You do not have to bring your printed ticket with you.  Information regarding your reservation will be on file and available at convention check in.  
---
Can I update my registration information?
Yes, you can.  Please contact the AAUW California office at office@aauw-ca.org or 916-692-5125 with any changes to your registration information.
---
Is my registration fee or ticket transferrable?
You can transfer your registration to another person.  However, to avoid confusion and mis-information, please notify AAUW California with the name(s) of the person who will assume your ticket.
---
Is it ok if the name on my ticket or registration doesn't match the person who attends?
Make sure to notify AAUW California at office@aauw-ca.org or 916-692-5125 if you need to change the name on the ticket.  Name badges are prepared in advance for the convention, so it is important we provide the correct information on the Name Badge.
---
If I am a convention volunteer, what do I need to know?
Convention volunteers workshop presenters need to register for the package and meals they wish to attend. Upon verification by the Local Arrangements Coordinator of having volunteered for 5 hours, AAUW California will refund $75.00 from your registration costs for Package A, Package B, Package C, Package D or Package E, after the Convention.
Have questions about AAUW California 2020 Convention: Remembering the Past, Rockin' the Future?
Contact AAUW California
Save This Event
When & Where

Westin San Francisco Airport
1 Old Bayshore Hwy
Millbrae, CA 94030


Friday, April 17, 2020 at 10:00 AM

-

Sunday, April 19, 2020 at 1:30 PM (PDT)
Add to my calendar
Organizer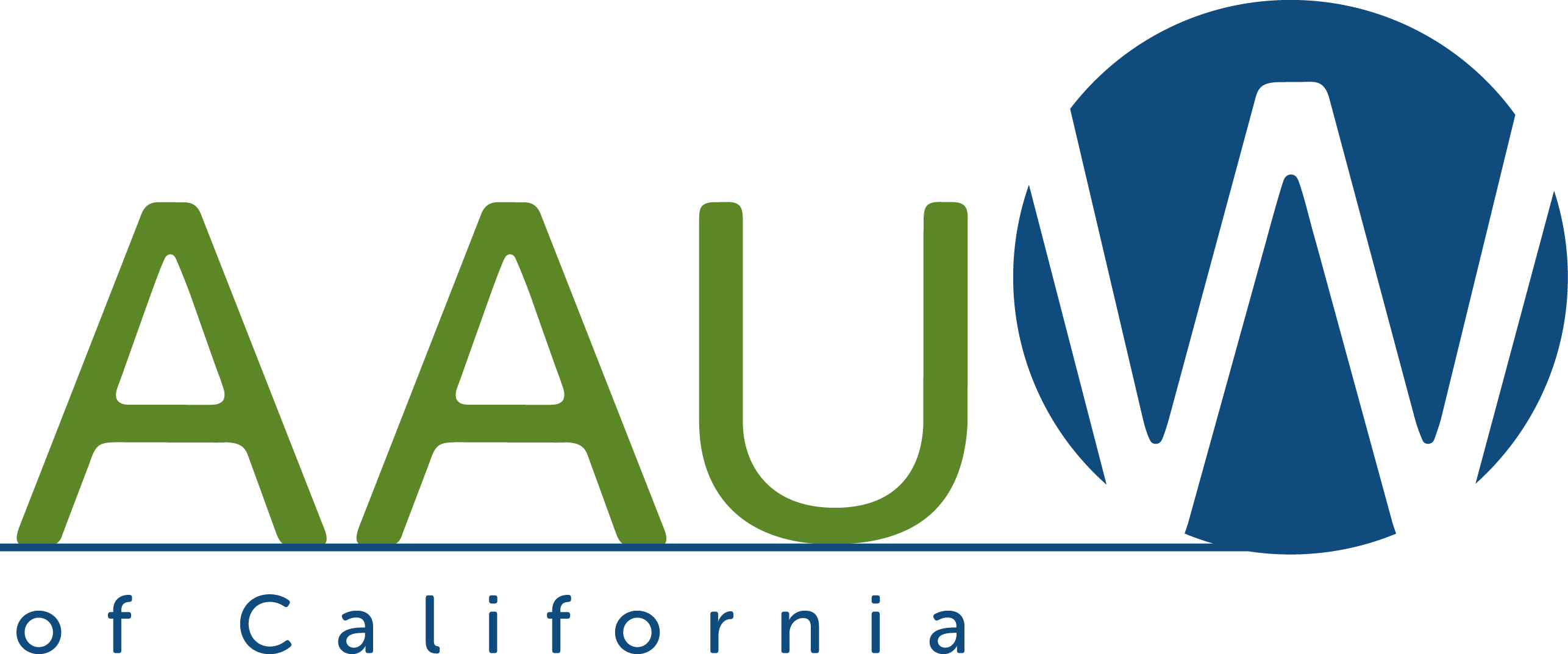 AAUW California Mission:
AAUW California facilitates California branches in meeting the vision and mission of AAUW by providing programs, education, and resources.
AAUW California:
*   Was organized in 1921
*   Was incorporated in 1956
*   Has 123 branches
*   Has 11,559 members
The American Association of University Women (AAUW), founded in 1881, is the nation's leading organization advocating equity for women and girls. Our national membership of 170,000 members and supporters seek to advance gender equity for women and girls through advocacy, education and research. People of every race,
creed, age, gender, sexual orientation, national origin, and level of physical ability are invited to join.

AAUW California began when the San Francisco branch was established in 1884. By 1921, with thirteen active branches in the state, branch leaders saw a need for a statewide organization. The constitution for AAUW California was approved in October 1921.

The American Association of University Women (AAUW) advances equity for women and girls through advocacy, education and research. In principle and in practice, AAUW values and seeks a diverse membership. There shall be no barrier to full participation in this organization on the basis of gender, race, creed, age, sexual orientation, national origin, disability, or class.