AARP Social Connections Pitch Day
About this event
Watch live as innovators pitch their Social Connections Innovations! The Judges will deliberate and decide who is most deserving of the coveted Grand Prize.
For this pitch day, HITLAB and AARP iLabs have challenged innovators to build solutions for an aging population.
Although people want to enjoy their longer lifespan and live fulfilling satisfying lives, society and the marketplace have not created sufficient opportunities for the 50-plus to build and maintain social connections and engage with their communities and the broader world.
Seven finalists will be selected to pitch to a panel of judges on July 15 for their chance to win runner-up prizes of $5,000 and $10,0000 HITLAB sponsorships. The grand prize winner will have the opportunity to compete in AARP Innovation Labs' 2021 Grand Pitch Finale and consideration to become a member of AARP's startup portfolio.
Tune in on July 15, 2021 at 4pm EST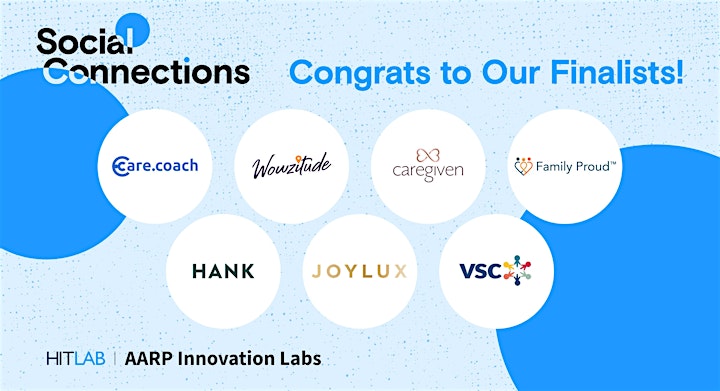 Finalists
Care. Coach (Millbrae, California)- Care.Coach is a tech company that supports individuals in the home to improve healthcare delivery by using digital avatars powered by artificial intelligence enables relationships, coaches risk-mitigation, and behaviors to help coordinate care.
Caregiven (Portland, Oregon)- Caregiven is a digital platform that empowers and guides caregivers to help with the challenges and responsibilities that come with caring for individuals.
Family Proud (San Diego, CA)- Family Proud is an easy and secure management tool that provides resources, care, and allows other caregiver members to connect to individuals who are also caring for their family members.
Hank (New York, New York) - Hank simplifies healthcare delivery for caregivers and enables them to view, manage, and automate tasks and responsibilities for their loved ones as they age.
Joylux (Seattle, Washington)- Joylux focuses on providing better health outcomes for women who are going through menopause using high tech devices and digital tools.
SelfHelp (New York, New York)- SelfHelp Virtual Senior Center (VSC) is a virtual center for homebound older adults. Operating 7 days a week, live classes take place year-round online to connect older adults and form a vibrant online community.
Wowzitude (Woodcliff, New Jersey) - Wowzitude is a virtual tour and travel program with 50+ destinations that allows the older population to connect and engage in conversations within their communities.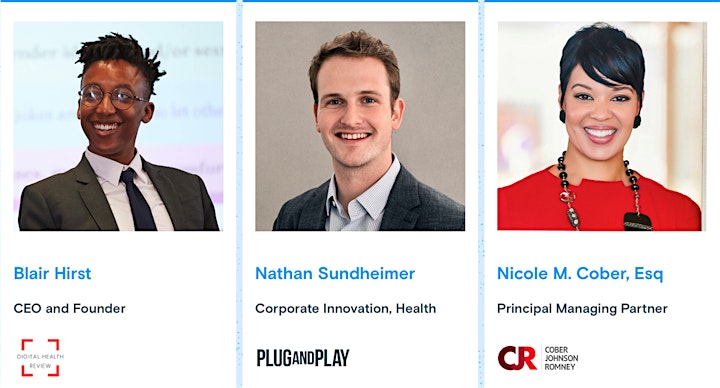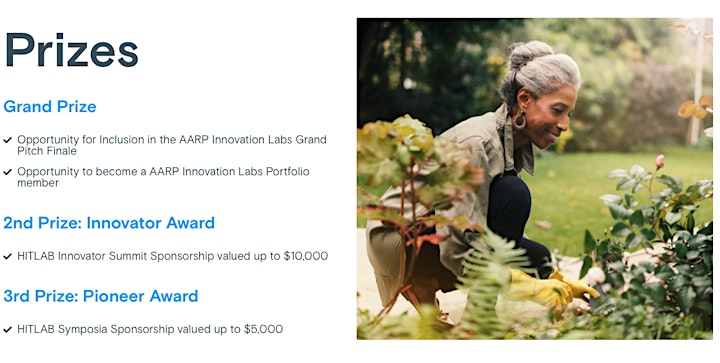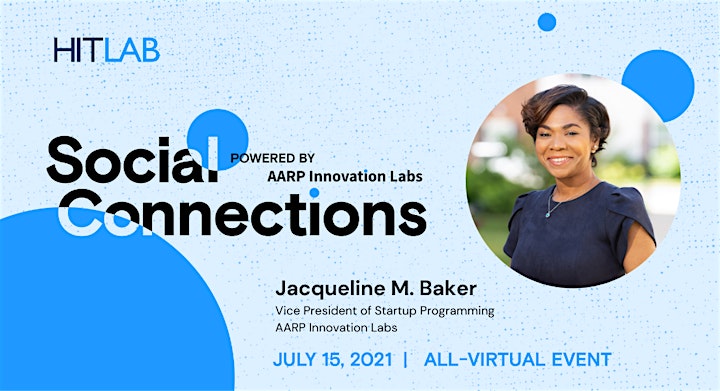 Jacqueline M. Baker
Vice President of Startup Programming
AARP Innovation Labs
Jacqueline M. Baker is Vice President of Startup Programming at AARP Innovation Labs, where she is responsible for accelerating the AARP innovation ecosystem by discovering some of the best, brightest and most disruptive startups across the world. She is also responsible for curating programming and experiences for both startups and organizations to influence, shape and co-create products and services that empower people to choose how they live as they age. In previous roles within AARP, Jacqueline managed the national tradeshow presence of AARP TEK, the flagship technology education programmed designed for the 50+ as well as previously managing the executive office of Innovation and Product Development. In addition to her role at AARP, Jacqueline is an etiquette expert and leadership trainer. She is author of the book, Leader by Mistake and she trains individuals and organizations to develop and refine important leadership and modern etiquette skills that increase confidence and provide a competitive advantage. Her work has been recognized by numerous publications and media outlets, including, NBC, CBS, Essence Magazine, The Michigan Chronicle – 40 Under 40 and McDonalds – Women Who Lead. Jacqueline holds two degrees from Wayne State University—a Bachelor of Arts in Public Relations and Master of Education in Instructional Technology with specializations in Interactive Technologies and Performance Improvement.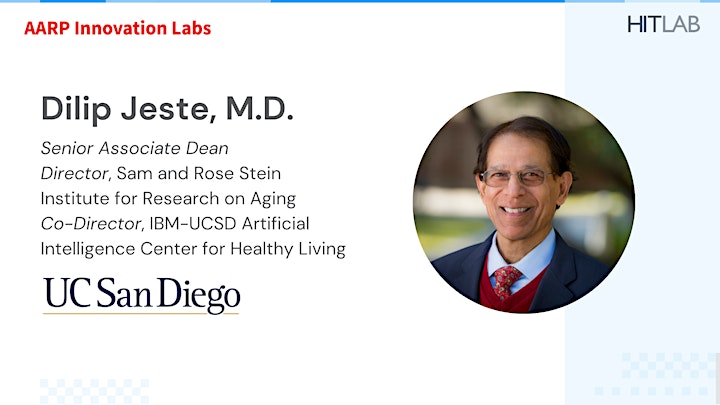 Dilip V. Jeste, M.D.
Senior Associate Dean for Healthy Aging and Senior Care
Estelle and Edgar Levi Memorial Chair in Aging
Distinguished Professor of Psychiatry and Neurosciences
Director, Sam and Rose Stein Institute for Research on Aging
Co-Director, IBM-UCSD Artificial Intelligence Center for Healthy Living
University of California San Diego
Dilip V. Jeste, M.D. is the Senior Associate Dean for Healthy Aging and Senior Care, Distinguished Professor of Psychiatry and Neurosciences, Estelle and Edgar Levi Memorial Chair in Aging, Director of the Sam and Rose Stein Institute for Research on Aging at UC San Diego, and Co-Director of the UC San Diego-IBM Center on Artificial Intelligence for Healthy Living. He obtained his medical education in Pune, and psychiatry training in Mumbai, India. In the US, he completed psychiatry residency at Cornell, and neurology residency at George Washington University. He was a research fellow, and later, Chief of the Units on Movement Disorders and Dementias at the National Institute of Mental Health (NIMH) before joining UC San Diego. He started a Geriatric Psychiatry program from scratch at UC San Diego; today it is one of the largest Geriatric Psychiatry Divisions in the world.
Dr. Jeste has been Principal Investigator on a number of research and training grants. His main areas of research include schizophrenia, neuropsychiatric interventions, and successful aging. He has published 12 books, 625+ articles in peer-reviewed journals and 140+ invited book chapters. He is Past President of the American Psychiatric Association (APA), American Association for Geriatric Psychiatry, the West Coast College of Biological Psychiatry, and Founding President of International College of Geriatric Psychoneuropharmacology. Dr. Jeste is a member of the Institute of Medicine of the National Academy of Sciences, and was a member of the NIMH Advisory Council and the NIH Council of Councils. He is Past Editor-in-Chief of the American Journal of Geriatric Psychiatry; under his leadership the Journal grew from a modest-impact quarterly to a monthly with the highest Impact Factor among all the Geriatric Psychiatry journals internationally. He is currently Editor-in-Chief of International Psychogeriatrics. He was listed in "The Best Doctors in America" and in the Institute of Scientific Information list of the "world's most cited authors"--comprising fewer than 0.5% percent of all publishing researchers of previous two decades.
Dr. Jeste has received many awards including NIMH's MERIT Award; Commendation for Dedicated Service from the Veterans Affairs; Asian Heritage Award for Excellence in Science, Technology, and Research; and awards from Society of Biological Psychiatry; APA; Institute of Living; American College of International Physicians; National Alliance on Mental Illness; National Alliance for Research in Schizophrenia and Affective Disorders; American College of Psychiatrists; International Psychogeriatric Association; Universities of Pennsylvania, Pittsburgh, Cincinnati, and Maryland, and Cornell. He has also received Honorary Fellowship, the highest honor it bestows, from UK's Royal College of Psychiatrists; and Honorary Professorship from Universidad Peruana Cayetano Heredia, Lima, Peru. He was recently a TEDMED speaker. His work has been cited in the Time, Atlantic, NY Times, Washington Post, Wall Street Journal, London Times, Public Radio International, NPR, and various other national and international media outlets.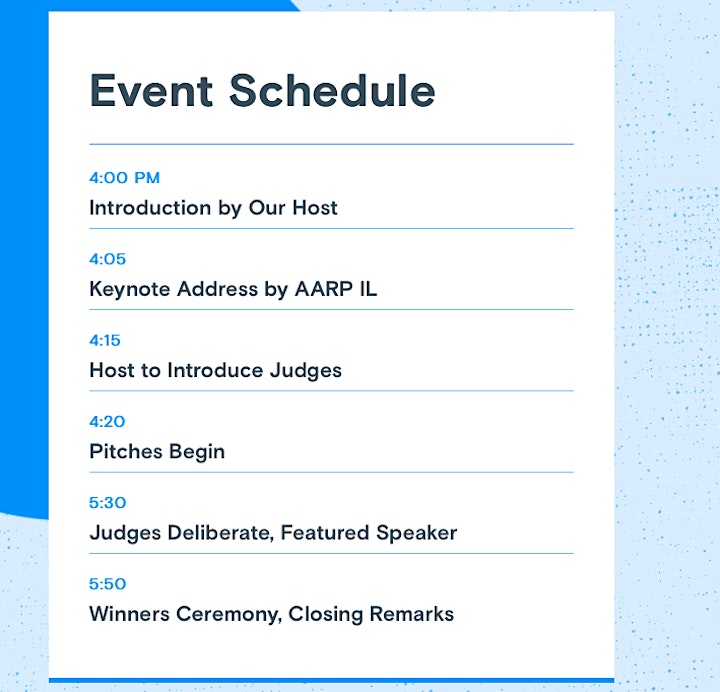 *Media Disclosure
HITLAB reserves the right to use any photograph/video taken at any event sponsored by HITLAB, without the expressed written permission of those included within the photograph/video. HITLAB may use the photograph/video in publications or other media material produced, used or contracted by HITLAB including but not limited to: brochures, invitations, books, newspapers, magazines, television, websites, etc. You are agreeing the media policy upon entering the event; further details are available at the event or at hitlab.org/media-disclosure.