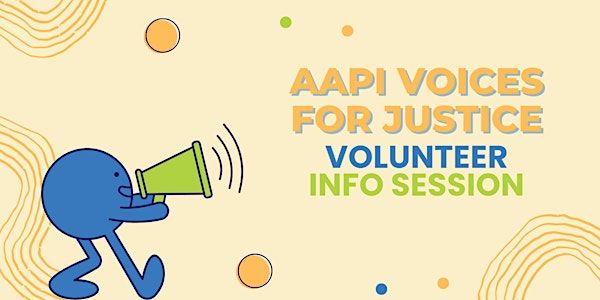 AAPI Voices for Justice Volunteer Info Session
Learn more about your role as a volunteer and our plans for the AAPI Voices for Justice program!
About this event
Asian Law Alliance is excited to announce the launch of our new AAPI Voices for Justice campaign! This campaign is focused on ending anti-AAPI sentiments here in San Jose, CA. The purpose of AAPI Voices for Justice is to provide a voice to our local communities in San Jose and Santa Clara County on their experiences and thoughts. The mission of AAPI Voices for Justice is to end the hate that has fueled numerous attacks on the AAPI community here, in our own backyard.
As part of this exciting program, we are looking to bring on board volunteers to be our eyes and ears in the community, help with content creation, and to be a community advocate by sharing things like education materials and helping with our educational survey!
Asian Law Alliance, established in 1977, is a non-profit organization providing equal access to the justice system for Asian Pacific Islander and low-income populations in the Silicon Valley. Our mission is through providing legal counseling, community education and community organizing, we promote self-sufficiency, self-reliance, and a better quality of life for all.