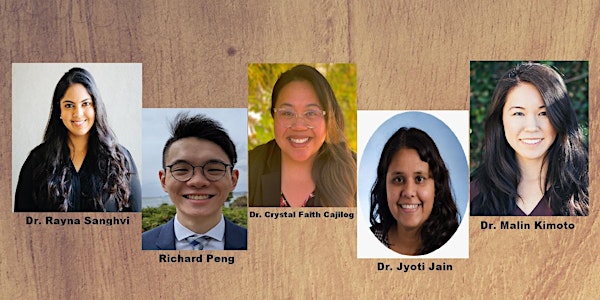 AAPI Mental Health: Taking Care of Ourselves, Loved Ones & Our Community
AAPI Mental Health: Taking Care of Ourselves, Loved Ones & Our Community
About this event
Moderator, Crystal Faith Cajilog ,PsyD is hosting a conversation between mental health providers, Malin Kimoto, PsyD, Richard Peng, ASW, Rayna Sanghvi, PhD, Jyoti Jain, M.D., and our AAPI community. In our discussion we aim to provide education about mental health to our *Asian American Pacific Islander (AAPI) Community.
Join the call:
The past year has been difficult for all of us— many have lost their jobs and financial security, others work longer hours, unable to travel or visit friends and family and many more have lost loved ones to COVID-19. All of these issues take a toll on our bodies and our minds which is why it is important for our community and family leaders, like yourself, to not only acknowledge that mental health exists, but also help someone to may need more assistance.
Sometimes it can be difficult to differentiate when someone is having a bad couple of days or if someone needs more assistance with their mental health.
In this HouseCalls we will discuss:
How to know when you or any loved one in your family and life may need mental health treatment,
How to obtain assistance from the department of psychiatry, and
How to take advantage of the different forms of mental health treatments at Kaiser Permanente East Bay
This is a FREE, virtual interactive event open to the community. We have invited our Asian American Pacific Islander (AAPI) members and their families to listen and participate in the conversation.
*AAPI Community covers communities from Central Asia, Southeast Asia, East Asia, South Asia, Native Hawaii, Native Alaska, the Pacific Islands, the Indigenous people of the United States, and individuals with multiracial identities that include any of the above.
_________________________________________________________________________________________
HouseCalls is a virtual communication tool created to S.E.E.E. our members and create conversation around making healthy lifestyle choices, self- advocacy, and best practices in the prevention of chronic disease.
Support our members and community to take control of their preventive care and chronic conditions​
Explore ​and identify opportunities to improve care​
Encourage dialogue and partnership between members and medical specialists​
Educate ​on how to care for chronic conditions at home
Please view prior events here: http://www.kp.org/eastbay/housecalls
Speaker and Moderator Information
Dr. Crystal Faith Cajilog is a 1st generation Filipino-American Clinical Psychologist at Kaiser Permanente-Richmond where she has practiced in the Work Stress Recovery Program, Wellness Community Treatment Program, and as an Adult Generalist for the past 2 years. She earned her doctorate degree in Clinical Psychology from the Wright Institute in Berkeley, CA. She also earned her undergraduate degree from UC Santa Cruz.
In her 10 years in the mental health field, she has completed research and consultation work that focuses on Filipino-American enculturation and attitudes towards help seeking. Dr. Cajilog practices from a strengths-based, values driven approach and firmly believes that the collaboration of psychological knowledge and an individual's lived experience to provide person-centered care.
Dr. Cajilog favorite phrase "true gold fears no fire" is a Chinese proverb that posits that a person with integrity can withstand severe tests. In her off time, Dr. Cajilog enjoys playing with her dog, Zeke, reading, trying new foods with her partner, and watching funny videos on Tik Tok.
Dr. Jyoti Jain is an Indian American and proud daughter of immigrants from New Delhi and Jaipur. She has been with TPMG since 2014 and is currently working as an Adult Psychiatrist at Kaiser Richmond in the Department of Psychiatry. She completed her residency at CPMC in San Francisco and ate her way through India, Vietnam, Thailand, Lao, Malaysia, Hong Kong, Indonesia and Cambodia while travelling. She is passionate about the destigmatization of mental health within her own community as well as advocating for more access to treatment that is more inclusive and equitable to better provide care for our BIPOC members. In her spare time you can find her walking with her partner Shawn and best friend Manny ( a very handsome Pitbull) around Lake Merritt or find her relishing a yummy meal while outdoor dining in the East Bay!
Dr. Rayna Sanghvi is a South Asian Indian, clinical psychology post-doctoral resident at Kaiser Richmond's Department of Psychiatry. She received a PhD in clinical psychology from Palo Alto University, following her undergraduate degree in psychology from the University of British Columbia in Canada. She identifies as a third culture kid, being of Indian origin and lived in 7 different countries. Rayna's clinical interests are working with adults, increasing access to health care for the underserved, and trauma work. During her time off from work, she enjoys baking, tending to her plant collection, and spending time with family.
Richard Peng is a Taiwanese-American Associate Clinical Social Worker who is completing his year-long fellowship with Kaiser Richmond's Department of Psychiatry and Department of Behavioral Medicine. He received a Master of Social Work from the University of Chicago after his undergraduate degree in Psychobiology from the University of California, Los Angeles. He is passionate about destigmatizing mental health and working with individual and communities of color and in the LGBTQ+ community. He enjoys playing video games, exploring nature and new areas, comparing bubble teas, and recreating trending online food recipes.
Dr. Malin Kimoto is a second generation Japanese American clinical psychologist on the Adult Team at Kaiser Richmond. She was born in Oahu, grew up in Los Angeles, and spent most of her adult life in the Bay Area. She received her undergraduate degree from UC Berkeley (Go Bears!) and her doctorate in psychology from the PGSP- Stanford PsyD Consortium. Malin has been working at Kaiser Richmond since 2016. She has a passion for social justice, learning, and multicultural psychology. In her free time, Malin enjoys traveling, exploring new restaurants, finding the best boba in town, leisure bike rides, and hiking with her partner and dog.
For Teams Live Event Instructions to Log on:
1. Event starts at 5:30 PM.
2. Click on the Teams Live Link below. if you log on before that, the screen will say "The Live Event hasn't started".
Unless you have the Microsoft Teams appt installed, you will experience problems using your mobile phone.
Please use a laptop or desktop to log on.
3. Click on "Watch on the web instead".
4. You will land on "Welcome to the Event!"
5. Click the "Join Anonymously link".
6. Wait for the event to begin.
System Requirements and Supported Platforms
For best experience use the following supported web browsers:
Chrome (last 3 versions)
Edge RS2 and later
Firefox (last 3 versions)
Internet Explorer 11
Safari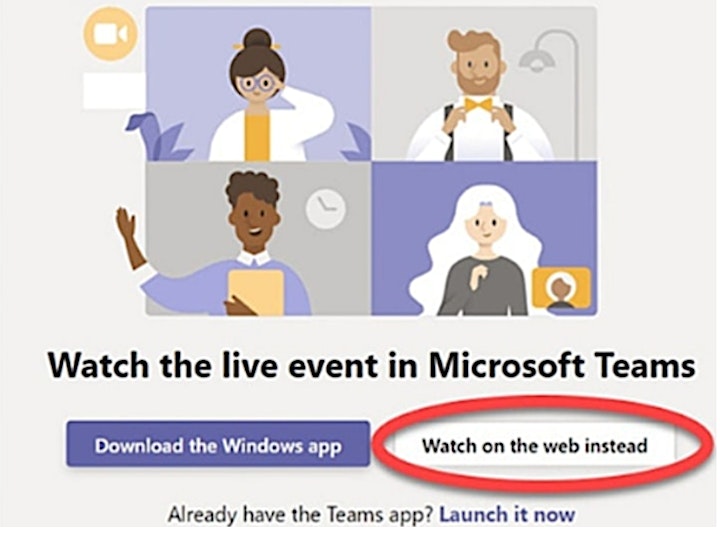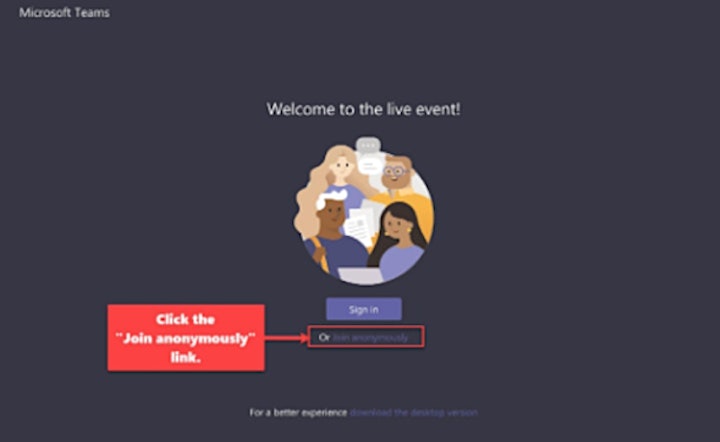 For closed captioning, please click the icon at the bottom right hand corner.