Event Information
Location
Gas Works Park
2101 North Northlake Way
Seattle, WA 98103
United States
A community ride for AAPI identifying people to gather and build support for one another.
About this event
Hi everyone!
After last month's ride, we truly felt like there was a great need for building relationships within the AAPI community, something we all didn't really know it was needed until it happened. I felt so overwhelmed with joy and gratitude to have all of you show up with such short notice to support one another. It is something I want to commit to in this city and am excited to see where this takes us.
Our hope is that a genuine connection will be built and a solid community will evolve in the AAPI bike scene where we can find a safe place for healing, joy and moving forward. I acknowledge that we are all on our own journeys in our racial identity and that there is no judgment nor shame in where we are at. I want people to feel comfortable being vulnerable and know that it's okay to process externally with others that have similar lived experiences.
We probably won't have an RSVP for all future rides but we'd like to gauge a headcount for this first official one, so we can know how to prepare! Especially, if there is enough interest, we'd truly like to expand on what this group can become.
If you have any questions at all, please reach out and we'd be happy to help!
All the best,
Wang, Jim, Steve and Aaron
P.S. Please note that this ride is for AAPI identifying people. While we do greatly appreciate the support from other communities, we'd like to hold this space for each other so we can process together and heal in order to move forward. ❤️
RIDE DETAILS:
We'll meet at Gas Works Park at 3pm on Saturday, May 22nd, 2021. Rollout is at 3:30pm and the route ends at Yesler Terrace Park. The route is ~13 miles with 795+ ft elevation gain. On our way to the park, we will pass by the International District and disperse to pick up take out of your choice to support a local Asian small business restaurant. We'll head up Yesler and meet for dinner and sunset hangs at the park. Make sure to also bring lights and layers for when it gets dark!
Would you like to volunteer as a ride leader?
Please send me an email at: karen@karenkwang.com and we'll get you connected asap!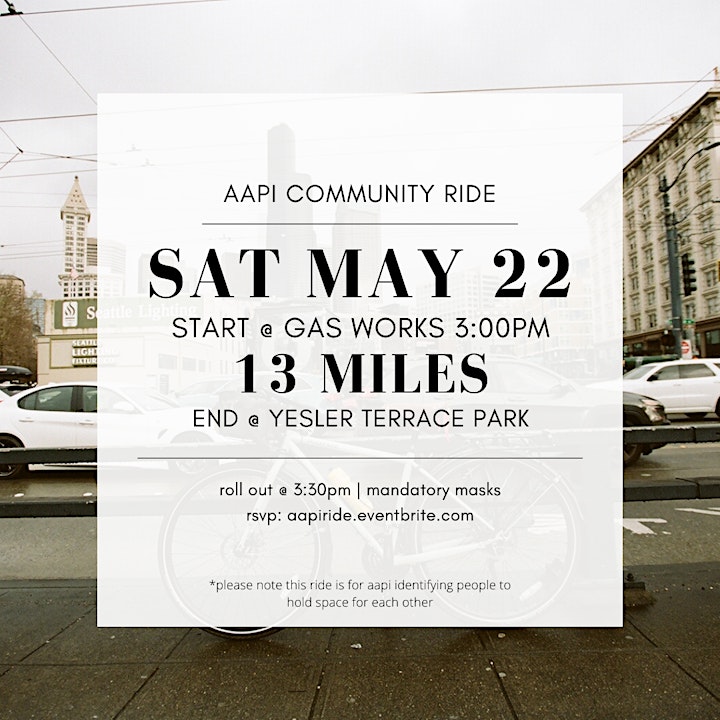 Date and time
Location
Gas Works Park
2101 North Northlake Way
Seattle, WA 98103
United States