About this Event
On September 7, 2019, AAPI Progressive Action, in partnership with Asian Americans Rising Action Fund, will host the AAPI Community Action Summit at the Westin South Coast Plaza in Orange County, CA.
At the AAPI Community Action Summit, leaders and advocates from across the country will gather to showcase our emerging movement, which is based on the belief that we are stronger when we work together with common purpose to serve our communities. Each session will feature new ideas, new capacities and new leaders who are building a movement that celebrates our diversity and binds us all together as Americans.
The AAPI Community Action Summit will be held the day before the first-ever AAPI Democratic Presidential Forum and provide an opportunity for Action Summit participants to observe democratic presidential candidates discuss issues of importance to the AAPI community.
Exciting Hands-On Programming
For advocates, organizers, students, non-profit and community leaders, and political candidates.
Confirmed speakers include: Madihha Ahussain ● Nadia Belkin ● Luisa Blue ● Vivian Chang ● Katie Kalvoda ● Farrah Khan ● Joon I. Kim ● Aisha Yaqoob Mahmood ● Kham Moua ● Bee Nguyen ● Duy Nguyen ● Kimberly B. Nguyen ● Tung Nguyen ● Shareen Punian ● Deepak Puri ● Thu Quac ● Karthick Ramakrishnan ● Melissa Ramoso ● Dilawar Syed ● Amb. Vinai K. Thummalapally ● Tom K. Wong ● Cindy Wu ● Raghu Devaguptapu ● Syd Yang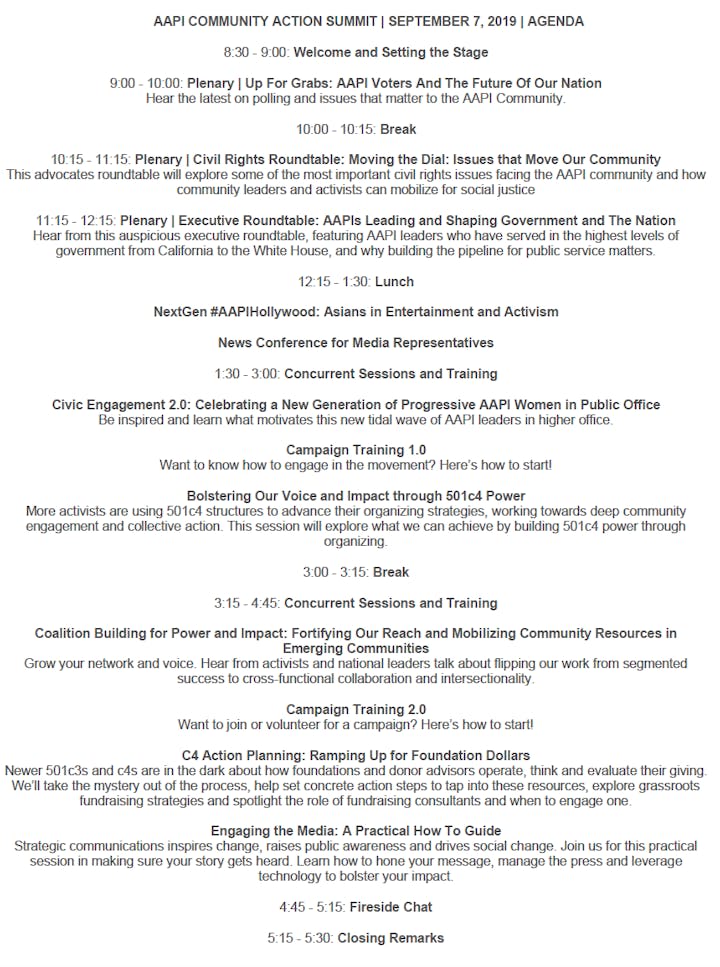 AAPI Summer Soiree
On the evening of Saturday September 7, 2019, you are invited to attend the AAPI Summer Soiree. This festive gala will take place at the exclusive Center Club in Costa Mesa, CA. Come meet and mingle with top influencers and enjoy a night filled with good food, great company and fantastic entertainment. Registered attendees of the AAPI Community Action Summit may purchase a limited number of discounted tickets at $100 per person as a participating "Community Partner." Tickets can be purchased here.
Lodging
A block of rooms has been reserved at the Westin South Coast Plaza from September 4 - 11, 2019 for attendees of the 2019 AAPI Community Action Summit. The special room rate will be available until August 23, 2019 or until the group has sold-out, whichever comes first.
Contributions or gifts to Tides Advocacy/AAPI Progressive Action are not deductible as charitable contributions for Federal income tax purposes.