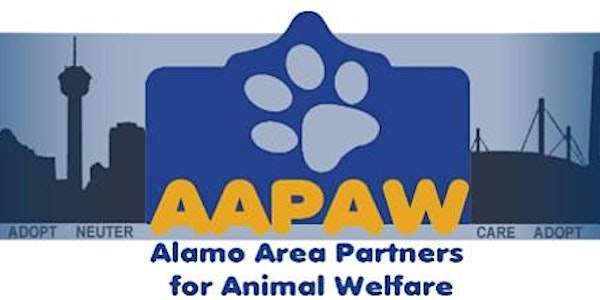 AAPAW 2022 Good Samaritan Request
AAPAW 2022 Good Samaritan Request
By Alamo Area Partners for Animal Welfare (AAPAW)
Date and time
Ends on Saturday, December 31, 2022 · 11:30pm CST
About this event
Thank you for your interest in our Good Samaritan Program.
When a good samaritan finds an animal in distress (i.e. injured by car or animal attack) and can care for that animal until it can be re-homed/adopted, they may be eligible to apply for and receive a grant toward emergency medical costs.
There is no limit to the number of grants one rescue or citizen can receive, but it is limited to only one grant per animal.
You can use any veterinarian or clinic that will accept payment from AAPAW through check or credit card. Payment will be made upon receipt of invoice. We will not make payment to anyone other than the servicing veterinarian or vet clinic.
This program is currently restricted to injured dogs found in Bexar County who would be adoptable after treatment and care. We hope to eventually expand it to cats and/or a wider area in the near future.
Please email info@aapaw.org with any questions.
You may also submit your grant request via phone to 210-706-0050. Thank you!
About the organizer
AAPAW is a coalition of animal welfare organizations in the San Antonio area who have joined forces to help bring shelters, rescue groups and rescuers, veterinarians, and the community together in partnership to improve the lives of animals in the San Antonio area. Over the years, AAPAW has evolved into a dedicated volunteer organization that supports more than 50 local rescue groups through free spay/neuter vouchers, funding toward the treatment of heartworm positive animals, and rescue coordination. We also promote community outreach programs and education to increase awareness of animal welfare issues (focusing on spay/neuter) and the importance of increasing responsible pet ownership. Every year our rescue group members save and adopt out over 1000 animals!