Location
University of Phoenix in Pasadena
299 N. Euclid Ave. Room# 101 & 102
(2 entrances: Euclid & Garfield)
Pasadena, CA 91101
Description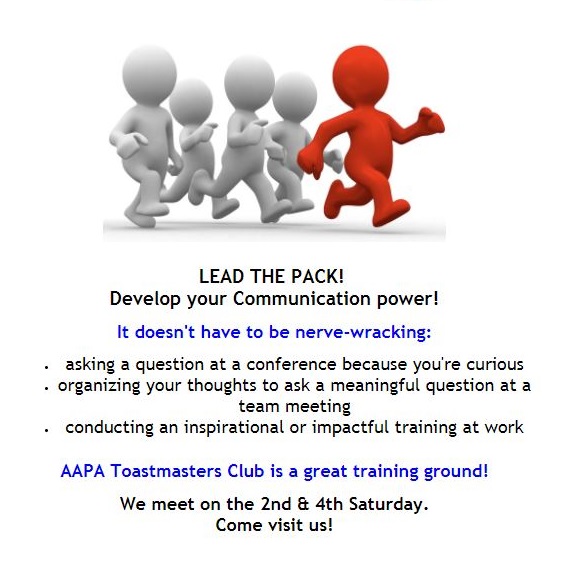 ----
TIME: 10am – 11:15am
DRESS CODE: Business casual, to emulate a professional environment.
WHERE: University of Phoenix, 299 N. Euclid Ave. Room 101/102, Pasadena, CA 91101
FREE PARKING: underground parking lot at the corner of Garfield & Corson, North of Pasadena Public Library. Gate will be up, just drive through and park!
AAPA Toastmasters Club: a community that supports its members' professional and personal growth by offering a friendly, fun, safe, and encouraging environment where its members can practice to develop or improve their communication, listening, public speaking, and leadership skills.
Got questions?
Email: toastmasters@aapamentoring.com Call: 213-444-6310
Website: http://5803399.toastmastersclubs.org/
---------------------------------------------------------------------------------------------------
Asian American Professional Association (AAPA) is a nonprofit mentoring organization dedicated to inspire, develop and promote Asian American and minority professionals to maximize their career and leadership potential. For 18 years, more than 75 Mentors have provided the Award-Winning AAPA Mentorship Program to over 1,100 Mentees, with over 645 hours of instruction and 4,320 mentoring hours. AAPA delivers results...more than 82% of mentee graduates indicated AAPA was instrumental to receiving their promotions and 77% of mentee graduates received promotions after the program.
W: www.aapamentoring.com | http://5803399.toastmastersclubs.org/
E: info@aapamentoring.com | toastmasters@aapamentoring.com
A: 13875 Cerritos Corporate Dr., Ste. A, Cerritos, CA 90703
AAPA is a nonprofit organization under Federal Tax ID #: 33-1065327