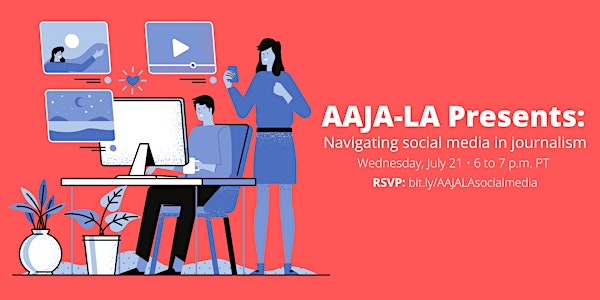 AAJA-LA presents: Navigating social media in journalism
AAJA-LA presents: Navigating social media in journalism
About this event
Navigating social media in the world of journalism can be tricky.
What should/shouldn't journalists be posting online? What are best practices? Where is the line between sharing opinions and calling out injustices? Is it OK to build a non-work related online presence?
Join AAJA-LA for a virtual panel discussion that answers all these questions and more. We'll hear from individuals who work in media about their experiences with social media, including the benefits and repercussions of posting on various platforms, and the role of objectivity in journalism.
SPEAKERS
Adrienne Shih
Adrienne Shih is the audience engagement editor for national politics at the Los Angeles Times, based out of the company's Washington, D.C. bureau. Her work lies at the intersection of breaking news, digital strategy and analytics.
Kevin J. Nguyễn
Kevin J. Nguyễn is a queer Vietnamese American son of immigrants with a big dream - to cultivate spaces that empower people to live a life true to themselves and be a part of a movement of change-makers. His love for storytelling led him to a career in digital media and TV/film where he has worked for companies like Jubilee Media, BuzzFeed, and most recently, Snap Inc. as their Content Lead. He has directed, produced, and edited hundreds of content amassing billions of views worldwide on platforms like Amazon Prime, Hulu, YouTube, Facebook, Instagram, and Snapchat. He is most known for his work that features stories of marginalized voices and social justice.
Seth Liss
Seth Liss, Los Angeles Times' deputy director for audience, started his career in journalism as a copy runner for the Tampa Tribune. He has since worked as a reporter, producer and digital leader. Before joining the Times in 2018, he was director of content for Tribune Publishing, editor of Poynter.org and online managing editor of WAMU, the NPR station in Washington, D.C. As online content editor of the Sun Sentinel in South Florida, he created and implemented the paper's first social media plan and wrote a weekly Sunday column about the subject. He previously worked at the San Jose Mercury News in a variety of roles, including senior producer. His early childhood was spent on a kibbutz. He was then raised in Miami Beach, taught English in Argentina in his 20s, and now lives with his wife and two children in Long Beach.
Traci Lee
Traci Lee is an award-winning producer with experience in journalism, digital media, and audio/video production. She is currently the Growth & Insights Editor for Wheel of Fortune and Jeopardy! at Sony Pictures' Creative Center. Her past work experience includes overseeing NBC Asian America as its editorial director, where she also served as supervising producer on digital documentaries and web series that have screened at film festivals across the country. From 2017-2020, she was the producer and co-host of Dawson's Speak: A Podcast About Dawson's Creek, which continues to average nearly 7,000 unique monthly downloads.
Agnes Constante
Agnes Constante is a freelance journalist in Los Angeles. Her work focuses on the Asian American community and has appeared in NBC Asian America, TimesOC, Inquirer.net, Prism, and Asian Journal. She was a 2020 data and engagement fellow at USC Annenberg's Center for Health Journalism where she spearheaded a three-part series on the impact of COVID-19 on the Filipino American community. She was also a 2020 California fellow at the center where she wrote a three-part series published in TimesOC about the lack of culturally sensitive healthcare in Orange County's Cambodian and Vietnamese communities. Agnes' work has been recognized by the Los Angeles Press Club and Philippine American Press Club. She currently serves as secretary for the Los Angeles chapter of the Asian American Journalists Association.