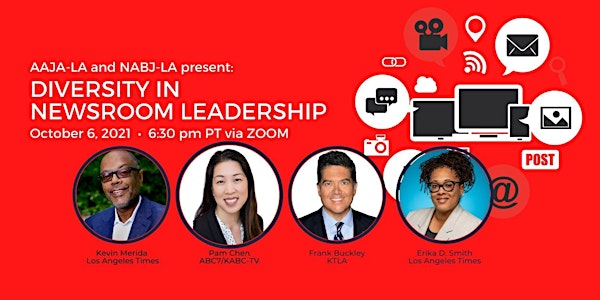 AAJA-LA and NABJ-LA present: Diversity in Newsroom Leadership
A very special virtual discussion about diversity and journalism
About this event
AAJA-LA and NABJ-LA present:
Diversity in Newsroom Leadership
Wednesday, Oct. 6
6:30 - 7:30 p.m.
Please join us on Oct. 6 for a very special virtual discussion about diversity and journalism featuring two of Southern California's most prominent newsroom leaders of color: Pam Chen, KABC7 vice president and news director, and Kevin Merida, Los Angeles Times executive editor. Pam and Kevin will talk about their career trajectories, offer insights about why diverse newsroom leaders matter and share ideas on how to cultivate more of them in the industry. Their conversation will be moderated by leading journalists from AAJA-LA and NABJ-LA, which are co-sponsoring the program: Frank Buckley, KTLA-TV news anchor and Erika D. Smith, Los Angeles Times columnist. The virtual event will take place Wednesday, Oct. 6 from 6:30 to 7:30 p.m.
Pam Chen:
Pam Chen is ABC7/KABC-TV's vice president and news director, the first Asian American news department head at a network-owned local television station in Los Angeles. Chen first joined ABC7 as morning producer of the station's 5 a.m. newscast, later moving to the 4 p.m. and 5 p.m. news. She also helped launch and syndicate ABC7's "On the Red Carpet," which chronicled major Hollywood events such as the Oscars. Later, she launched a 3 p.m. newscast and implemented a new operating and editing system for the station's newsroom. Chen helped create a community journalist program at the station, mentored young journalists, and led the news organization to multiple regional and a national Edward R. Murrow Award by the Radio Television Digital News Association for news coverage.
Kevin Merida:
Kevin Merida is the executive editor of the Los Angeles Times. He took the helm of the largest newsgathering organization in the West in June 2021 and oversees the newsroom as well as Times Community News and Los Angeles Times en Español. For the last five years, Merida has been a senior vice president at ESPN and editor in chief of the Undefeated, the sports giant's digital platform that delves into the intersection of race, culture and sports. Previously, he was managing editor of the Washington Post, in charge of the news and features coverage for nearly three years. He spent 22 years at the Post after starting his career as a reporter at the Milwaukee Journal and later at the Dallas Morning News where he was White House correspondent during the George H.W. Bush administration.
Frank Buckley
Frank Buckley anchors KTLA's signature broadcast, L.A.'s No.1-rated KTLA 5 Morning News. He is also the host/executive producer of the weekend TV show, Frank Buckley Interviews, and co-anchors Inside California Politics, airing weekends on KTLA and on other Nexstar TV stations across California. Frank joined KTLA in 2005 from CNN, where he had been a national correspondent. Prior to KTLA and CNN, Frank reported for Los Angeles station KCAL-TV (1992-1999), WXII-TV in Winston-Salem, N.C., and at KESQ-TV in Palm Springs. He has also written for the Los Angeles Times and the Detroit News and graduated from USC with a double major in broadcast journalism and history in 1987. He is the recipient of numerous awards, including Emmys for hard news reporting, for news special for his coverage of the Hong Kong handover, and for entertainment programming for co-hosting KTLA's Rose Parade pre-show.
Erika D. Smith
Erika D. Smith is a columnist for the Los Angeles Times writing about the diversity of people and places across California. She joined The Times in 2018 as an assistant editor and helped expand coverage of the state's housing and homelessness crisis. She previously worked at the Sacramento Bee, where she was a columnist and editorial board member covering housing, homelessness and social justice issues. Before the Bee, Smith wrote for the Indianapolis Star and Akron Beacon Journal. She is a recipient of the Sigma Delta Chi award for column writing, a graduate of Ohio University and a native of the long-suffering sports town of Cleveland.