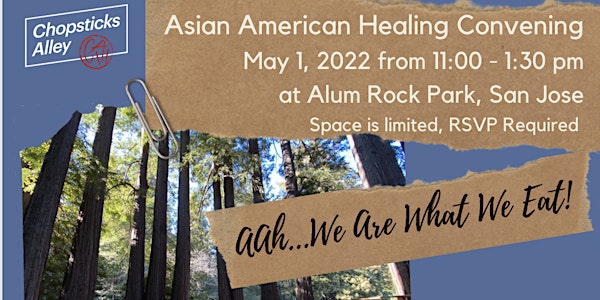 "AAh...We Are What We Eat!" An Asian Healing Collective
Chopsticks Alley Art created a convening place for Asian Americas to meet in a natural park setting to eat, connect, and make art together.
When and where
Location
Alum Rock Park 15350 Penitencia Creek Road San Jose, CA 95127
About this event
Chopsticks Alley Art created Asian American Healing Collective as a convening place for us to meet in a natural park setting to address mental health challenges we are facing in times of Covid and systemic racism towards Asian Americans.
We provide an intimate space for us connect, share, and reclaim our powers through food, storytelling, meditation, and artmaking. Our goal is to continue providing AAh convening every quarter to stay connected with our Asian community and continue building community to better support each other.​
NOTE: Our goal with this gathering is to provide a safe space for those who have an Asian cultural background or identify as Asians only so that they may comfortably connect with others of similar backgrounds and discuss issues that are faced within the Asian community. For this reason, we ask those who do not identify as Asian or Pacific Islander to opt out of this gathering, adn join us for one of th emany other events and workshops we host on a regular basis! Thank you for respecting our request.
RSVP required.
Featuring:
Anthony Lê, leadership consultant, coach
Eric Bui, visual artist
Lina Sath, artist and mental health expert
Lindsey Leong HELLA Famous, spoken word artist
Smita Garg, EdD, arts educator and holistic health
Trami Cron, author and executive artistic director
Lunch will be served!
Location:
Alum Rock Park - Eagle Rock Picnic Site
15350 Penitencia Creek Rd., San Jose, CA 95127
This area located in the first parking lot, and close to restrooms.
For more information about our past event: https://www.chopsticksalleyart.org/aah