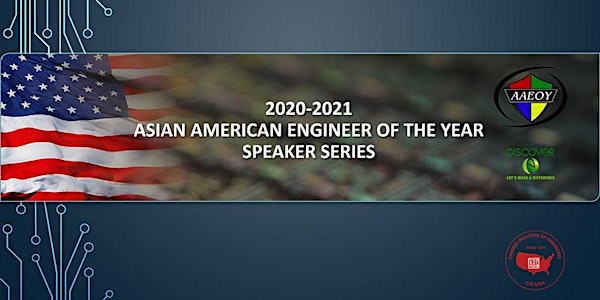 AAEOY Speaker Series with Naveed Hussain, Boeing
View the webinar recording: https://www.facebook.com/CIESanFran/live/
Refund Policy
Contact the organizer to request a refund.
Eventbrite's fee is nonrefundable.
About this event
AAEOY Speaker Series
AAEOY (Asian American Engineer of the Year) is an annual recognition event on the national platform to honor the most distinguished Asian American professionals with their leadership, technical achievements and remarkable public services.
AAEOY was first introduced in 2002, with a total 304 awardees to date. The awardees have served as role models and sources of inspiration for the STEM community. Past awardees included Nobel Laureates, academic scholars, key corporate executives, and an astronaut!
AAEOY 2020 was delayed by the Covid 19. The AAEOY committee decided to invite past awardees to share their technical knowledge and experience in the AAEOY Speaker Series at this challenging moment till the award ceremony can take place!
Speaker: Naveed Hussain, PhD, Vice President & General Manager Boeing Research & Technology.
Presentation: Improving Life: Science & technology will lead us out of the pandemic
Interview – Flying High: A Journey from an Engineer to a Global Leader
Q&A
As air travel resumes and restrictions ease around the globe, passenger and crew health and safety are always our top priority. Science innovation through industry collaboration will lead us out of the pandemic by offering a safe, healthy and efficient travel experience by minimizing air travel health risks.
This means treating COVID-19 like any threat to the safety of an airplane – by assessing the hazard, understanding the environment, and applying proven aerospace engineering practices and data to find solutions. This applies to any traveler's curb-to-curb journey and covers many layers of protection to: prevent the virus from reaching the airplane; protect the airplane and keep it free of viruses through disinfecting and cleaning; and limit the potential transmission of viruses on the airplane.
For ongoing updates from Boeing, including its work with modeling and new technologies, please visit the CTI website at http://boeingconfidenttravel.com.
Introduction of the Speaker Naveed Hussain
Naveed Hussain is the vice president and general manager of Boeing Research & Technology (BR&T), the advanced central research and development unit of The Boeing Company. As a trusted research, technology and technical leader, BR&T develops innovative technologies that break barriers, enabling the development of future aerospace solutions while improving the cycle time, cost, quality and performance of existing Boeing products and services.
Named to this position in 2018, Hussain leads a team of scientists, technologists, technicians and engineers who collaborate with research and development partners worldwide to solve the aerospace industry's toughest challenges. He has oversight of operations at five research centers in the U.S. including Alabama, California, Missouri, South Carolina and Washington, as well as seven international research centers in Australia, Brazil, China, Europe, India, Russia and South Korea.
Prior to this assignment, Hussain was the vice president of Aeromechanics Technology for Boeing. Previously, he led Platform & Networked Systems Technology for BR&T, launched the BR&T – India research center in Bangalore and directed Boeing Defense, Space, & Security Flight Engineering. He holds six patents and joined the company as a Howard Hughes Doctoral Fellow in 1990.
Hussain earned a Bachelor of Science degree from Rensselaer Polytechnic Institute and a Master of Science degree and a Doctor of Philosophy degree from Stanford University, all in mechanical engineering. He also completed a master's degree in business administration from the Wharton School, University of Pennsylvania.