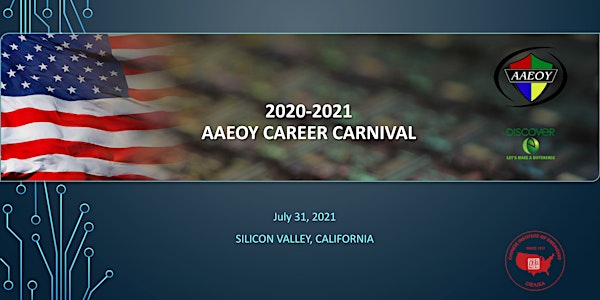 AAEOY Career Carnival (including job fair)
"How to Thrive in Your Job!" and Job Fair (FREE online event)
About this event
Career Carnival, the Grand Finale of 2021 AAEOY, starts at 1:00 PM till 4:00 PM, Pacific time, on July 31st, 2021, Saturday. The AAEOY award winners will guide us "How to thrive in your job" in the virtual interview, and answer audience's questions in the live chat; a job fair by AAEOY sponsors follows.
Please join the event main room with the link below at 1 PM PDT / 4 PM EDT
Main room link: https://us02web.zoom.us/j/88065553766
Meeting ID: 880 6555 3766
Please join individual company meetings at 2:30 PM PDT / 5:30 PM EDT with the zoom buttons on the event access page https://bit.ly/3ptAmoD

The distinguished award winners are Ms. Anne Chow, CEO of AT&T business, and Mr. Jensen Huang, Founder, President and CEO NVIDIA.
The full list of 2020-2021 Asian American Engineer of the Year Award (AAEOY)
Many AAEOT awardees are from the first- or second-generation immigrant families achieving the American dream. Besides sharing their experiences, they'll also answer questions from the audience.
Many issues are covered, for examples,
What does your supervisor expect from any team member?
What is expected of a manager?
How to manage conflict?How can one develop his leadership?
The on-line job fair by AAEOY sponsors will start at 2:30 PM. The invited sponsors include those in the Career Fair on June 5th (Boeing, IBM, AT&T, TSMC, US Army, Graphen AI, Sine Draco, Career Up Club), and TI, GM, NOAA. Job openings range from entry level to senior management.
You can roam into any sponsor's zoom meeting room by clicking zoom button next to the sponsor's name. Always return to this Career Carnival Access Page on your browser to visit the next sponsor.