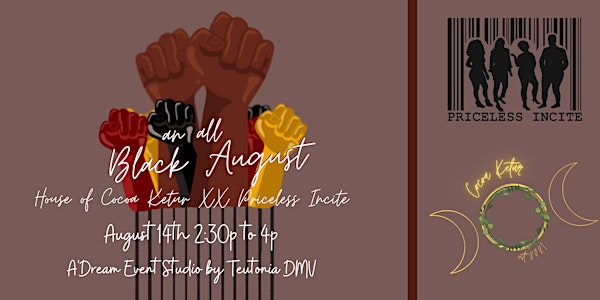 aaBA: an all Black August
aaBA is an experience you won't want to miss, curated by House of Cocoa Ketur. This a fundraiser fashion show to support Priceless Incite.
When and where
Location
6095 N Teutonia Ave 6095 North Teutonia Avenue Milwaukee, WI 53209
About this event
aaBA: an all Black August
FOR IMMEDIATE RELEASE: 26th of July, 2022
MEDIA CONTACT: Annia | 414-253-0935 | cocoaketurllc@gmail.com
A House of Cocoa Ketur & Priceless Incite Collaboration
MILWAUKEE, WI. - August 14th, 2022 — House of Cocoa Ketur will be hosting a fashion show fundraiser in honor of Priceless Incite (PI) at the A'Dream Event Studios on Teutonia Ave. This show will honor the legacy of Black August celebrations, the community service of the late Gracie B. Leonard & the Priceless Incite Youth Ambassador program. With 70% of all ticket sales & 100% of all donations going towards Priceless Incite 2023 Youth Ambassador programming, we hope to create an event that supports the work of PI work in Milwaukee.
Designers for the show are none other than Annia of Cocoa Ketur, Basia of Basia Rose Designs, Manny of Manny's Wearable Art & Kwame of ZuluIrieRain Jewelry. Together, these designers will cultivate a show unlike any other. Performers like Juju the Drummer & Shannon King the Poet will bring the ancestral energy needed to honor the history of the Black Diaspora and our Black Revolutionaries. Our talented featured models possess a variety of life experiences, and some are even past Youth Ambassadors. We are also welcoming a few of our pageant sisters from the Wisconsin USA State Pageant who engage in community work.
In this upcoming month we are observing Black August, a Black national awareness month to honor the ancestors that fought for our liberation from oppressive systems. We take a moment to recommit to our collective vision of Black liberation during this time. We highlight Gracie B. Leonard Day on August 17th! Known as Ms. Gracie, she cared for many youth during her residency in the Westlawn neighborhood and we honor her community service and dedication. Her fighting spirit continues on through her descendants. Her granddaughter, Annika Leonard, founded and funds Priceless Incite LLC., which uplifts the experiences of Black women, girls and gender expansive youth who are impacted by violence through prevention, intervention, and leadership development.
Each performer, designer & model (listed and unlisted) will bring the Black Milwaukee community an embodiment of Afro-Futuristism, Black Revolutionaries & Unapologetic Blackness. We can't wait to see you at the show and all throughout Black August!
House of Cocoa Ketur (Cocoa Ketur, LLC) Priceless Incite
House of Cocoa Ketur is a brand curated by Annia of Cocoa Ketur, LLC. We honor the intersections of spirituality, queerness, blackness & anti-waste envirnomental efforts. Our designer, Annia ( or Cocoa Ketur) creates designs from recycled material, rescued fabric & thrifted/donated clothes to make them into unique wearable art for interested community members. We work with our clients to create clothes, home decor or accessories that express the client's personality through an environmentally conscious process. We use things like stained fabrics, old t-shirts, aluminum wrappers, discarded beads, etc. to create a dynamic product for our clients to cherish.