AAAEA-CA 10th Anniversary, Awards, and Scholarship Gala with Mr. Jeff Kight...
Description
Yes! It is this Thursday! Do not forget to buy your ticket for November 15th!
Featuring
Mr Jeffrey Kightlinger (
keynote),
Mr. Adel HageKhalil
(emcee),
Mr. Naser El Saheb
and
Mr. Serge Haddad
(awardees).
Special thanks to our sponsors
DISTINGUISHED

Cordoba Corporation
DIAMOND

Jacobs
PLATINUM

PMCS Group
Thanks to all our sponsors!
GOLD:

LA Metro/LACMTA, Bureau Veritas, Falcon Construction, Kindel Gagan, Manhole Adjusting, SEIU Local 721/LAPMA,

MARRS Services, CDM Smith, Z&K Consultants, Mott Macdonald, AESCO, PMA
SILVER:

Stantec, PPM Group


Please join the Arab American Association of Engineers and Architects California Chapter in celebrating 10 years of achievements at the Tenth Anniversary, Awards, and Scholarship Dinner.
---
We are honored to have as guest speaker Mr. Jeff Kightlinger, GM and CEO for the Metropolitan Water District of Southern California, the largest municipal water provider in the nation. Mr. Kightliger manages an $1.8 billion annual budget and 1,800 employees, delivering over 2 billion gallons per day to 26 member agencies, 19 million customers, and serving one out of every two Californians in the 6 counties of Los Angeles, Orange, Riverside, San Bernardino, San Diego and Ventura.

To learn more about the Primary Investor in the $16.7 billion California WaterFix Project, AAAEA-CA is the place to find out! Join us on November 15th to learn all you need to know from the one who knows!
---

We are honored to have as the event's EmCee Mr. Adel Hagekhalil (PE, Director of Bureau of Street Services for the City of Los Angeles). Mr. Hagekhalil leads the City's unprecedented street and sidewalk reconstruction and repair program, backed by billions of dollars in new transportation funding from Measure M and SB 1. With over 29 years in public service, he served most recently as an Assistant Director for the Bureau of Sanitation.
---
We are honored to present this year's Achievement and Community Awards to Mr. Naser El Saheb (Chief of Construction, Construction Management Group, City of Los Angeles) and Mr. Serge Haddad (Manager of Planning and Regulatory Compliance, Water Quality Division, Los Angeles Department of Water and Power).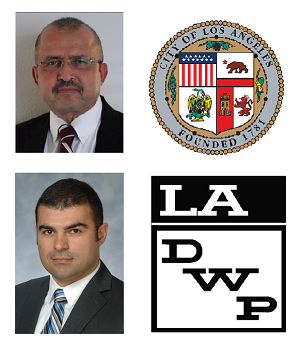 As you are used to, our program includes Networking, Mediterranean Dinner, Accomplishment Awards, Scholarship, and as always, Entertainment (Oud band and comedy)!
---
Thank you for all our sponsors. Scholarships cannot be offered to those who deserve and need it without your continuous support! Note: Sponsors can pay via check if they wish. Please email aaaea.ca@gmail.com.
AAAEA-CA ExecutiveBoard