Description
Waverley
We will be opening a house in Waverley by Studio Schelp. Studio Schelp was established in 2007 by Manuelle Schelp and is an architecture and interior design practice based in Darlinghurst, Sydney.
​The Studio offers individual design solutions resulting from the exploration and interpretation of clients needs and aspirations, project specific requirements and site opportunities. Studio Schelp aims to deliver design excellence, whatever the budget and exercises responsible management.
Alterations and additions to a 2 storey and basement terrace. Part of a group of 3 same terraces and located on a narrow block sloping down southwards from the street, the existing house has its major rooms addressing the street, while the ancillary functions are relegated to the back.
The concept was to strip back the existing building to its main core and add a new rear pavilion with internal courtyard to provide northern sun and day light access and cross ventilation to the centre of the new floor plate. Exposed steel portal frames, clad with metal sheeting, defines the shell of the new pavilion.
Internally, a timber shaped structure 'wanders' through the double height volume to form the various spaces and their built-in joinery; the kitchen / dining at lower ground, and the living at ground floor.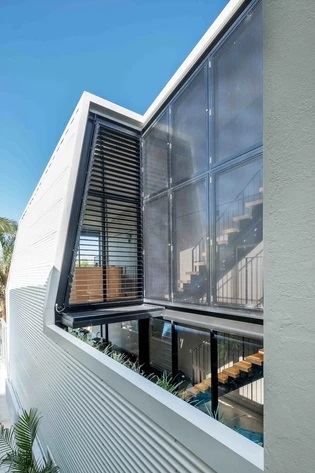 Photographer Des Harris
Instructions
Please arrive at the start point NO EARLIER than 10 minutes prior to the scheduled start time. The project will be opened from 11am to 12noon with the design process being explained. You are welcome to come anytime within the specified time. Event is not wheelchair accessible, children under 12 not permitted and no pets allowed. Tickets are non-refundable.
Booking Instructions for AAA Members
Enter your AAA membership number (Including the 3-letter prefix) to the promotional code box and an additionalticket type for members will be shown.