Description
TallWood Design Institute (TDI) is pleased to invite you to the public opening of our new headquarters, the College of Forestry's A.A. "Red" Emmerson Advanced Wood Products Laboratory at Oregon State University!
8:30 - 12:30
1:30 - 2:00
Check-in, tour signups, and refreshments
2:00 - 2:30
Kick-off and welcoming remarks
2:30 - 4:30
Tours, exhibits and demonstrations
Join us for:
Live demonstrations of our state-of-the-art advanced manufacturing equipment, including our Biesse Uniteam 5-axis CNC timber processing center, a Minda CLT press and our Kuka robot milling cell.
Tours of the lab and the neighboring George W. Peavy Hall Forest Science Center
A mass timber mass plywood pavilion structure designed by Lever Architecture and built by Freres Lumber Company
Demonstrations of CAD/CAM software
Exhibits on mass timber research and life-cycle analysis work conducted through TDI.
The Open House will follow TDI's annual Research Symposium, a morning event in which faculty members from the OSU College of Forestry, OSU College of Engineering and University of Oregon College of Design will share and discuss their mass timber research.
Who Should Attend?
Architects, engineers, construction professionals, manufacturers, fabricators, code officials, developers, economic development personnel, public officials, researchers, students, and other stakeholders who are interested in mass timber construction and mass timber research.
Directions and Parking
We are located at 3205 SW Washington Way, Corvallis, Oregon, between 30th & 35th Street, due north of Washington Way and across the parking lot from Richardson Hall and the College of Forestry.
Parking will most likely be quite limited around the Emmerson Lab vicinity; please plan to park in other campus parking areas and either walk to or utilize the free campus shuttle system for this event. Please reference the "OSU Campus Map" hyperlink provided below for detailed information.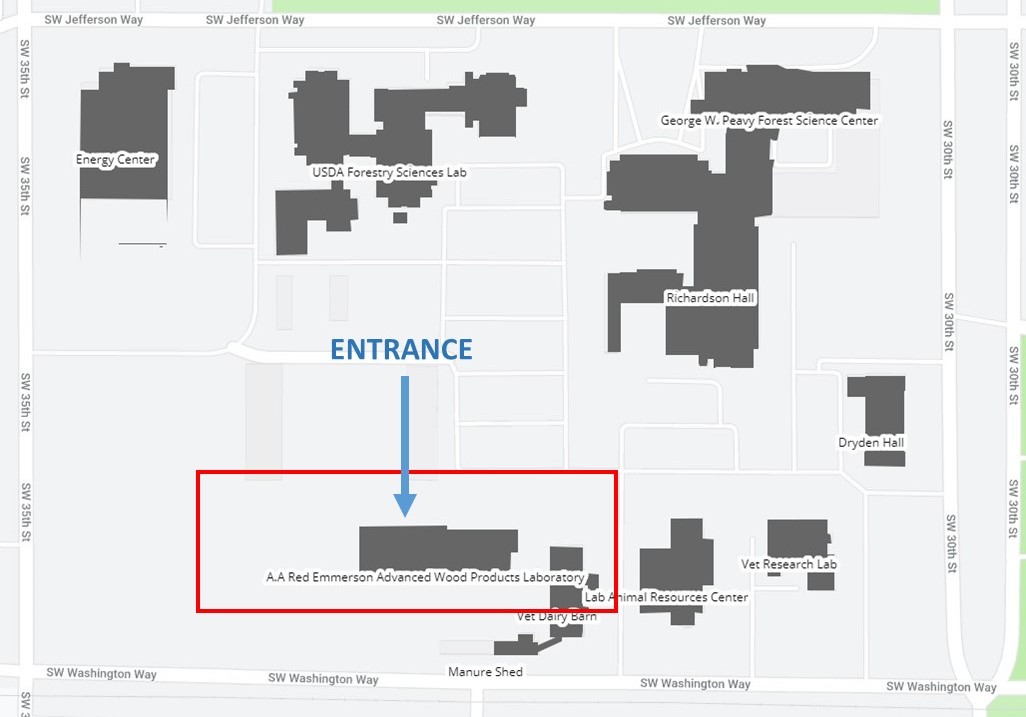 Parking on campus will require a parking permit that can be obtained at any of the Pay Station kiosks on campus. There is ample parking at Reser Stadium and the Parking Garage. You will also find the free Campus Shuttle routes on the parking map of OSU's campus. Please reference the "OSU 2019/20 Parking & Shuttle Map" hyperlink provided below for detailed information.
https://transportation.oregonstate.edu/sites/fa.oregonstate.edu/files/parking-map.pdf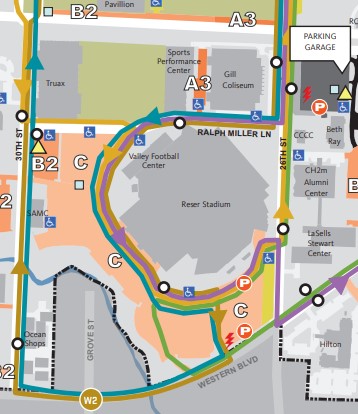 About the A.A. "Red" Emmerson Advanced Wood Products Laboratory
The A.A. "Red" Emmerson Advanced Wood Products Lab is a world-class timber engineering and design facility dedicated to furthering research, innovation and collaboration across disciplines and professions in the timber design, engineering, fabrication and construction sector.
The building will serve as the new headquarters for TallWood Design Institute and will help to facilitate advancement of the timber sector through applied research, product development, testing, and professional education. The laboratory houses two distinct technical functions:
A structural testing bay, complete with a 25' tall reaction-wall capable of testing structures up to three stories high, and a 60' X 80' strong floor (one of the largest strong wall/floor systems related to wood and timber research in the U.S.).

An advanced wood products manufacturing bay, outfitted with state-of-the-art timber manufacturing and fabrication equipment, including a CLT press, a 5-axis CNC, and a high-accuracy robot mounted on a linear track system. The CNC panel processing center will be capable of working with large panels, straight beams and curved beams.