Description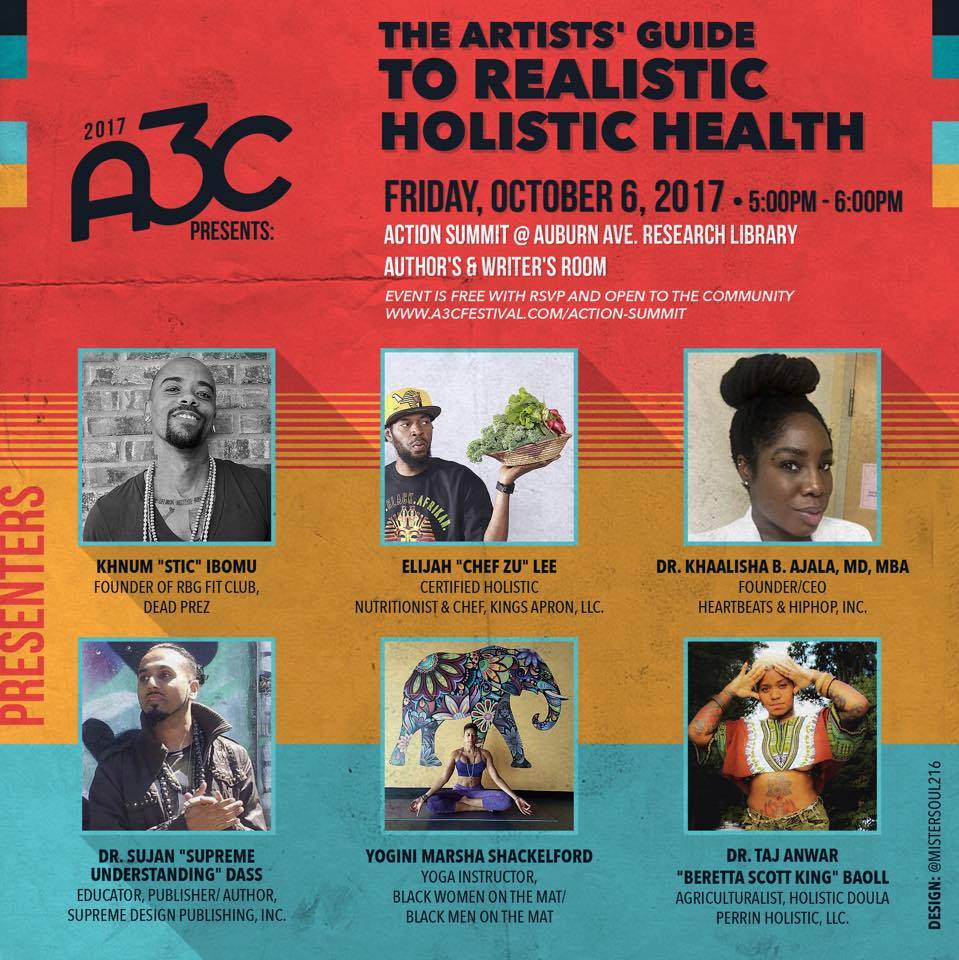 The Artists' Guide to Realistic Holistic Health
Friday, Oct 6th
5:00pm - 6:00pm
A3C Festival & Conference Action Summit @ Auburn Ave Research Library
Author's & Writer's Room
Realistic Holistic Health:

This is a to- go manual of how to stay healthy on the go, particularly on tour. As we know, we have had many artist to die during and or after performances, which are strenuous. We have lost so many artists in hip hop between the ages of 35- 45, so there's something we aren't doing right. We can no longer neglect our health and there are some simple things we can do with a little time. Components of
health are as follows: Internal (body systems), Psychological/ Mental (the mind)- then tools we use to strengthen those: Nutritional and Physical. Often we claim we don't have time. This workshop will present tools that don't take much time or effort- just a decision to want a better quality of life.

HOSTED BY AGRICULTURALIST | HOLISTIC DOULA
DR. TAJ ANWAR "BERETTA SCOTT KING" BAOLL
Internal: Dr. Khaalisha Ajala
Psychological: Supreme Understanding
Nutrition: Chef Zu
Calisthenics: Stic
Yoga: Marsha Shackleford

Both Stic and Zu are emcees, so they have a unique insight to artist health being that they are artists. Supreme Understanding is an author who's written over 10 books on different aspects of hip hop culture- including psychological and nutritional impacts. Dr. Ajala stays in the community teaching health on a hip hop tip.
Participants are going to walk away with an arsenal of how to get health with some small but significant lifestyle changes.
Three raffle prizes as well; tshirts, books, apps, travel workout equipment, gift cards and a #nutrabullet!
Make SURE you register for the get down.
#makingsustainabilitydope
#A3C #SUPREMECULTURE