Description
MONTHLY
: A3C Edition
Presented by the A3C Social Club.
Wed, Oct 5, 2016
10pm - 1am
21+
Cafe Circa (Rooftop)
464 Edgewood Ave
Atlanta, GA 30312


Free w/ RSVP or A3C Pass
Free drink tickets for A3C VIP Wristbands
Supported by Swisher Sweets & Seagrams Gin
The A3C Social Club has quickly become the coolest and most anticipated monthly event for influencers, artists and the greater Atlanta hip-hop community to connect, share ideas and build.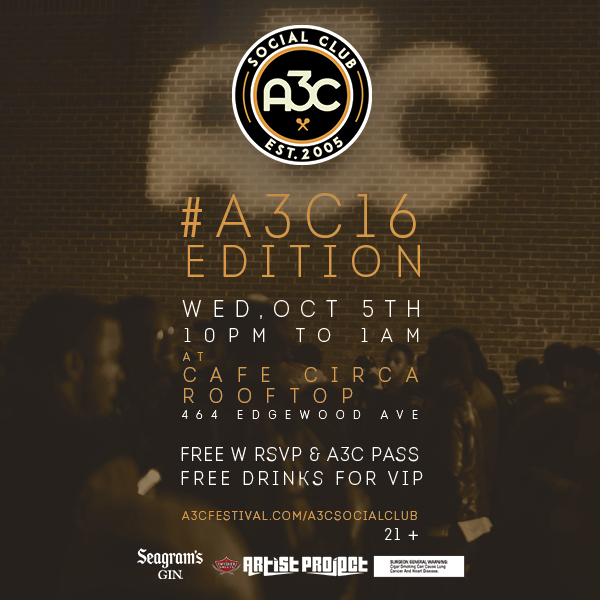 Download the A3C App for up-to-date schedule, lineup, map, venues and all information regarding 2016 A3C Festival & Conference. Available in App Store and Google Play: http://www.a3cfestival.com/app

Website: http://www.a3cfestival.com/
Festival Grounds: http://www.a3cfestival.com/festival-grounds
Line-Up: http://www.a3cfestival.com/lineup
Schedule: http://www.a3cfestival.com/schedule
... additional events, artists and speaker added through Oct 5th.

Artists Include...
Rick Ross, Bone Thugs N' Harmony, Bun B, Cam'ron, Redman with Def Squad's Erick Sermon & Keith Murray, 21 Savage, Too $hort, Stalley, The Beat Junkies, Mystikal, Royce 5'9", Young Dolph, Sonny Digital, Kweku Collins, Cousin Stizz, Dave B, Masego, Bryan-Michael Cox, Zaytoven, Silkk The Shocker, Casey Veggies, Kid Capri, Sosamann, Tate Kobang, Kilo Ali, Deniro Ferrar, YFN Lucci, Mr. DJ, K.A.A.N., Distortedd, Bae Worldwide, DJ Holiday, Rob $tone, DJ Nabs, WERC CREW, Zoey Dollaz, DJ Toomp, Yung Simmie, G Herbo, innanet james, J-LIVE, Snootie Wild, Jerreau, Kap G, Alex Wiley, Kelechi, Miya Bailey, Nick Grant, Oj Da Juiceman, Planet Asia, PnB Rock, Reef The Lost Cauze, Scotty ATL, Skeme, Skippa da Flippa, Ras Kass, DJ Rasta Root, Smokepurpp, Chase N. Cashe, Apollo Brown & Skyzoo, Rapper Big Pooh, Cockroach Killah, Tall Black Guy and Torae.

Speakers Include...

Master P (Artist/Entrepreneur), Troy Carter (Spotify/SMASHD Ventures), Too $hort (Artist), Bad Boy's The Hitmen (Producers), Ryan Leslie (Artist/Entrepreneur), Anthony Saleh (Freebandz), Tunji Balogun (RCA), Vanessa Satten (XXL), Fab 5 Freddy (Cultural Pioneer), Jeff Carvalho (Highsnobiety), Azae (Azae Production), Justin Boland (Pandora), Jonathan Mannion (Photographer), Justin Hunte (HipHopDX), Mike McGarry (Fitzgerald & Co.), Organized Noize (Producers), Yomi Desalu (BET), Brian Young (The Shade Room), Jason M. Peterson (Havas), DJ Jelly (Radio DJ), Corey Smith (MLB), Tuma Basa (Spotify), Daddy-O (MC/Producer), James Cuthbert (Sprite), Aaron Reid (Epic Records), Dan Resnick (Complex Magazine), Dante Ross (Warner Music Group), Mr. DJ (Producer/DJ), James Andrews (SMASHD Ventures), David Wall Rice (Morehouse College), Demont Callender (AM Only), Dina Marto (Twelve Music Group), DJ Toomp (Producer/DJ), Kwanza Hall (Atlanta City Council), Finis "KY" White (Audio Engineer), Walter Kimbrough (Dillard University), Focus… (Producer), Fuse of 808 Mafia (Producer), Greggory Smith (SESAC), Hurricane Dave (Radio One), Javier Sang (Worldstar Hip-Hop), Jeff Sledge (Atlantic Records), Jose Cuello (TuneCore), Joshua "M16" Banks (Producer), Joy Young (Wondaland), Julia Beverly (Agency Twelve), Keinon Johnson (Interscope Records), Kyambo "Hip Hop" Joshua (A&R), Marlon Nichols (Cross Culture Ventures), Maurice Garland (Hip-Hop Wired), Reggie 'Combat Jack' Osse (The Combat Jack Show), Robert Glasper (Musician/Producer), Shanti Das (Press Reset Ent.), Smitti Boi (Producer), Sound Oracle (Producer/Engineer), Steve DiCecco (Reebok), The Olympicks (Producers) and William Warren Jr. (Mitchell & Ness)


Festival Grounds: http://www.a3cfestival.com/festival-grounds
The outdoor festival grounds includes the Main Stage, DJ House, Food Trucks, Live-Art and interactive activations. The Festival Grounds is home to some of the biggest performances and most memorable moments each year.

A3C Festival: http://www.a3cfestival.com/festival
Features 1,500+ performances over 5 days, while the Hip-Hop community ascends on Atlanta to discover, experience and celebrate the most iconic, talented and promising artists from across the US, and abroad.

A3C Conference: http://www.a3cfestival.com/conference
A must-attend event and invaluable networking event for anyone in Hip-Hop. The Conference Center and Pro-Audio Center host over 300 speakers and hundreds of industry influencers from leading companies, brands and organizations. Music, Technology and Culture converge at the A3C Conference.


Download the A3C App at the App Store or Google Play: http://www.a3cfestival.com/app