Description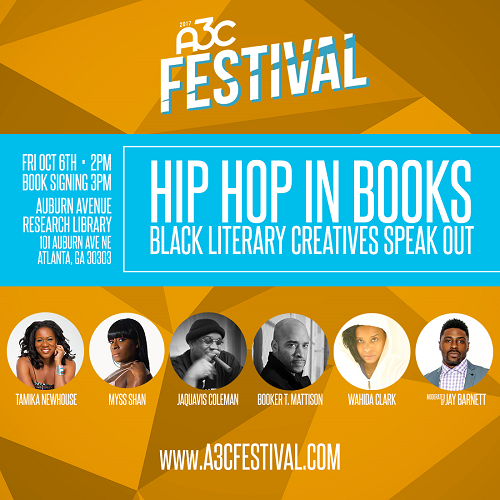 Black literary creatives speak out on Hip Hop Culture in Books at the 2017 A3C festival. You will often see musical artists publish books such as; Styles P, Prodigy, Common, Lil Wayne and more. You may also have seen record companies launch publishing imprints such as Bad Boy, G Unit, Prodigy of Mobb Deep, and Cash Money. Our panelist will take book lovers, lyricists, and aspiring writers into their world of story telling and urban tales.

Panelists:
Wahida Clark- New York times best-selling author often named the creator of thug love fiction. She was once signed to Cash Money Content and is the CEO of her own publishing company.
JaQuavis Coleman- NY Times best-selling author and biggest selling author of the today for Street Lit Fiction. He currently writes for Warner Bros and is an executive producer at NBC/Universal
Booker T. Mattison- Professor at Georgia State, filmmaker, and author of mainstream street fiction.
Myss Shan- Publisher of one of today's most sought out publishing companies, Shan Presents. She has single handedly sold over half a million books catering to urban books.
Tamika Newhouse- is the creator of the AAMBC Awards and has worked with more than 70% of today's book industry from media, publishing, and/or producing some of the biggest literary events in the country.
Jay Barnett- Former NFL player turned author

Literary Artists and Hip Hop Culture in Books Panel
Fri, Oct 6th
2:00 - 3:00pm
Auburn Ave Research Library (Amphitheater)

Literary Artists: Breakout Session & Book Signing
Fri, Oct 6th
2:00 - 3:00pm
Auburn Ave Research Library (1st Floor Gallery)