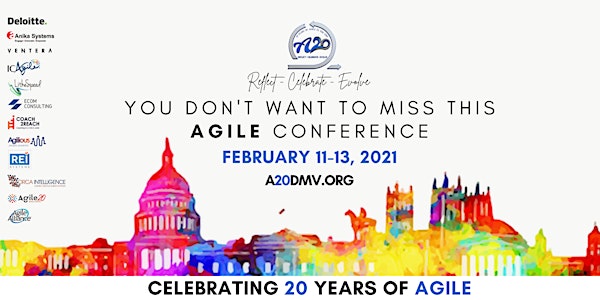 A20DMV (Agile Conference)
Join us to celebrate the 20th anniversary of the Agile Manifesto. You don't want to miss this momentous occasion.
About this event
What is A20?
A20 is a unique 3-day virtual conference bringing Agilists together to reflect, celebrate, and evolve on the 20th anniversary of the Agile Manifesto. It is a grassroots initiative by Organizers powered by DMV's Agile Meetups.
Why attend the A20 Conference?
✔ 4 inspiring keynotes- Alistair Cockburn, Lizzy Morris, Linda Rising, and Lyssa Adkins
✔ Amazing Agile speakers from the DMV with powerful stories and insights
✔ Hear personal reflections and anecdotes from Alistair Cockburn, co-creator of the Agile Manifesto
✔ Network with passionate Agilists from across the globe
✔ A20's 3-day conference is on the same dates the Manifesto was created!
✔ FREE Event! Expenses covered by our amazing Sponsors
Note: Please help us shape the conference by sharing your ideas here -https://a20dmv.org/shape-the-conference/
Follow us on social media @A20DMV