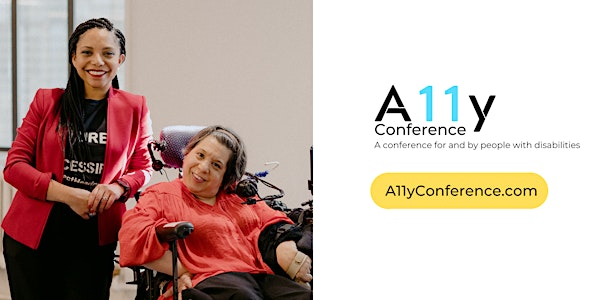 A11y Conference 2023
A conference for and by people with disabilities to launch their vision for the future and share tools, technologies, and best practices.
Refund Policy
Contact the organizer to request a refund.
Eventbrite's fee is nonrefundable.
About this event
2 days 6 hours

Mobile eTicket
Call for proposals is now open! Click here to submit your presentation idea.
___
ABOUT A11Y CONFERENCE
The A11y Conference is a three-day conference that celebrates the past, present, and future of disability. We'll explore tools, best practices, and technology benefitting the disability community and their allies.
Our mission is to create an accessible community where we increase the number of disability advocates through active participation in a11y (accessibility).
This year's theme is People with Disabilities Taking Action. Sessions will be broken up into 5 tracks:
Hearing Disability
Vision Disability
Mobility Disability
Intellectual Disability
Neurodivergence
YOUR HOSTS
Mariella Paulino
she/her/hers
Manhattan, New York
Mariella M. Paulino is an entrepreneur, accessibility consultant, and public speaker. In 2014 she was pulled over by a police officer and her inability to hear and follow commands was understood as noncompliance. The experience left her so shaken she went on to do her Master's at Georgetown University to explore how people with hearing disabilities interact with the world around them. In 2019 she launched Project Hearing with a mission to create a community for people with a hearing disability and share technology, best practices, and the nuances of deafness. Since then, she's spoken on accessibility inclusion at The United Nations, Harvard University, and the largest meetup in the world, The NY Tech Meetup! She is currently the Director of Marketing and Communications for a small nonprofit based in Austin, Texas while simultaneously running her own small business, Project Hearing LLC, full-time.
Connect with Mariella
Via email at Hello@ProjectHearing.com
LinkedIn at https://www.linkedin.com/in/mariellapaulino
Instagram at https://www.instagram.com/projecthearing
Clubhouse at https://www.clubhouse.com/@projecthearing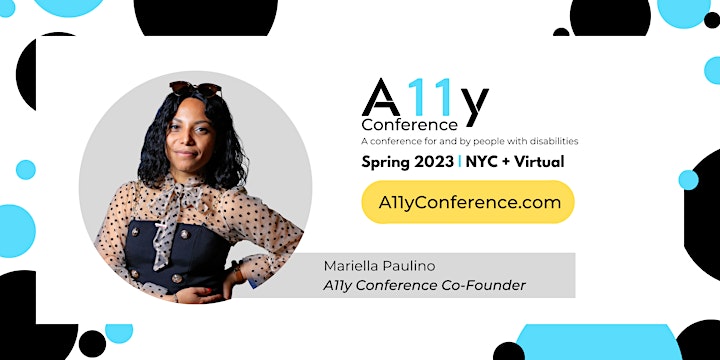 Alt Text: Headshot of Mariella. A11y COnference. A conference for and by people with disabilities. Spring 2023. NYC + Virtual. A11yConference.com. Mariella Paulino, A11y Conference Co-Founder.
Adriana Mallozzi
she/her/hers
Boston, Massachusetts
Entrepreneur, innovator, and most importantly advocate, Adriana combines her entrepreneurial spirit with a passion for technology and empowering people with disabilities (PWD). Born with cerebral palsy, she learned at an early age that embracing technology would offer her limitless possibilities. In 2017, Adriana formed Puffin Innovations, an assistive technology startup whose flagship product is an innovative mouth-operated input device that incorporates machine learning, artificial intelligence, and IoT connectivity to give PWD greater opportunities to lead more inclusive, independent lives.
Adriana is a guest lecturer at Northeastern University and Boston University's PT and OT/AT classes respectively for over 10 years. She has been a featured speaker on numerous panels covering topics ranging from assistive technology to disability advocacy/inclusion to entrepreneurship for venues including SXSW, MIT, HUBweek, ATIA, and Olin College, in addition to speaking engagements for notable companies such as CarGurus, Zappos, and SharkNinja. Adriana also serves on the Advisory Board for HackerU, and Board of Directors of FixPat; former Board of Directors member of Easterseals Massachusetts.
Connect with Adriana
LinkedIn at https://www.linkedin.com/in/amallozzi
Twitter at https://www.twitter.com/adrianamallozzi
Clubhouse at https://www.clubhouse.com/@adrianamallozzi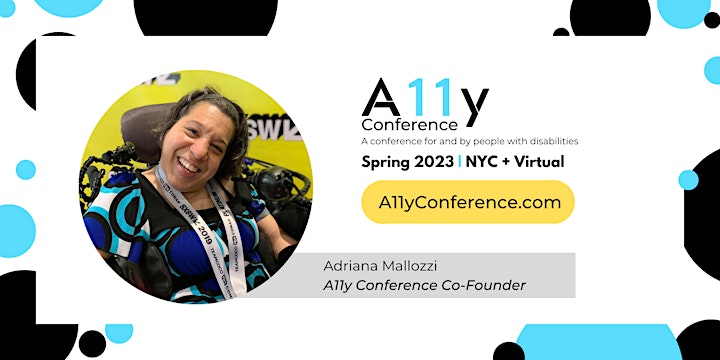 Alt Text: Headshot of Adriana. A11y Conference. A conference for and by people with disabilities. Spring 2023. NYC + Virtual. A11yConference.com. Adriana Mallozzi, A11y Conference Co-Founder.