A free, virtual Zos Chanukah concert performed by Jewish pop singer Ari Goldwag from Ramat Beit Shemesh, Israel.
About this event
RUACH is excited to present A Zos Chanukah Concert, a special festive virtual concert featuring renowned Jewish pop singer Ari Goldwag on Zos Chanukah, the final night and day of Chanukah.
Filmed outside in the hilltops of Ramat Beit Shemesh, Israel, this virtual concert features music and uplifting commentary recorded especially for RUACH, along with some of Ari Goldwag's popular music videos.
This program is free and will be available on-demand for a short time, from Sunday, December 5th, at 5:00 p.m.(CST) to Monday, December 6th, at 7:00 p.m. (CST) Prepare to enjoy the concert by using these Tips for an Exceptional Online Concert Experience.
ABOUT ARI GOLDWAG
Ever since he was young, Ari Goldwag has been motivated to influence and inspire with his music and Torah. His G-d given gifts include singing, composing, and producing some of the latest hits in contemporary Jewish music. These gifts are present in every album, video, and Torah lesson that Ari shares with his community and fans.
Throughout his career, Ari has released seven solo albums, including his latest hit album "Yesh Li Hakol" released in the summer of 2020, and has starred in and produced several unique music videos. His exceptionally popular video, "Am Echad," has been viewed over 9.5 million times on YouTube. The video promotes a strong and vibrant message of unity among various and diverse groups of the Jewish people. His YouTube channel has reached over 20 Million views.
You may learn more about Ari at www.arigoldwag.com
This event is generously sponsored by:
Armin & Hollie Nankin, in memory of Ben Karan, Ben Tzion ben Tzvi HaKohen, of blessed memory
Milwaukee Property Management, LLC
REGISTRATION:
Click the 'Register' button to register and/or make a donation. Upon registration, you will receive a confirmation email with additional information you will need to view and enjoy the concert. You may also make a donation to RUACH via RUACH's website at www.ruachmilwaukee.org.
Please email RUACH Program Coordinator, Jeremy Borouchoff, at Jeremy@ruachmilwaukee.org with admission questions.
Please visit RUACH's website at www.ruachmilwaukee.org to learn more about RUACH.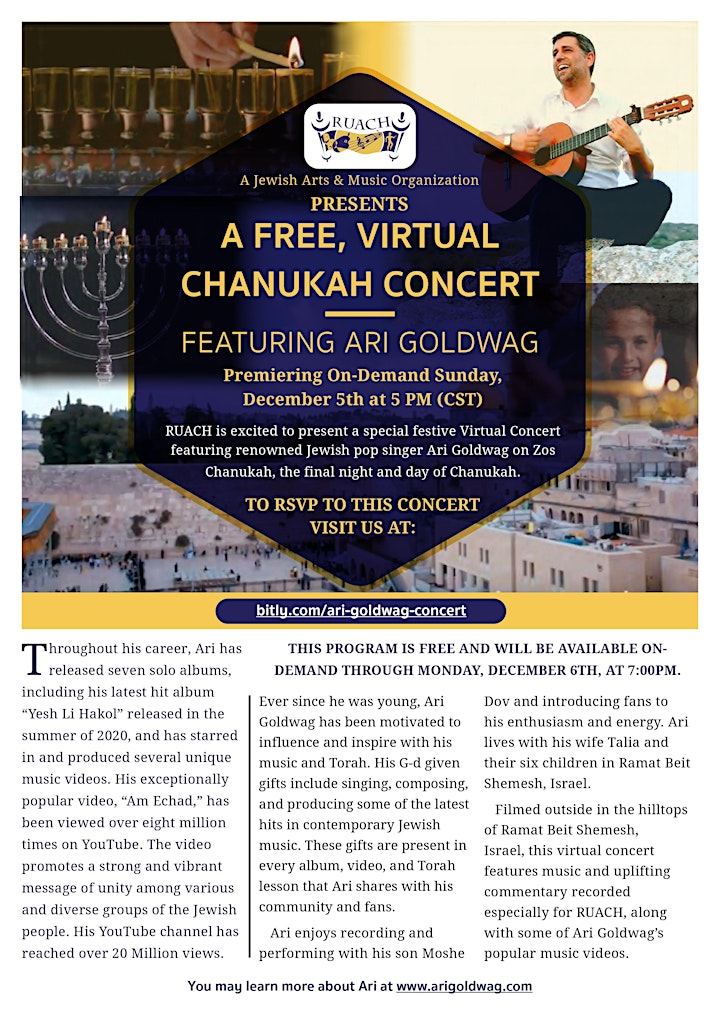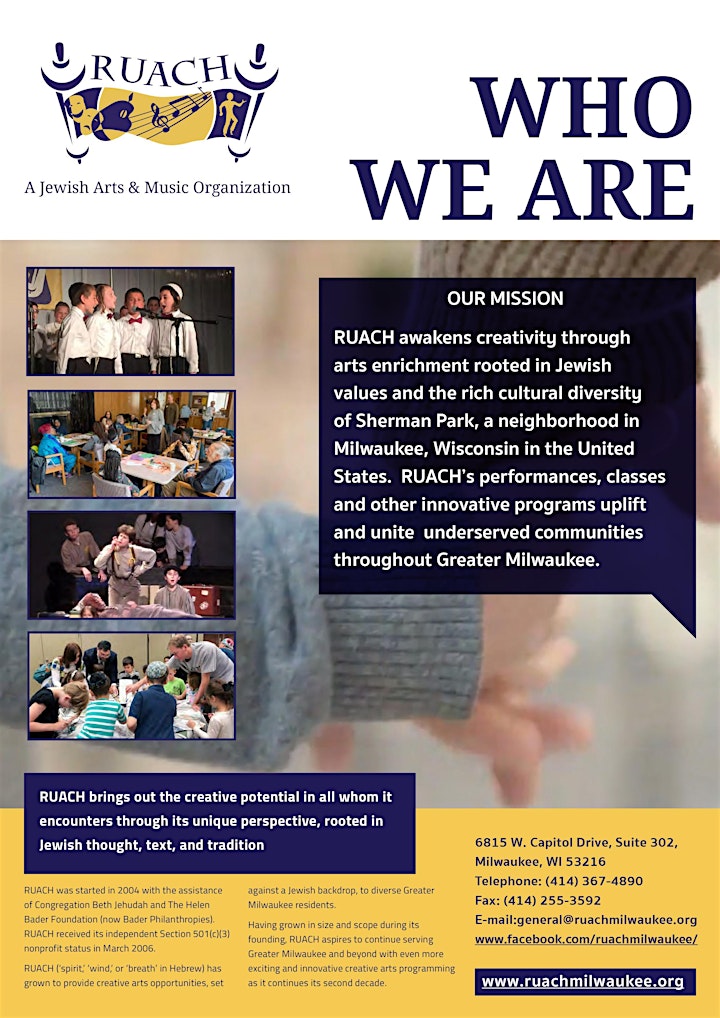 Organizer of A Zos Chanukah Concert, featuring Ari Goldwag
RUACH awakens creativity through arts enrichment rooted in Jewish values and the rich cultural diversity of Sherman Park, a neighborhood in Milwaukee, Wisconsin, in the United States. RUACH's performances, classes and other innovative programs uplift and unite underserved communities throughout Greater Milwaukee.