Description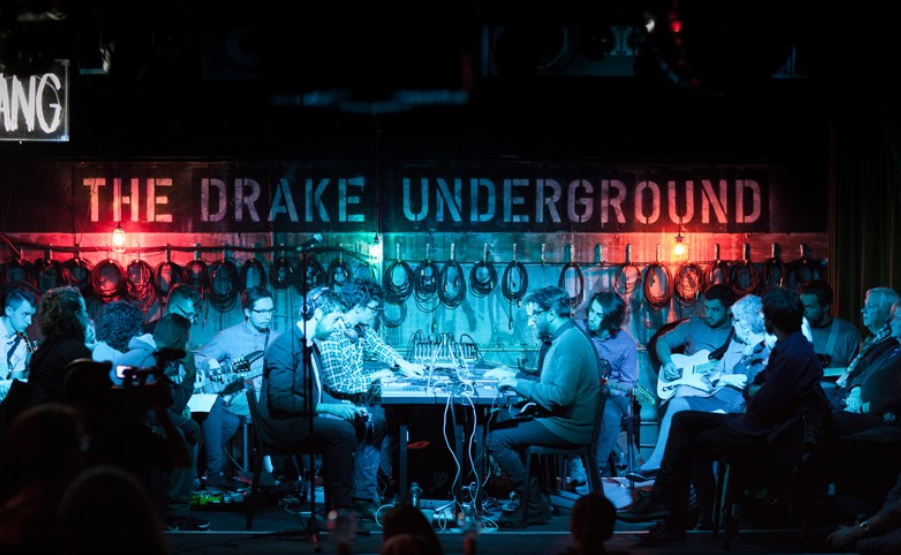 Two Nights, Two Line-ups, SAME Soul of Music!
Join us at Lula Lounge and Drake Underground for 'A World Away Indie Music Festival 2019' where you will witness one of the greatest music fusion Toronto has ever seen. The 3-day festival has different themes for each day and this link is for DAY 3: Immersive Underground Night (see details in the next section).
You will have the chance to listen to the original music work that are "made for the emotions". The sheer amount of stars here means you will find something to float your boat. We guarantee there is something for you at this special once a year event.
GRAB YOUR TICKETS BEFORE THEY SELL OUT!
PLEASE NOTE THIS EVENT IS 19+ ONLY.
---
Day 1: Recording Day (Invitation only)
Day 2: World Music Celebration Night:
Day 3: Immersive Underground Night
WHAT TO EXPECT TONIGHT:
When the Burlington singer-songwriter Abby J Hall meets Guelph singer-songwriter CJ Cooper, the two girls' bright voices intertwined. As fellow young musicians, they are just starting to know each other, yet are inventing a musical language spoken in a unique "conversations".

Haf n'haf is a master of wordplay, soulfully & effortlessly. Whereas Renee and Huiming are in charges of the melody flow. Hip-hop vs. jazz, electronic music vs. traditional horns,welcome to our battle feast.

We Are Various is a well-toured post rock band and they are facing challenge from diversely trained singer Arianna Mae. The story-telling vocals complement each other at this unexpected encounter.

The show's session artists: River Guard (bass, mandolin, piano), Daniel Diaz (double bass), Meghan Chamberlain (various percussion instruments)
---
This year, turning "A World Away" from an indie music concert to indie music festival, we have a really amazing lineup and they are all excited to show you their original songs:
Abby J Hall: https://www.abbyjhall.com/
"Everyone has a story worth sharing, where I'm sharing musical stories, they are a little bit of reality and a whole lot of inspiration. Together we are singing in frequencies unheard of and are painting in colours we can't imagine."
CJ Cooper: https://www.cjcoopermusic.com/
"A young songwriter from Guelph who plays guitar, piano and sings, focusing on acoustic pop with a rocker edge. Her mixed sets of classic covers and catchy originals will leave you to want more."
Renee: https://www.facebook.com/ReneeTheVoice/
"I'm still here, fighting and singing for peace for everyone, and I do it all with a smile and a glass of liquor! Enjoying the journey, the feelings are endless."
WAV: https://www.facebook.com/wearevariousband/
"WAV means sound wave, so does shorts for "We Are Various". It means the variation of our music styles, as well as our attitude and willingness to be more creative. Over the years of chasing music passion, we released two albums and two Eps. Now we are preparing our new EP. Hope we could have the chance to collaborate with other artists and trigger sparks in music."
Arianna Mae: https://www.ariannamae.com/
"Arianna pairs her diverse musical training with her love of storytelling, writing her own songs as a way of experimenting with popular music in contrast to the classical regiment she was being taught. She started a Youtube project in the Fall of 2015 called #newsongsonmondays."
River Guard: http://uoftopera.ca/2018/11/06/river-guard-an-operatic-perspective/
"A multi-instrumentalist, songwriter, actor, and classically trained opera singer, River is currently completing his Masters in Opera at U of Toronto. River performed as the lead singer and songwriter for the Hamilton band, Illusion Avenue for 5 years, and having just released his first album of unedited songs, Cascade."
Daniel Diaz: https://www.facebook.com/BassDanielDiaz/
"A Toronto-based jazz bassist and composer born in Cali, Columbia, who has been notably featured in Toronto's Jazz FM radio showcase program where he debuted his original composition "January". He was immersed in a large variety of musical styles and influences, ranging from Colombian music and salsa, to jazz and contemporary North American music. "
Meghan Chamberlain: https://www.facebook.com/meghan.chamberlain.35
"A Canadian musicologist, drummer, and educator. She studied classical percussion at the University of Windsor under the tutelage of Nicholas Papador and recently graduated from the University of Toronto with a masters in musicology. For over 10 years she has been playing drums and previously held a drum studio comprised of 35 students."
---
With the hope of transcending culture and ethnicity, Emerging Young Artists has been strive to bring together musicians with different backgrounds and share their unique creations to encourage multicultural communication and music fusion. Our intention is to grow hopes, dreams and inspirations.
A World Away is a music concept inspired by collaboration and cultural difference in 2016. In the past three years, EYA has provided a stage for nearly 40 groups of musicians to showcase their music works, film the music production process, implement documentaries, Workshops, and work with the top-class House Bands.