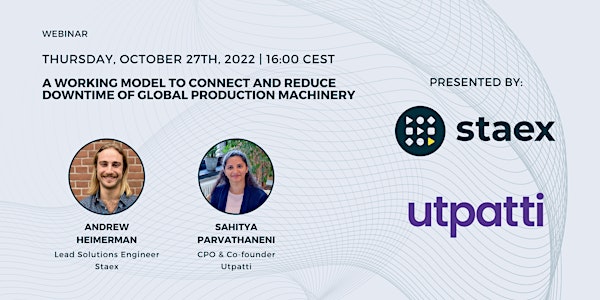 A Working Model to Connect & Reduce Downtime of Global Production Machines
Learn how to create a secure and scalable solution for machine predictive maintenance to reduce downtime and development costs for industry.
About this event
Everyone needs meaningful information from their machines to prevent downtime and optimize their production machinery. The problem however remains: how to connect new and legacy machines in order to gather meaningful telemetric data? What setup allows companies to address security and data sovereignty concerns while connecting machines and robots for predictive maintenance and production optimization?
In this webinar, Sahitya Parvathaneni, CPO & Co-founder of Utpatti, and Andrew Heimerman, the Lead Solutions Engineer of Staex, will present a model for not only connecting and controlling machines, but also a way to have safe and scalable predictive maintenance. The Staex platform provides fully decentralized networking and software orchestration, so that modern applications and services can be used with machinery in factory settings. Utpatti provides decentralized AI software to reduce machine breakdowns and reduce scrap. Together, Staex and Utpatti create a solution that connects and optimizes production machinery while still ensuring that sensitive manufacturing data never leaves the factory premises.