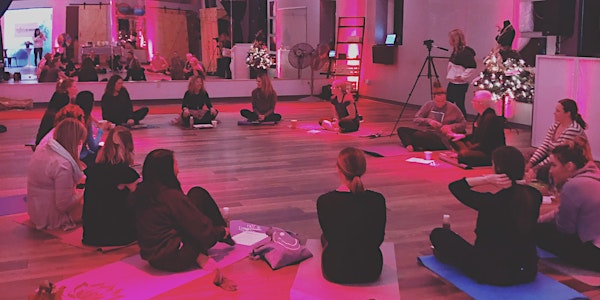 A Women's Mini Retreat
A fully curated mini retreat to reset your thoughts, quiet your internal chatter, feel lighter, revved up, & focused on what matters.
Date and time
Thursday, June 8 · 6:30 - 8:30pm EDT
Location
GIVE Yoga 3520 North High Street Columbus, OH 43214
Refund Policy
Contact the organizer to request a refund.
Eventbrite's fee is nonrefundable.
About this event
Welcome to an experience like no other: THE PUMP UP SESSION with Master Coach, Sarah Moore.
Are you yearning for change, and not sure how to get there?
Do you second-guess yourself and wonder, why did I just say that?
Do you worry about what other people think, and worse, it stops you from being yourself?
Do you value getting to know yourself better?
Would you like to be less uptight?
Would you like to feel *even* more confident about the woman you are?
If you said said yes to any of these, The Pump Up Session: A Mini Retreat is the place for you.
In this 2 hour intimate and energizing experience you can expect music, movement, meditation, journaling, and intimate sharing.
Past participants have said:
After finishing the Pump Up Session I'd believe anything is possible.
This experience felt like spiritual surgery.
This session reminded me that I matter.
This felt like three therapy sessions in one.
The Pump Up Session is a no judgment zone that gives you the freedom to express yourself fully.
You will walk away feeling more confident about using your voice, more free in your skin so you can live, lead and love with more clarity, and having created a deeper, more meaningful connection with yourself and others.
3 Key Learnings From this Session
- How to make reflection a superpower.
- Participants will see what emotional mastery looks and feels like in the moment.
- How to access new levels of honesty and vulnerability.
While each session will be carefully laid out, there will be plenty of time to share freely, get feedback, and receive 1:1 coaching from Sarah.
The Deets
When:
Thursday, June 8th, 2023 - 6:30 pm- 8:30 pm
Where:
GIVE Yoga
3520 N High Street, Columbus, OH 43214
How Many People:
This program is open to a maximum of 35 people.
Price:
One-time payment of $47.
I charge thousands for private coaching and we want to make this event accessible for all. Tickets will sell fast. Secure yours now!
Sarah's Bio
Sarah Moore is a Women's Leadership Coach with over a decade of experience coaching women to know what they want and to have the courage to speak it and pursue it. Whether she's a senior executive leading a global brand, a wife and mum who is tired of wondering if she's enough, or an entrepreneur building a business, Sarah coaches clients who want more of one thing: confidence. Sarah wants you to feel even more confident than you do now, to speak up in meetings and board rooms with ease, to communicate effectively across all levels of the organization, and to be seen as one heck of a leader.
She lives in Columbus, Ohio with her husband, Preston, and their son, Austin.
Coaching Approach
I believe every woman is special, and, oftentimes, our struggles aren't unique. My job, as your coach, is to help you become a more effective leader in every aspect of your life. I want to help you solve immediate problems that illuminate greater areas of development so you can self-coach your way to success long after our time together is over. Every question I ask, every moment I'm listening, every request I have of you, is to help you become more than you are right now, not to make you something you're not. You are the expert on you, and I'm the expert in coaching techniques. The work starts with me being a leader in my own life which means I take radical responsibility and practice honesty in a way most people don't. I also take a holistic approach to leadership meaning everything in our life affects our leadership at work. To compartmentalize is an outdated model. There are many techniques to become more effective and nothing beats being guided by a coach who has incredible intuition, experience coaching thousands of women, and a deep desire to support the change you wish to see in yourself.
FAQ's
I'm a little nervous because I've never done anything like this before. What can I expect?
It's normal to be nervous when you're trying something new. Know that this will be a safe space where you will be encouraged to grow and get out of your comfort zone, and only in ways that make sense to you. You will never be pushed to do or say something you're uncomfortable with. You can totally take this at your own pace. Expect a ton of fun, insights, intimacy, and connection.
Can I arrive a little late or leave early?
No. You will want to arrive at least 10 minutes before 6:30 and stay for the whole experience. It's not the kind of thing you dip in and dip out of.
This will be in a yoga studio so you will be asked to remove your shoes upon arrival.
Do I need to pay for parking?
There will be plenty of free street parking for the event. Please arrive early so you have plenty of time to park, check-in, get settled in the room, and use the bathroom.
If I've come before, can I come again?
Absolutely! We are constantly changing so while you might be familiar with the format, you will approach it and experience it with new eyes. We need regular experiences like this one to ensure optimal growth.
By registering for this event, I hereby agree to the following on behalf of each participant:
1. The participant(s) grants Moore Soul Sessions all rights and permission to use the participant(s)'s likeness, photographs and videos taken at the event in and all of its publications, social media platforms, and internet marketing without payment or consideration.
2. The participant(s) knowingly, voluntarily, and expressly waive any claim they may have against the Moore Soul Sessions, or the instructor of this program for injuries or damages that may be sustained as a result of participating in this program.
3. The participant(s) agree to receive email updates on Moore Soul Sessions events and news. You can unsubscribe at any time.
About the organizer
Sarah Moore, founder of Moore Soul Sessions, is a Certified Professional Life Coach based out of Philadelphia. With a focus on honest, authentic, and deep connection, Sarah works to connect with her clients on a level that allows them to rediscover themselves and realize their full potential. 
Accreditations:
Certified Professional LIfe Coach- MA, ACC, CPC, ELI-MP
M.A. Comparative Literature and Culture
Associate Certified Coach
Certified Professional Coach
Energy Leadership Index Master Practitioner
B.A. (Hons) Hispanic Studies and Linguistics
Click here to learn more about Sarah.