Description
If you are a creative puzzle solver, intuitive gamer, reverse- minded, vuln-finding, tech inclined student or professional with an interest in STEM - we have found your people and they are looking for you! Join us for this prestigious panel and learn about careers in tech you didn't know existed. Showcasing fields focused on cyber, engineering, recruitment and staffing, these talented guests will share their stories as well as provide advice and encouragement on your path to a successful STEM career. This program is brought to you by the Howard Tech Council's Women in Technology of Central Maryland affinity group.
Moderator- Anna Fleeman Elhini, Co-Founder of Creatrix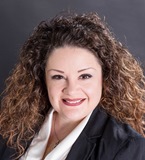 Anna Fleeman Elhini, co-founded Creatrix, an identity management company specializing in systems integration and software engineering with expertise in biometrics, vetting, and credentialing. Creatrix is named for her as she is "the woman who creates." Anna currently serves as Managing Director and is responsible for all of Creatrix's corporate operations and business development, leveraging her nearly 20 years of experience in project and contract management, operations, and research. She has held the positions of Vice President at Abt SRBI and Chief Research Methodologist of Custom Research at Arbitron, now Nielsen. Anna is a member of the Advisory Council of Howard County Chamber of Commerce's GovConnects and serves as Engagement Chair for the Women in Technology (WiT) of Central Maryland. Anna holds a Master's degree in Measurement and Quantitative Methods and is a Phi Beta Kappa, summa cum laude graduate of Emory University. She lives with her husband Sami Elhini, also co-founder of Creatrix, and their rescue dog Emmy in Howard County.
Panelist- Tina Kuhn, President and CEO of CyberCore Technologies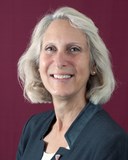 Tina Kuhn is the President & CEO of CyberCore Technologies (CyberCore), a leading provider of Cyber Supply Chain Risk Management solutions and professional services to government and commercial customers. Tina has had 33 years of leadership, executive management, operations management, business development, and program management across a large variety of Government, International, and Commercial customers. She has a Bachelor of Science degree in Information Systems Management from the University of Maryland and has served as a software engineer, program manager, division manager, and Vice President with a specialization in transitioning organizations to high performing, growth oriented, efficient teams. Tina is experienced in strategy development and implementation, financial improvements, management of profit and revenue, marketing, staffing, budgeting, and personnel management. Headquartered in Elkridge, MD, CyberCore is one of the nation's leading cyber supply chain risk management value added resellers and service providers for both government and commercial customers.
Panelist, Sallie Sweeney, Principal Cyber Solutions Architect, GDIT Health and Civilian Solutions Division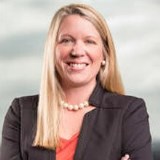 With 20 years of experience in the technology industry, Ms. Sweeney is currently Principal Cyber Solutions Architect for GDIT's Health and Civilian Solutions Division. As the cyber lead for the Division, Ms. Sweeney is responsible for HCSD technical and strategic vision for Top Ten, $100M+ and strategic opportunities. Ms. Sweeney's cyber team authored a cyber solution for the Jan. 2017 $430M 2020 Census contract award. Ms. Sweeney developed the Division's first cybersecurity roadmap, identifying technical innovations and service module targets for the upcoming 3-5 years. Previously, Ms. Sweeney served as Chief Information Security Officer for Apprio, Inc, as Director, Information Security for GD's Health Solutions sector, and she has stood up multiple security and IT programs for public and private sectors. Ms. Sweeney established the first Continuous Monitoring program for the Office of the Comptroller of the Currency, the first Information Security Office for the Baltimore County, MD Government, built the Ricochet Baltimore and DC poletop radio network, established sales support processes and procedures for Teligent's DC, Baltimore and Richmond offices. She received her Bachelor of Arts from Randolph-Macon Woman's College and is a CISSP, ISSMP, CISM, and PMP. She was recently appointed to the Board of Trustees at Notre Dame Preparatory School as the tech subcommittee cyber lead.
Panelist- Shannon Ross, Director of Human Resources at Aspect Security
In her role as Director of Human Resources at Aspect Security, Shannon has cultivated a wide-range of experiences. Currently focused on recruiting, employee relations, company policy and benefits, she has provided strategic guidance in all areas of the organization. Shannon is a key leader in operational initiatives, bringing a deep knowledge of organizational history and strategy to the table. Shannon has an MBA from Johns Hopkins School of Business focusing on Organization Development.
Panelist- Anna Kolluri, Co-Founder and CEO of Resourcesys, Inc.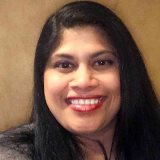 Anna is Co-founder and Chief Executive Officer of Resourcesys, Inc., a staffing and talent management company providing customized workforce solutions in both the public and private sectors. Representing the best and most skilled minds, Resourcesys, Inc. places highly specialized IT professionals, executives, and administrative and clerical staff with the companies that need them – whether it is for temporary, contract or permanent positions. With over fifteen years of industry experience in Information Technology (IT) staffing and recruiting, Anna is a hands-on leader and well-versed in the many aspects of a burgeoning business including sales, accounting, and operations. She has an acute sense of client-based operations having certifications including, but not limited to, Women Owned Business and Minority Owned Business in the state of Maryland.

Thank you to our sponsor:

Registration will close on June 21 at 3:00 PM
keyword: htc, mce, and tech