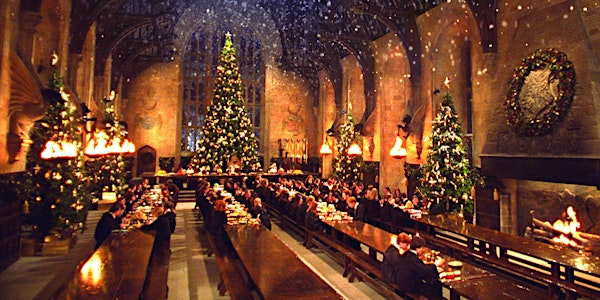 A Wizards Christmas: DINNER AND MARKETPLACE EXPERIENCE (ALL DATES SOLD OUT)
When and where
Location
Louisville Zoo 1100 Trevilian Way Louisville, KY 40213
Description
About the Event
A Wizard's Christmas invites you to attend its annual holiday event, with an upcoming look into the new North American Wizarding coming to Kentucky! Alabaster School of Witchcraft and Wizardry, the American counter part to Hogwarts is coming soon!
Inspired by aspects from the Harry Potter franchise, Lord of the Rings, Percy Jackson, and more, fans of Harry Potter and other wizarding fandom will greatly enjoy this event. You will have similar experiences as seen in the books and movies.
The Wizarding experience is coming to the state of Kentucky, inclusive of a magical school, shops and boutiques, fashion, creature creations, food, drinks, magical history, and more.
Every piece has been customed designed to truly bring the Wizarding World to life in Kentucky. Partnering with other creative minds, wizard fanatics, and event professionals here locally to create a truly immersive and realistic experience.
What experiences are included in the Ticket Price?
A 3-course magical banquet meal inclusive of a dessert

Meet and greet with student house leaders and teachers

Forbidden Forest transition passageway into the magical school

Charmed and enchanted store fronts.

Wizard and creature interactions

A first look at Kentucky's upcoming Wizarding School, Alabaster School of Witchcraft and Wizardry

Popular icons and sets from the movie

Magical teacher performances with spells, duels, and a fight against dark forces

A Wizard's marketplace for christmas and holiday gifts, school supplies, and more
What's the refund policy?
No Refunds. All Sales are Final. We are not liable for any date trades.
Seating for Children under 3
Children under 3 are not guaranteed a seat and may have to sit on a guardian's lap. To guarantee a seat you must purchase an additional ticket.
Merchandise
Merchandise orders are non-refundable

We do offer shipping and handling for select items at the event.

We are not liable for any merchandise trades.
Food and Beverage
A 3-course meal, inclusive of a specialty dessert, is included in the ticket price. Water and tea are also included in ticket price. Additional beverages must be purchased on site. All meal types will have gluten free options!

If attendee has any allergy specifications, they must note them during the ticket purchase.

Elixir Bar and Drinks for Children, other than Tea and Water, are an additional fee!
Parking
Parking is available at the facility and is not an additional fee.

A Wizards Christmas Extravaganza will release information closer to the event date with more specifics.
Want to schedule a Private Event and/or Field Trip?

A Wizards Christmas does hold select dates from the public for corporate, weddings, private events, field trips, etc. For more information feel free to call our Ticket Support team at 502-298-8008.
Want to be a Sponsor or Partner in this Event?
We are always looking for other passionate companies to grow with. To learn more about our sponsorship packages, email our Marketing Cordinator at:
WizardingChristmasLouisville@gmail.com
Where can you learn more about Alabaster?
Want to witness the magic behind the scenes? Alabaster is always releasing new and fun information via our facebook page.
Get a look at the school houses

Get a sneak peak of our chefs creating the magical menu

Watch how we make magical items come to life

Be a part of designing our wizarding creatures and more!
Can I wear Wizarding attire?
We encourage all our guests to fully participate in the experience. You are welcome to wear wizarding hats, robes, magical makeup, and more. We do require you to be fully clothed! No inappropriate or revealing attire is permitted. Remember, we are a family friendly event!
How early do we need to arrive?
We recommend guests arrive 30 minutes prior to their ticket time to avoid any traffic and to be able to experience the full event. Doors will open at the time listed on your ticket.
Is there discounted room rate for out-of-town guests?
We offer special room rates with select hotel partners. Upon ticket release, we will promote those rates on our Facebook page at www.facebook.com/awizardschristmasextravaganza/


Follow us on Facebook for contests, upcoming news, and more! At: A Wizard's Christmas
__________________________________________________________________________________________
Other Wizarding Events We Host!
A Wizards Christmas: Brewfest
Enjoy the scenery of our magical wizarding world while enjoying a large variety of elixirs. From beers, to bourbons, liquors, and more, at this event you are sure to find a drink that best suits you! Also, try some of our magical concoctions as well as some of your movie fan favorites! (This experience is held during weekdays only. This experience is for 21& Over- ADULTS ONLY!)
Click Here to Purchase A Wizards Christmas: Brewfest Tickets