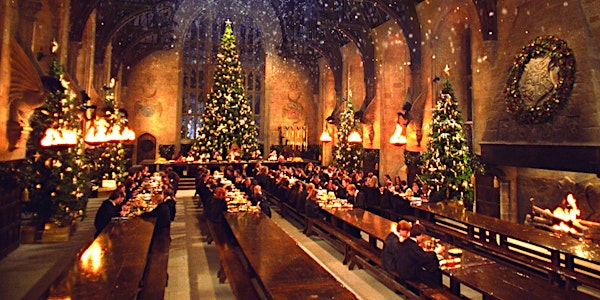 A Wizards Christmas: BREWFEST EXPERIENCE
When and where
Location
Louisville Zoo 1100 Trevilian Way Louisville, KY 40213
Description
2020 Wizard's Christmas: Event Series
For commonly asked questions, please scroll to the bottom of the page...
ABOUT THE EVENT SERIES:
CLICK HERE TO SEE THE ENTIRE SERIES EVENT VIDEO!!!
EXPERIENCES INCLUDE:
A Wizard's Christmas: Dinner and Marketplace
An adult and kid friendly dinner, with magical elements, food and music! Come spend the evening with us for this one-of-a-kind event! Cash Bar Available! The menu is inspired by your favorite wizarding movie, and there will be vegetarian options available upon request!
After you enjoy a nice holiday meal, you will be able to enjoy the atmosphere of the wizarding world and shop for magical gifts!
Great Hall Atmosphere

Adult and kid friendly 3 course dinner including dessert, inspired by the great hall feast from the Harry Potter movies

Magical teachers that teach classes such as Charms, Herbology, Creatures, and Divination

Classroom displays

An interactive mystery magical performance during dinner

Picture opportunities with Wizarding World movie favorites (creatures, props, and sets)

A behind the scenes sneak peak of the new North American Wizarding School addition coming to Louisville.

Herbology inspired cash bar with magical drinks, elixirs, and potions (alcoholic and kid friendly drinks available. Tea and water is included in ticket pricing and is no additional charge.)

Diagon Alley inspired marketplace with popular gifts for purchase on-site
(This experience is weekends only! This experience is FAMILY FRIENDLY!)
Click Here to Purchase A Wizards Christmas: Dinner and Marketplace Tickets
A Wizards Christmas: Brewfest
Enjoy the scenery of our magical wizarding world while enjoying a large variety of elixirs. From beers, to bourbons, liquors, and more, at this event you are sure to find a drink that best suits you! Also, try some of our magical concoctions as well as some of your movie fan favorites! (This experience is held during weekdays only; this experience is for 21& Over ADULTS ONLY!)
COMMONLY ASKED QUESTIONS:
CAN I WEAR WIZARDING ATTIRE?
We encourage all our guests to fully participate in the experience, and are welcome to wear any wizarding hats, robes, magical makeup, and more. We do require for you to be fully clothed, no inappropriate or revealing attire is permitted, and must be acceptable for all ages to view.
HOW EARLY DO I NEED TO ARRIVE?
We recommend guests arriving 30 minutes prior to their ticket time to avoid any traffic and to be able to experience the full event. Doors will open at time listed on ticket.
DOES THIS EVENT OFFER SPECIAL ROOM RATES FOR OUT OF TOWN GUESTS?
We offer special room rates with select hotel partners. Upon ticket release, we will promote those rates on our Facebook page at www.facebook.com/awizardschristmasextravaganza/
CAN I REFUND MY TICKETS OR CHANGE THE DATE?
Due to the demand of this event, we do not offer refunds or date changes. If you cannot make it, we do offer you the option to list your tickets on our event pages on Facebook to sell on your own!
HAVE MORE QUESTIONS?
Email us at Wizarding@mymestory.com