Description
Description
Pratt Institute's Creative Arts Therapies Continuing Education Departmentis pleased to announce our upcoming, continuing education event, A Winter's Journey: Celebrating Creative Arts Therapies.
This is a day-long event offering continuing education contact hours towards New York state licensure for licensed creative arts therapists (LCATs)
To read the full workshop descriptions and learning objectives, please select "Tickets."
Fees are pay-by-workshop.
---
Available Workshops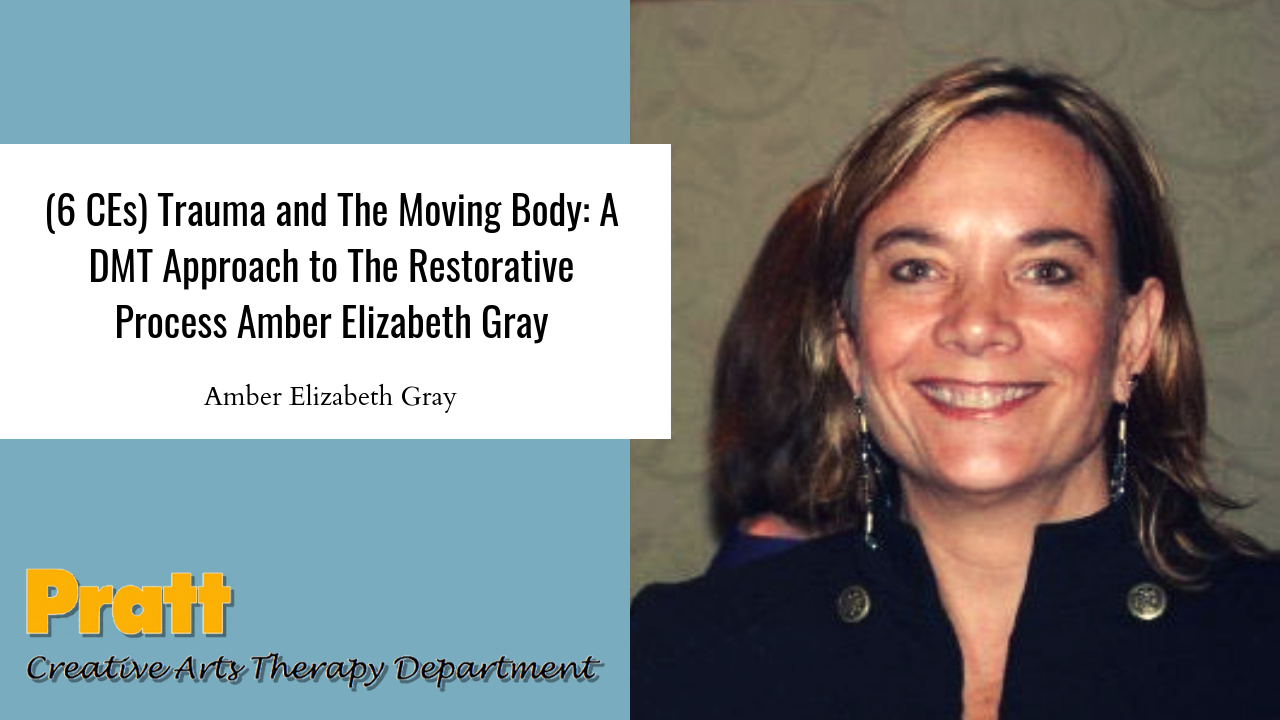 (6 CEs) Trauma and The Moving Body: A DMT Approach to The Restorative Process, with

Amber Elizabeth Gray
(9am - 4pm, with an hour break for lunch)
$150
Those of us who steward the restorative process for survivors of trauma are exposed to stories, histories, and emotions that impact our own well-being and worldview. In tending to others, our own hearts encounter suffering and fear.This class also provides participants with a practical introduction and overview to using DMT in work with survivors of trauma, as well as for therapists own resilience and well-being. The course teaches DMT practices to support safety and stability in the reciprocal therapeutic alliance. A contemporary, evidenced-based phasic approach to working with complex trauma provides the foundation for theoretical material.
1. Participants will learn skills to use DMT as a self care, self-regulating and protective practice when working with survivors of trauma (especially relational trauma).
2. Participants will describe the primary portals to embodiment of Restorative Movement Psychotherapy, and their relationship to self and co-regulation.
3. Participants will acquire at least 4 dance, body, and/or movement-based stabilization methods to self and co-regulate in work with survivors of trauma.
More about

Amber Elizabeth Gray...
Amber is a pioneer in the use of Dance Movement Therapy with survivors of trauma, particularly torture, war and human rights abuses. She is an ADTA Outstanding Achievement Award recipient; a recent nominee for The Barbara Chester Human Rights award, and featured expert on torture treatment through Tulane University's Institute of Traumatology. Amber's expertise is represented in many published articles, chapters, keynote addresses, professional collaborations and presentations around the world. Amber has provided clinical training on the integration of refugee mental health and torture treatment with creative arts, mindfulness, and body-based therapies to more than 30 programs worldwide, since the 1990's. She originated a resiliency-based framework and clinical approach (Restorative Movement Psychotherapy) for somatic, mindfulness, movement and arts-based therapies with survivors of trauma in cross cultural, low resource contexts. Her two most recent publications, one co-authored with Dr. Stephen Porges, are based on their co-collaborated Polyvagal informed dance movement therapy.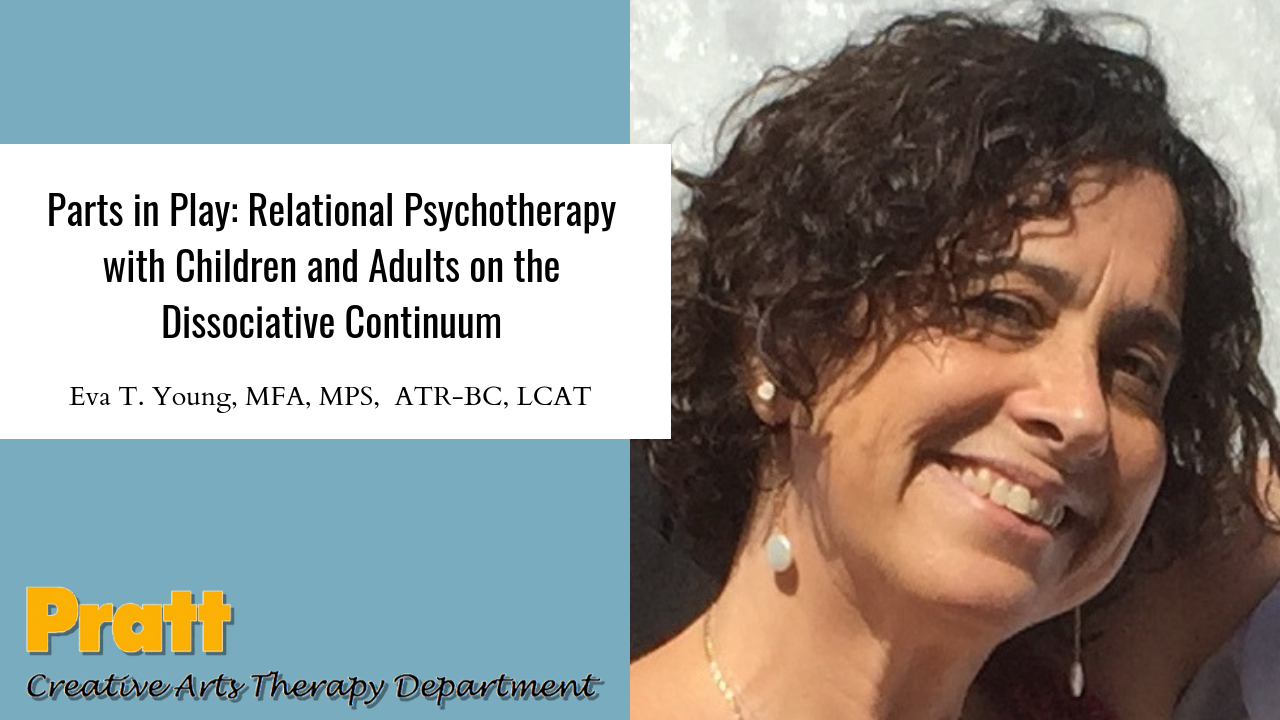 (2 CEs) Parts in Play: Relational Psychotherapy with Children and Adults on the Dissociative Continuum, with Eva T. Young, ATR-BC, LCAT
(10-12pm)
$67
This presentation will begin with a discussion of the concepts and theory related to early childhood trauma and resulting dissociative phenomena. client artwork will be shown to illustrate concepts. This will be followed by a case presentation describing art making and play in relational psychotherapy sessions with a young boy with Dissociative Identity Disorder. During the final segment of the presentation, participants are encouraged to share questions and observations about their own clients who are or seem to be on the dissociative continuum.
1. Participants will deepen their understanding of the use of art and play(fullness) in psychotherapy with dissociative children and adults.
2. Participants will be able to articulate where clients are on the dissociative continuum.
3. Participants will be able to articulate the significance of early attachment realtionship/styles in the development of dissociative disorders and DID.
More about Eva T. Young, ATR-BC, LCAT...
Eva Teirstein Young, MFA, MPS, ATR-BC, LCAT is a licensed Creative Arts Therapist with a private practice in New York City. She treats children, adolescents and adults and specializes in the treatment of Dissociative Disorders and DID. She is an Assistant Professor in the Graduate Art Therapy Department at Pratt Institute in Brooklyn, NY. Eva Young is a graduate of the Child and Adolescent Psychoanalytic Psychotherapy Program at The William Alanson White Institute where she is currently on faculty. She is also a supervisor in the Integrated Trauma Training Program at the Institute for Contemporary Psychotherapy in NYC. She holds a Trauma Certificate from the Advanced Trauma Center of The International Society for the Study of Trauma and Dissociation (ISSTD). She has presented clinical work at the ISSTD annual conference, The White Institute, Institute for Contemporary Psychotherapy, NY Center for Children and Pratt Institute.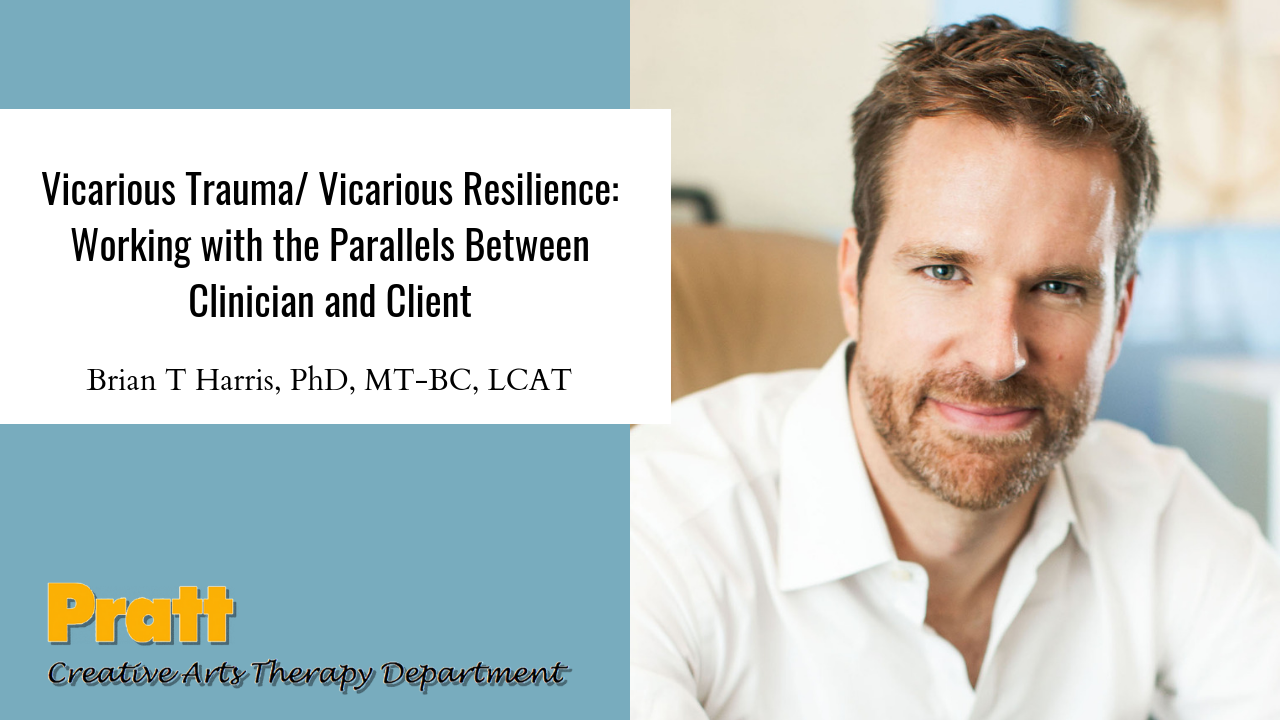 (2 CEs) Vicarious Trauma/ Vicarious Resilience: Working with the Parallels Between Clinician and Client, with

Brian T Harris, PhD, MT-BC, LCAT
(1pm -3pm)
$67
Therapists working with trauma over time can experience a harmful impact on our emotional processing, thought patterns, and worldviews known as vicarious traumatization. However, recent studies show that therapists also have the capacity to experience growth, positive meaning-making, and transformation through accompanying our clients' trauma recovery. This concept, known as vicarious resilience, helps highlight the reciprocal nature of the client-therapist relationship in regards to trauma recovery. In this workshop, participants will engage in multi-modal experientials using movement, imagery, music and narrative to help deepen our relationship to our own tools as they pertain to our clinical practices.
1. Participants identify name two key considerations when working with trauma.
2. Participants will be able to describe two creative arts therapy experiential which can be used to create awareness of resources.
3. Participants will able to list three personal resources.
More about

Brian T Harris, PhD, MT-BC, LCAT...
Brian T Harris, PhD, MT-BC, LCAT is a music psychotherapist in private practice in New York City. He holds a PhD in Expressive Therapies and is an adjunct faculty member at New York University and a core faculty member of the Kint Institute's creative arts therapy and trauma certificate program. Dr. Harris is the past head of the Pavarotti Music Center's music therapy department in Mostar, Bosnia and consultant with UNICEF Jordan. He is president of the board of the International Association for Analytical Music Therapy and is a co-editor of the forthcoming book "Creative Arts Therapies and The LBGTQ Community: Theory and Practice".