A Weekend with Sakyong Mipham Rinpoche in New York City
Refund Policy
Contact the organizer to request a refund.
Description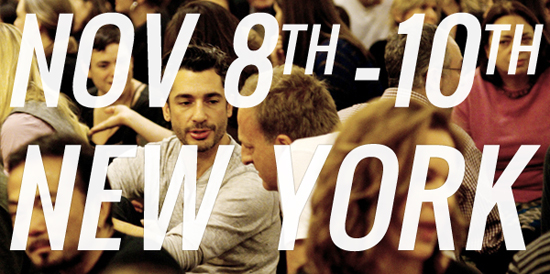 Join the Shambhala community of New York for a regional gathering of teachings, meditation and celebration with renowned Buddhist teacher Sakyong Mipham Rinpoche!
What? A series of events, teachings, and celebrations with Sakyong Mipham Rinpoche and the Shambhala community of the New York region.
When and Where? Nov 8th-10th, 2013 in New York City
Why? It's challenging to support a genuine meditation practice in our speedy and aggressive world. It's also difficult to support a genuine contemplative community in the midst of New York. We all need a way to re-inspire our practice, reconnect with community, and rejoice in our precious human lives.
Gathering Goodness is a celebration of 40 years of Shambhala meditation practice and community in New York. It is a time to come together and experience the richness that is already present and reveal the impact that Shambhala vision has had in the New York region.
Visionary teachings, deep meditation, creative conversation, good food, and celebration gather goodness for our lives and build community to benefit our city and society. Shambhala New York is getting ready for a big leap in the growth of our vision. Come celebrate what we have accomplished and get ready for our next adventures in New York.
FRIDAY, NOVEMBER 8th
Rising to the Challenge: Teachings from the Shambhala Principle. A public talk and book signing with Sakyong Mipham Rinpoche
New York Society for Ethical Culture, 7:00 pm
2 West 64th Street (at Central Park West)
All of us in the New York region live in the challenges of a speedy and often aggressive world. Many of us are overwhelmed by the daily challenges. We do not have the time or energy to contemplate personal or social principles and we may feel helpless in terms of shifting the future. We struggle to survive instead of thrive.
It takes bravery to open our hearts and develop a genuine spiritual practice in the midst of the challenge. How can we discover a relationship with our self and our society that is based on appreciation for our human dignity? Can feeling our own goodness help shift our own lives and the city in which we live?
SATURDAY, NOVEMBER 9th
Gathering Goodness: A Retreat Day of Shambhala Meditation, Inspired Conversation and Amazing Food
With Sakyong Mipham Rinpoche, Acharya Adam Lobel, Shastri Ethan Nichtern, and Marguerite Drescher
Manhattan Center, Grand Ballroom, 10:00 am – 6:00 pm
311 West 34th Street (at Eighth Avenue)
Meditation practice is at the heart of gathering our innate goodness. It is our tool for living in the challenge and discovering our human bravery, dignity, and delight. This day of experiential teaching is oriented towards an approach to meditation based on complete appreciation of our humanity—free from guilt and struggle. By feeling our own hearts without fear, we can come together as community and celebrate what we can create with the ground of genuine meditation and goodness.
Good Apple! A party celebrating 40 years of Shambhala in New York City
Manhattan Center, Grand Ballroom, 8:30 pm – 11:00 pm
311 West 34th Street (at Eighth Avenue)
The Shambhala Meditation Center of New York has been a space to support meditation in the Big Apple for over 40 years, training and supporting tens of thousands of people in a fresh and authentic approach to spirituality, Tibetan Buddhism, and social vision. From the outrageous teachings of our founder Chögyam Trunpga Rinpoche to the proclamations of the Shambhala principle by the Sakyong, Shambhala New York has thrived has a community of artists, families, activists, poets, business-people, and thinkers.
Tonight is a night to celebrate all that we have accomplished, and honor the impact that the lineage, the Center and individual Shambhalians have had and continue to have in the Big Apple.
SUNDAY, NOVEMBER 10th
Resilient Leadership
Shambhala Meditation Center of New York
10:00 am – 11:30 am Brunch
11:30 am – 5:00 pm Program
118 West 22nd Street, 6th Floor
A special members-only event open to those who have attended the Saturday program.
Sakyong Mipham Rinpoche: Enlightened Society from Shambhala New York City on Vimeo.
FAQs
Do I have to bring my printed ticket to the event?
Yes, please remember to print and bring the ticket receipt to the event. You will not be admitted to the event without a copy of the ticket receipt and a photo ID.
Can I register for others in addition to myself?
Yes, if you are registering for yourself and others, please enter each attendee's name so that we can generate a separate ticket for each person which will be required for admission.
Can I pre-register now and pay later?
No, advance payment in full is required in order to confirm your seat.
Can I apply my Shambhala program credit towards my ticket payment?
No, Shambhala program or work-study credits cannot be applied towards the purchase of your ticket.
What is the refund policy?
If you notify us to cancel your registration by October 18th, 2013, you will receive a full refund minus a $50 non-refundable cancellation fee and a credit card processing fee for the Weekend ticket. You will received a full refund for the Friday only and Sunday tickets before October 18, 2013. There will be no refunds given beginning October 19th, 2013 for all tickets. All cancellation requests must be in writing by clicking here.
Please note: Cancellation requests cannot be made through the Shambhala Meditation Center of New York. Program credit cannot be received for this event.
Where can I contact the organizer with any questions?
You can contact us by clicking here.