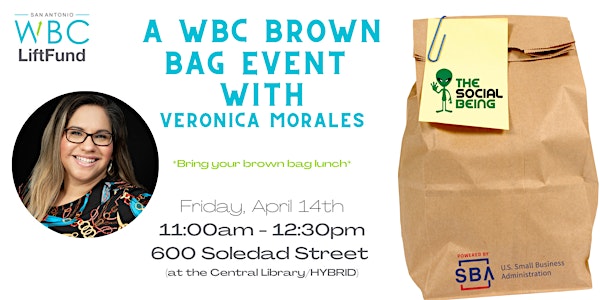 A WBC Brown Bag Event: What Small Business Owners Really Need to Know
Join us for this hybrid session as we explore topics that impact your business growth. Come in person or connect with us on Zoom!
Date and time
Friday, April 14 · 11am - 12:30pm CDT
Location
Women's Business Center - Inside the Central Library 600 Soledad San Antonio, TX 78205
About this event
Welcome to our WBC Brown Bag Event: What Small Business Owners Really Need to Know When Starting a Business
Join us for this month's Cafecito/Brown Bag event with Veronica Morales, a seasoned business owner of The Social Being who has operated her company for the past 12 years. After learning through trial & error, Veronica is a WBC mentor and previous WBC client who seeks to inspire other budding entrepreneurs. Topics shared will range from the business start-up phase to other themes that some business owners don't like to discuss but in hindsight Veronica says, "I wish someone had sat me down and talked about those hard topics earlier rather than later."
The San Antonio Women's Business Center seeks to cultivate a vibrant culture within our blossoming business community that transcends across ages, genders, nationalities, and backgrounds.
At this Brown Bag event we will discuss various themes impacting small businesses from the start-up process to the scaling phase in a group setting that fosters safe engagement. By bringing together seasoned business leaders, community members, and emerging small business owners together, we will create opportunities to network and create meaningful relationships. Why don't you join us (and bring your brown bag lunch).
Whether you decide to gather with us in person or join us from home, together we can build a Winning Business Community!
About the SA WBC
The Liftfund Women's Business Center is dedicated to supporting entrepreneurs, especially women and underserved communities.
The LiftFund San Antonio Women's Business Center is funded in part through a Cooperative Agreement with the U.S. Small Business Administration. This institution is an equal opportunity provider and employer. Reasonable accommodations for persons with disabilities will be made if requested at least two days in advance. Contact SA WBC Customer Service at 888.215.2373 ext. 3000 or wbc@liftfund.com.
Are you new to the Women's Business Center? We invite you to become our client. Our services are FREE. From pre-venture to established businesses, you'll find plenty of valuable information as well as next steps and special WBC Insider tips.
If your business operates within our service area (see below), then we'd love to help! Sign up HERE.
About the organizer
LiftFund is one of the nation's largest non-profit community small and micro business lender. Our mission is to provide credit and services to small businesses who do not have access to loans from traditional sources.