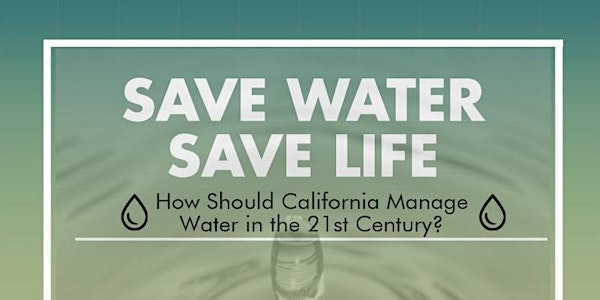 Event Information
Location
University of San Diego KIPJ Room EF
5998 Alcala Park
San Diego, CA 92110
Description
Concerned about water? Your voice will be heard! Come help shape the dialogue on California's water crisis.
Dr. Shelby's Practices of Deliberation class cordially invites you to participate in a discussion-based forum about California's water future! Whether we consciously think about it or not, fresh water is an integral part of each and every day of our life. Without California's fresh water resources, we, the citizens of this great state, would be unable to nourish or hydrate our bodies, would be unable to bathe, shower, brush our teeth, do laundry, wash dishes, swim in pools, maintain our lawns, take care of ourselves or our families!
No matter who you are or which part of the state you live in, water is a vital resource that plays a crucial role in your day-to-day life. This means that your opinions, thoughts, and concerns about California's water resources matter, and that you have a right to share your feelings with other people who care too!
During the forum, we will discuss some possible options that Californians can take to manage our growing water concerns, as well as trade-offs to consider. It will be a fun and engaging learning-experience that will help us unite as a community to tackle our water problems!
For information and possible options to consider, please review The National Issues Forum Guide "A Water Turning Point" (still in testing and development) located directly below.
https://drive.google.com/a/sandiego.edu/file/d/0B8f_nIpySyIiVGswbU9CcHF3NGc/view?usp=sharing
Thank you, and hope to see you there!
Date and time
Location
University of San Diego KIPJ Room EF
5998 Alcala Park
San Diego, CA 92110