A Warm & Happy Heart - Live-Streamed Monday Evening Class Series
Attend these classes to strengthen your love & compassion - revolutionize your daily interactions and make progress on the spiritual path.
About this Event
This clsss is being offered as a weekly five-class series via live-stream starting on November 23rd and running through December 21st. Those residing in the Pacific Northwest region of the US (WA, ID, MT & AK; outside this area? Find a Kadampa Center near you) may register, and upon registration will receive a link to enable them to watch and listen by phone, tablet or computer. 
The winter holidays, while beautiful and inspiring, can also be a stressful time of year. Through developing a deep sense love and compassion for ourselves and others, we can solve all our pain and problems. The classes in this series will delve into ways of expressing love and compassion in all the interactions of daily life, and also how to improve these profound minds as an important step on the path to enlightenment. Everyone can develop pure love, free from the strings of attachment and expectations - at the holidays and all year long!
Attend this class series to learn how to:
Develop a loving & caring heart
Free yourself from negative attachment and expectations
Reduce stress and interpersonal friction
Increase patience
Experience spiritual growth
Be happy and content
Register here for the discounted series or simply drop in for any individual live-streamed class ($12 for each individual class, $6 students and seniors 62+).
Class Schedule
November 23 - Gratitude & Love
November 30 - Great Compassion
December 7 - The Supreme Good Heart
December 14 - Meaningful Giving
December 21 - Transforming Difficult Situations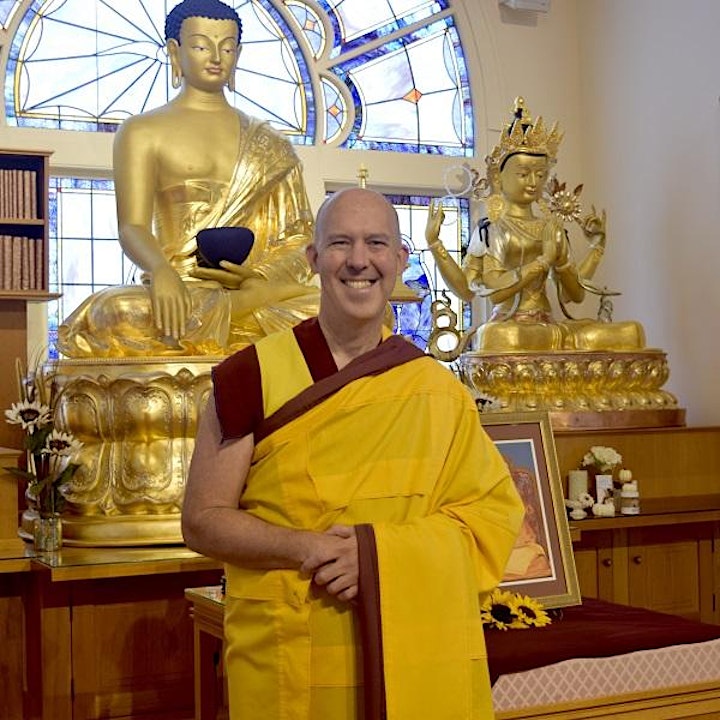 About the Teacher
The Monday Evening Meditation class is taught by Gen Kelsang Rinzin. Gen Rinzin was ordained as a Buddhist monk in 2004 and taught at Heruka Buddhist Center in Fort Collins for 15 years. He began teaching at Kadampa Meditation Center Washington in October 2020. Gen Rinzin communicates his love of Dharma with a down-to-earth approach and humor that helps the listener to appreciate and understand the teachings and put them into practice. His teachings are clear and practical, making them easy to apply to modern life.
Cost
$52 for the series and accompanying benefits described above; $26 for students/seniors 62+. Free for supporters of Kadampa Meditation Center WA.