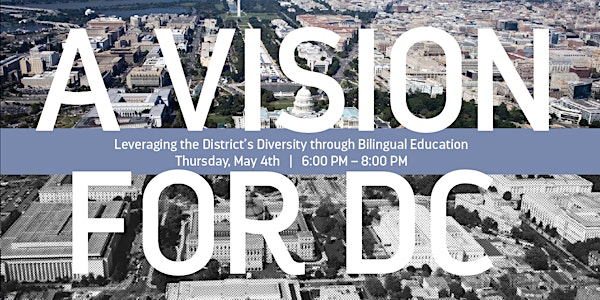 A Vision for DC - Leveraging the District's Diversity Through Bilingual Edu...
Location
Perkins Eastman
One Thomas Circle, Suite 200
Washington, DC 20005
United States
Description
A Vision for DC - Leveraging the District's Diversity through Bilingual Education
Innovative policies and legislation to narrow the achievement gap and prepare DC residents to excel in a global 21st century workplace.
Please join local and national experts for our discussion on what DC
gains by having a multilingual workforce and how we can achieve that
goal.
The District's population and customer base is changing. Together with
New York and Florida, DC is the state with the highest density of
English language learners on the east coast. How can the District take
stock of this demographic shift and leverage the opportunities it
presents? How can education policies and economic development
initiatives benefit DC's residents more equitably?
How can our decision-makers do so while increasing tourism, foreign direct investment and access to markets beyond our borders?
Program
Remarks by DC Public Schools Chancellor Antwan Wilson
Introduction by DC Councilmember Elissa Silverman, Committee on Labor and Workforce Development Chair
Speakers:
His Excellency Martin Dahinden Ambassador of Switzerland to the US
Multiliteracy and its benefits for the Swiss society and economy
Lynn Fulton-Archer, Education Specialist World Language Immersion, Delaware Department of Education Purposeful Preparation of a Globally Competitive Workforce through the Governor's World Language Expansion Initiative
Angelica Infante-Green, Deputy Commissioner, NYS Department of Education Civil rights legislation and expansion of dual language programs to support English learners and nurture immigrant families
Hsi-Ling Liao, Research Associate, New American Economy, The Growing Importance of Foreign Language Skills in the U.S. Job Market - How linguistic competence could increase the desirability of DC's workforce
Q&A moderated by Kavitha Cardoza Education Week/PBS NewsHour Correspondent
Resources:
With the support of:
Light refreshment provided