A Vision Board Party With Cassandra Mack

Saturday, January 13, 2018 from 2:00 PM to 5:00 PM (EST)
Event Details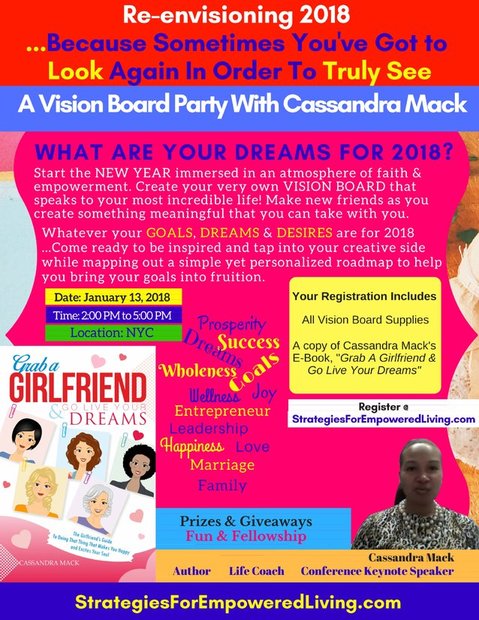 Start The New Year Immersed In An Atmosphere of Support, Encouragement and Positivity. Create your own vision board that speaks to your most heartfelt hopes and dreams. Whatever your GOALS, HOPES & DREAMS are for 2018 come to this VISION BOAD PARTY ready to have fun and fellowship with like-minded women while making something meaningful that you can take with you that will help you keep your dreams in front of you as you strive towards your goals.
Here's What You'll Learn In This Workshop
This workshop will transform your relationship with the most important person in your world… your "Self." In this workshop led by Cassandra Mack you will: 
Learn Bible-Based principles for unlocking the 3 layers of self-confidence so that you can build authentic confidence and revitalize your self-esteem.

Gain clarity around what success really is so that you can seize your success and set goals that are in alignment with your personal journey and purpose. 

Discover 3 kingdom-based breakthrough strategies that will enable you to rise to the level of your season in order to begin to answer the question…. What's Next For Me?
Start speaking life into your goals and dreams and frame your personal world by creating a Vision Board that will help you put your heart's desires in front of you so you can align your thought life, attitude and actions with the things that you want to bring about in your life.

You will leave this workshop

empowered with tools to take action on your goals and dreams.
 Here's What You'll Do In This Workshop
You will participate in powerful, highly-engaging activities designed to help you unlock your true power, tap into more of your potential and move in the direction of one or more of your goals.

You will create your own very own

Vision Board to help you clarify what you really want and keep your DREAMS, GOALS & DESIRES in front of you where you can see your life moving forward.

You will be immersed in an atmosphere of encouragement and edification with other positive, amazing women who are working on their goals and their greatness as they activate their extraordinary lives. 
 What Your Registration Includes
1.  Entry into the workshop.
2. All Vision Board Materials
3.  A copy of Cassandra Mack's E-book, "Grab A Girlfriend & Go Live Your Dreams," delivered to you via email as a Pdf File.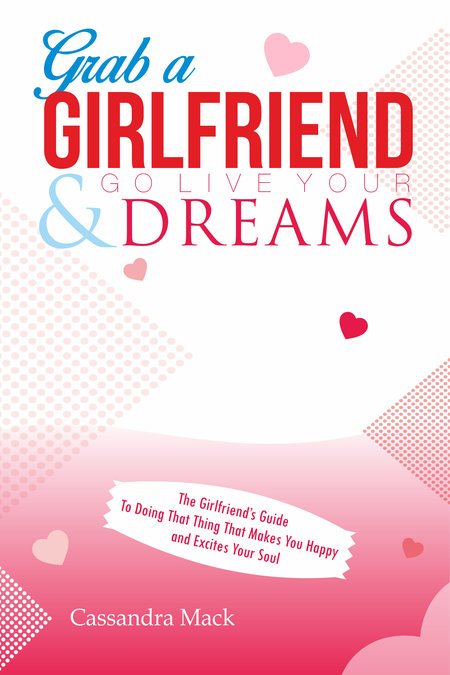 About Your Workshop Presenter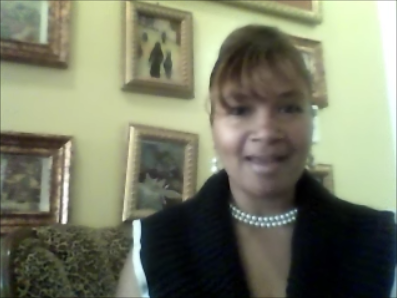 Cassandra Mack, MSW is a success and wellbeing coach, personal growth strategist, corporate trainer, and the author of more than ten highly successful personal development books that are widely utilized in women's programs, the faith-based community and the human services sector. She is the CEO of Strategies for Empowered Living Inc., a training/consulting/coaching company that offers worshops, consultation services and products designed to help individuals and organizations accelerate their success and breakthrough the roadblocks that hold them back. Cassandra is also the founder of Kingdom Keys With Cassandra Mack Ministries a bible-based teaching ministry to help people of faith develop empowerment strategies to seize their success, increase their personal wellbeing and focus on purpose. For more infomation go to: www.KingdomKeysWithCassandraMack.com
Cassandra comes to you with a master's degree in social work and more than a decade of experience as a business owner, training facilitator, manager and  consultant to non profits. Some of the organizations she has worked with include: The Support Center for Nonprofit Management, TIAA-Cref, CSEA, Kean University, Xerox, JP Morgan Chase, National Resource Center for Youth Services, Urban Leadership Institute, The Day Care Council of New York and the Archdiocese Drug Prevention Program. For more information about our company or your seminar leader, please visit our company website: www.strategiesforempoweredliving.com.

 Strategies for Empowered Living Policies
Registration
Advancer egistration is required. No on-site, at-the-door registration. If we do not have you on file as registered and paid for in advance, you will not be permitted into the workshop. No exceptions.
Payment
Payment is due by the stated deadline. There will be no on-site registration so please register early.
Refund Policy
Refunds will not be given. Substitutions are accepted provided you give us 3 business days written notice via email at: info@strategiesforempoweredliving.com. Please write the words, "Workshop Substitution Request" in the subject section of your email. Upon receipt of your request for a substitution we will confirm via email within 1 business day to let you know that we received your request and have put the person you are substituting on our list provided you emailed the request 3 business days in advance of the workshop. If the person's name who you would like to substitute is not on our list and just shows up to the workshop, we will not be able to accept the substitution. If you submit your request after the stated deadline, we will not accept your request. No on site substitutions.
In Workshop Conduct
We expect all registrants/participants to behave in a professional manner. We reserve the right to ask a participant/registrant to leave the workshop without a refund if they do not honor our workshop policies or if their behavior is distracting to the class or workshop presenter.
 Tax Deduction - All expenses related to maintaining or improving professional skills for employment or business are tax deductible according to Treasury Regulation 1.162-5. Please consult your tax adviser.
Save This Event
When & Where

New York, New York ...Location (TBA)
Manhattan, NYC
New York


Saturday, January 13, 2018 from 2:00 PM to 5:00 PM (EST)
Add to my calendar
A Vision Board Party With Cassandra Mack