A Virtual Weekend Festival for The Forgotten Elephants of Odisha
About this Event
Voice for Asian Elephants Society (VFAES) proudly presents a Dazzling Virtual Weekend Festival (November 7 & 8, 2020), packed with enlightenment and entertainment, bringing to you infotainment and hope for the elephants of Odisha. A Virtual Auction site, featuring exquisite items, will be launched on October 24, 2020 at 9:30 AM EST/ 2:30PM GMT.
Day 1 - Nov. 7, A Smorgasbord of Infotainment!
HOSTED BY: The Dynamic Duo, Dan Richardson & Katie Cleary
Our Guest of Honor, Dr. Jane Goodall, DBE, Founder of the Jane Goodall Institute and UN Messenger of Peace, will kick off the event. Access to this part is EXCLUSIVE to the V.I.P - All Inclusive Weekend Festival.
Debut screening of a short film - Treacherous Crossings - filmed in Odisha and produced by VFAES Founder Sangita Iyer, part of a 26-part short docu-series (Nat Geo storytelling award), to be released in early 2021. This will be followed by a Q&A with the Founder of VFAES, Sangita Iyer, EXCLUSIVE SCREENING to the V.I.P - All Inclusive Weekend Festival
An interactive Screening of the multiple award-winning and United Nations nominated documentary, Gods in Shackles, followed by Live panel discussion with: Belinda Wright, Founder, Wildlife Protection Society of India (WPSI); Jane Valez-Mitchell, journalist & activist; Rula Lenska, renowned British actress & model; Dr. Biswajit Mohanty (Wildlife Crime specialist); Sangita Iyer, Producer & Director, Gods in Shackles, Nat Geo Explorer, VFAES Founder, Elephant Conservationist, General Weekend Admission
Day 2: Nov. 8, Elepalooza - A Musical Extravaganza!
HOSTED BY: Sean Hill
A 2-hour concert, featuring Grammy winners, Colin Hay (Men at Work), Tia Carrere (Wayne's World) and a dazzling assortment of recording artists: Lila Rose (fka Aniiml), Cecilia Noel, Victoria Summer, Holly Henderson, Dyan Kane, Lisa Jablow, Dyna Shirasaki, Beth and Steve Wood, Erin Alden, Maureen Mahon, Cush, BlVd HVnny, WONDERboom and more...
Special appearances by Mark Thompson, Lori Alan, Fia Perera and other surprise guests! With special half-time speed painting by the amazing Amy Burkman, to be auctioned off during the concert!
About The Forgotten Elephants of Odisha:
We call this event The Forgotten Elephants of Odisha because they've indeed been forgotten. Most of the attention has been focused on the southern Indian states, as they have the highest concentration of elephants. However, this is the first time the voices of Odisha's elephants are being amplified.
In the elephant range state of Odisha, fragmented forests arduously support an estimated 2,000 wild Asian elephants along with a growing number of people dependent on forest resources. There are approximately 45 million people in Odisha, many living along the forest fringes and corridors that elephants have established over thousands of years. The inevitable encounters with elephants lead to conflict and an alarming number of deaths, as elephants and humans struggle for limited resources.
When the COVID-19 lockdown hit India, millions of migrant workers lost their jobs. These villagers, mostly farmers, traveled to cities for part-time work to supplement the meager earnings during the harvest season. Now, most people are all stuck at home - unemployed and stressed, worried that elephants will destroy whatever is left of their livelihood and crops. And they are taking matters into their own hands.
The increased anxiety and economic pressure resulting from the COVID-19 pandemic has been like tossing a match on tinder, making an already dire situation for the elephants even more perilous. At least one-third of the more than 60 elephants killed in India during the COVID lockdown is from Odisha state - a graveyard for elephants. Most of them have been killed by electrocution, poisoning and poaching for the illicit ivory trade.
Developmental activities such as illegal mining in prime habitats, highly invasive and poorly planned infrastructure, land diversions, and even forest fires add to the friction as they cause irreversible damage to this elephant landscape. Furthermore, rampant poaching by local gangs has a direct impact on the breeding populations of elephants in the region, as they target the bull elephants with tusks.
VFAES has partnered with a grassroots organization - Wildlife Protection Society of India (WPSI) - to bring an end to this insanity. VFAES and WPSI will lead a team of local conservationists to steer knowledge-driven elephant conservation actions in some of the most vulnerable regions of the state. Over the long term, our aim is to secure a future for Odisha's forgotten elephants, by promoting a harmonious and respectful human elephant co-existence.
VFAES will use the funds raised through this event to save 2,000 wild elephants, by hiring the native people to monitor and implement the following strategies:
Prevent electrocution by fixing the sagging wires and removing wire traps
Monitor eight important corridors, out of the 14 identified in Odisha
Protect elephant habitat from forest fires
Fodder planting in the Taal–Kholagarh Elephant Corridor
Awareness and education for school children and key stakeholders
Engage local communities
Monitor and address multiple threats to elephants in key habitats in Dhenkanal, Angul & Keonjhar districts
Despite the unprecedented challenges, Odisha still offers perhaps the best chance of securing a future for Asian elephants in Eastern India.
Watch this short trailer to gain some perspectives about the plight of wild elephants in India. With more than 1.3 BILLION people scrambling for space, they're encroaching into the forests and decimating core elephant habitats. Rampant poaching, reckless mining, development and agriculture are threatening the survival of an already endangered species!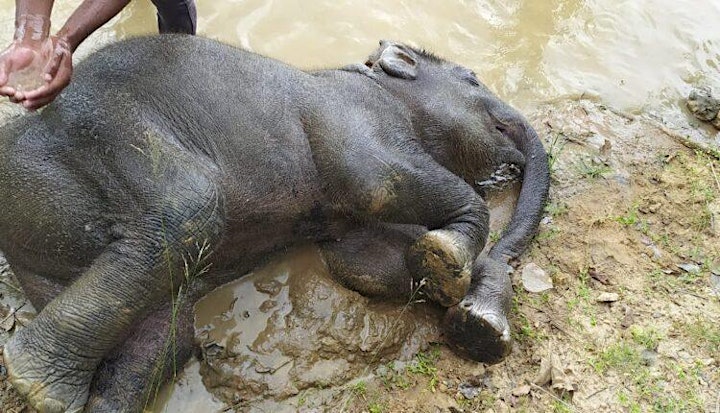 This calf's body was recovered from Rutukepedi forest under Kuanrmunda range in Odisha state in June 2020. The body had injuries on its neck, and is suspected to have fallen into a trap, cast by poachers.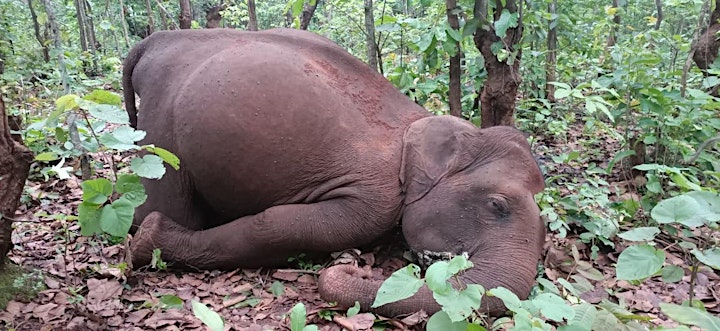 This elephant was found dead in the Joda forest range, inside the Gurubahi forest reserve where people have occupied the land that belongs to the wildlife. Keonjar district in Odisha is notorious for reckless mining! This elephant is suspected to have died of poisoning or electrocution.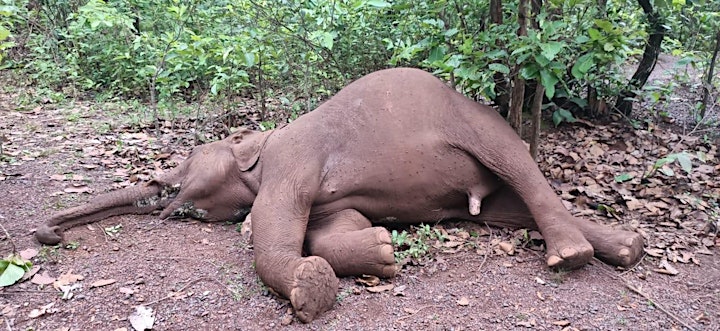 This bull elephant was also found dead in the Joda forest range, inside the Gurubahi forest reserve where people have occupied the land that belongs to the wildlife. He's a victim of the illicit ivory trade. According to media reports, "Both the tusks of this male elephant were missing."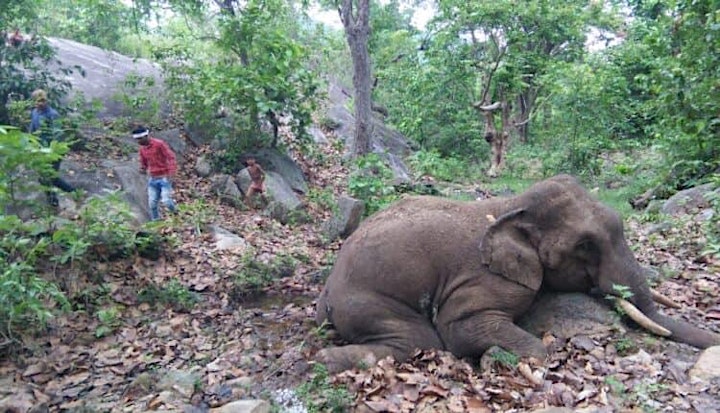 A bullet-ridden body of a male elephant was found in Mundeswara reserve forest in Boudh district, Odisha. The poachers were unable to extract the tusks of the male elephant that is suspected to have been killed, according to eyewitnesses.
Date and Time
Location
Refund Policy