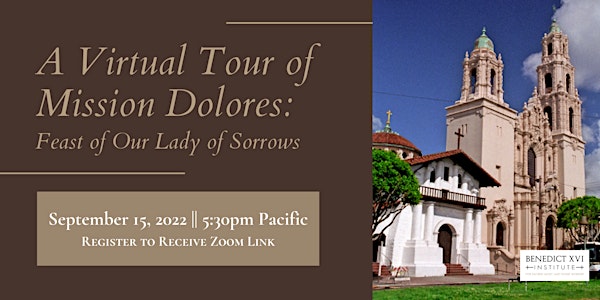 A Virtual Tour of Mission Dolores: Feast of Our Lady of Sorrows
Refund policy
Contact the organizer to request a refund.
Eventbrite's fee is nonrefundable.
Andy Galvan's great great great grandfather is buried in Mission Dolores. He teams up with Amy Guiliano to give you a 3D tour.
About this event
Join us on September 15, the Feast of Our Lady of Sorrows, for an up close and personal 3D tour of Mission Dolores, founded by St. Junipero Serra in 1776. It's proper name is "Mission San Francisco de Asís," and the mission gave its name to a great American city.
It is the oldest surviving structure in San Francisco founded on October 9, 1776, by Padre Francisco Palóu (a companion of Junípero Serra) and co-founder Fray Pedro Benito Cambón, The present mission building was the second structure for the site and was dedicated in 1791.3
As part of our Year for St. Junipero Serra and the American Saints you helped us engage the talented Amy Guiliano to make 3D virtual versions of all 9 mission St. Junipero Serra helped found in California. Now take a tour with Amy's help. But leading the tour will be the Mission Dolores Museum curator Andy Galvan, whose great great great great + grandfather was baptized in the Mission and whose remains are buried in the churchyard. His family has generations of baptisms and wedding and funerals at Mission Dolores. And he is a California Indian.
This will be fun. See ancient history come alive. View the art, hear the stories and admire the technology that makes this possible.
Our first Mission tour! Be a part with us.
Please consider donating to help keep this good work going, but above all come. We want your presence as the first gift!
About Andy Galvan
Andy Galvan is the museum curator for Mission Dolores. tk
About Amy Guiliano
Amy Giuliano, a rYale graduate trained in virtual reality technologies at Yale's Center for Collaborative Arts & Media and credentialed in Art History & Religious Studies at Yale's Institute of Sacred Music & Divinity School, is a founder of VADIS VR, a company whose mission is to digitalize sacred spaces. A dual citizen of the United States and Italy, Amy studied Theology at the Angelicum in Rome for several years where she also worked as an art historical guide. Upon her return to the States, Amy's work as a university lecturer prompted her to seek ways to provide her U.S.-based students with transformative access to historic, religious & artistic sites abroad. She especially wished to open the Catholic Church's rich artistic patrimony to students who may otherwise never explore it. Ever since Amy began creating these virtual tours and using them in her own classroom, she has dedicated her time to building a virtual tour inventory covering sites in Rome, Jerusalem, and beyond. This inventory includes sites from the following periods: Early Christian, Byzantine, Carolingian, Gothic, Renaissance, Baroque, and Modern. It is available to educational and religious groups for didactic and catechetical purposes. VADIS VR also creates tours on commission; see the Cathedral Basilica in Newark, NJ, as a recent example.