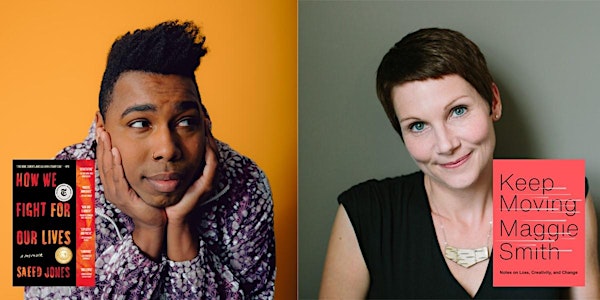 A Virtual Conversation about Resilience: Maggie Smith and Saeed Jones
Two acclaimed and evocative writers discuss facing life's struggles with creativity, courage, and resilience: Maggie Smith and Saeed Jones
About this event
Gramercy Books hosts two acclaimed and evocative writers for a discussion about facing life's challenges with creativity, courage, and resilience. Maggie Smith launches Keep Moving, a deeply poignant book of quotes and essays—inspirational and wise—about new beginnings as opportunities for transformation, written in the wake of her divorce. In a voice both beautiful and powerful, Saeed Jones's How We Fight for Our Lives is a moving and intimate portrait of the writer growing up as a young, gay black man and trying to understand the complex realities of his identity.
Kenyon Review and Ohio State University's Creative Writing Program are Community Partners for this Salon@2424 program. Registrants will receive login information and full instructions close to the event. A general admission ticket to access the event is $5; a ticket that includes Keep Moving waives the admission fee and is $26; a ticket that includes the paperback release of How We Fight for Our Lives also waives admission and is $19.
Like kintsugi, the Japanese art of mending broken ceramics with gold, Keep Moving celebrates the beauty and strength on the other side of loss. Writing like an encouraging friend, Keep Moving is a book for anyone who has gone through a difficult time and is wondering: What comes next? Maggie Smith is the award-winning author of several books of poetry including Good Bones, The Well Speaks of Its Own Poison, Lamp of the Body, The List of Dangers, and Nesting Dolls. A 2011 recipient of a Creative Writing Fellowship from the National Endowment for the Arts, Smith has also received several Individual Excellence Awards from the Ohio Arts Council, two Academy of American Poets Prizes, a Pushcart Prize, and fellowships from the Sustainable Arts Foundation and the Virginia Center for the Creative Arts. She has been widely published, appearing in The New York Times, Tin House, The Gettysburg Review, The Southern Review, and more.
Haunted and haunting, How We Fight for Our Lives is a stunning coming-of-age memoir. Jones tells the story of a young, black, gay man from the South as he fights to carve out a place for himself, within his family, within his country, within his own hopes, desires, and fears. Through a series of vignettes that chart a course across the American landscape, Jones draws readers into his boyhood and adolescence—into tumultuous relationships with his family, into passing flings with lovers, friends, and strangers. Each piece builds into a larger examination of race and queerness, power and vulnerability, love and grief: a portrait of what we all do for one another—and to one another—as we fight to become ourselves. Along with How We Fight for Our Lives, winner of the 2019 Kirkus Prize for Nonfiction, Saeed Jones is the author of the poetry collection Prelude to Bruise, winner of the 2015 PEN/Joyce Osterweil Award for Poetry and the 2015 Stonewall Book Award/Barbara Gittings Literature Award. The poetry collection was also a finalist for the 2015 National Book Critics Circle Award, as well as awards from Lambda Literary and the Publishing Triangle in 2015. Jones lives in Columbus and tweets @TheFerocity.