Description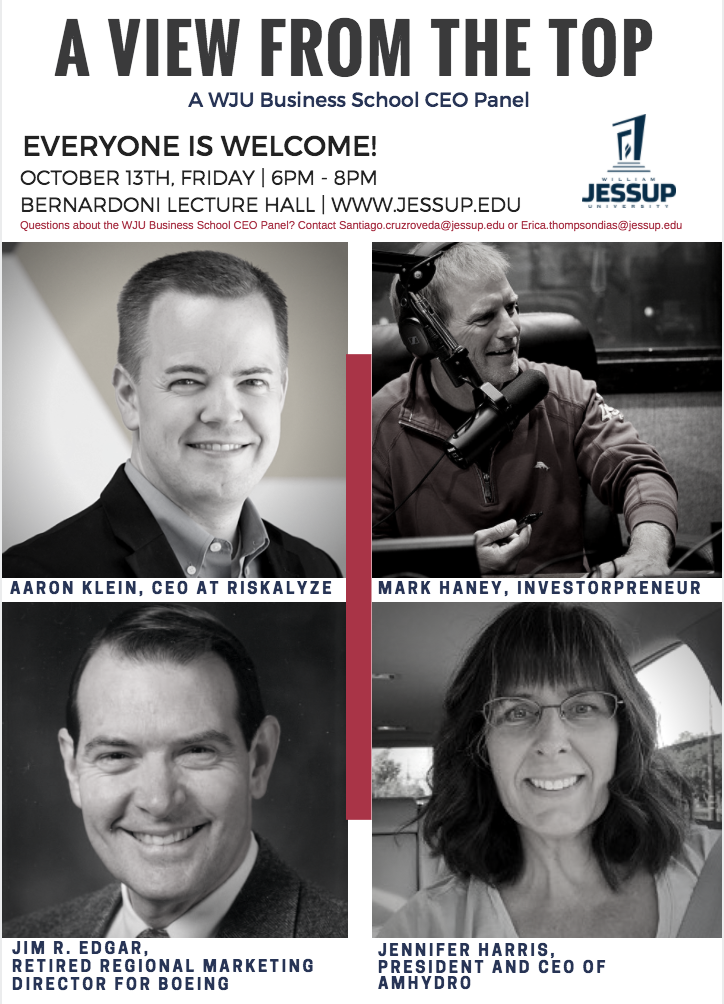 The William Jessup University Business School is proud to present our First Annual "A View From the Top" a CEO Panel. The event will be set up as a panel and everyone from the audience will get a chance to ask questions directly to our speakers after they share their stories. We are looking to help ignite the next generation of business leaders in our community and the region. This event is open to the public.
We will be hosting our First Annual MBA Mixer Event immediately before this event (4-6 pm) on campus as well. For more information and to register for the William Jessup University First Annual MBA Mixer Event go to:
https://william_jessup_university_first_annual_mba_mixer.eventbrite.com/
Panel Speakers (6-8 pm):
Aaron Klein, CEO at Riskalyze
We are proud to present Aaron Klein as our first speaker of the panel. Aaron's career has largely been at the intersection of finance and technology. As co-founder and CEO at Riskalyze, he led the company to twice being named one of the world's top 10 most innovative companies in finance by Fast Company Magazine. Today, over 180 Riskalyzers serve thousands of advisors who have aligned the world's investments with millions of investors' Risk Numbers®. In his spare time, Aaron co-founded a school project for orphans and vulnerable kids in Ethiopia. Investment News has honored him as one of the industry's top 40 Under 40 executives. For more information go to: https://www.riskalyze.com/
Mark Haney, Investropeneur
We are proud to present Mark Haney as our second speaker of the panel. Mr. Haney is passionate about helping dedicated entrepreneurs grow their businesses. Mark is a serial entrepreneur and investor who has built and sold several multi-million dollar companies. In the early nineties, he purchased a video rental store business and grew it to twelve locations. A few years later, Mark, with his brother, acquired a professional video surveillance reseller, which became a surveillance technology company with over $200 million in annual revenue and nearly 300 employees. In 2010, Mark led the merger of the two largest independent security distributors in the US resulting in a company with annual sales of nearly $400 million. Mark's greatest passion is his family - he has been married for 31 years, has two children and three grandchildren. His hobbies include family time, health and fitness, and of course building businesses! For more information go to https://haneybiz.com/
Jim Edgar, Retired Regional Marketing Director for Boeing
We are proud to present Jim Edgar as our third speaker of the panel. Mr. Edgar has been associated with the air transportation industry for 45 years, both commercial and military experience in various passenger and cargo positions are included. Jim attained the rank of Captain in the U.S. Air Force and served on the staffs of two presidents while assigned to 'Air Force One' in Washington D.C. He also managed passenger and cargo terminals in the U.S. and the Middle East. Jim retired from Boeing after more than 30 years and his last position as Regional Director of Cargo Marketing for nearly 25 of the 30 years. He was on the Board of Directors of "International Air Cargo Association" and Chair of its 'Education & Research Committee'. Jim is married with a grown son and daughter as well as two infant grandchildren.
Jennifer Harris, CEO at American Hydroponics
We are proud to present Jennifer Harris as our fourth speaker of the panel. As President & CEO, Jenny has a passion for AmHydro and the role we are playing in changing food production throughout the world. She is a native of Northern California and received her bachelor's degree from Point Loma Nazarene University in San Diego. After graduating from university, she lived and worked in Frankfurt, Germany before returning to California to work in the San Francisco financial district. She has over 25 years of experience working in a variety of industries – from long-established General Electric to Silicon Valley start-ups – resulting in their rapid growth and constant innovation. While at GE Financial Assurance (a division of G.E.), Jenny earned a "Black Belt" in Six Sigma business management strategy. This broad base of experience has given her the ability to bring best practices from many different industries to the newly emerging Controlled Environment Agriculture industry. In addition to the business experience, Jenny is actively involved in the development of new products in our R & D greenhouses. For more information go to https://amhydro.com/
Questions about the MBA Mixer or the CEO Panel?
Contact Santiago.cruzroveda@jessup.edu or Erica.thompsondias@jessup.edu