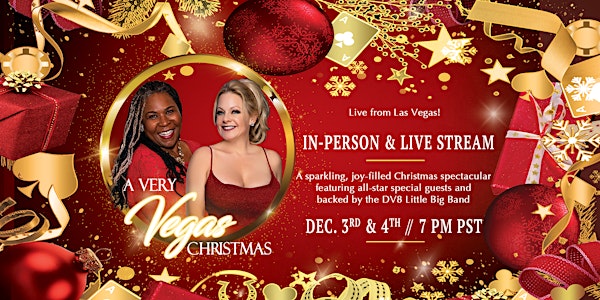 Multiple dates
A Very Vegas Christmas
A Very Vegas Christmas with Amanda King and Kelly Vohnn is a swingin', sparkling, madcap holiday show featuring celebrity guests and more!
By Amanda King and Kelly Vohnn
Date and time
December 3, 2021 · 7pm - December 4, 2021 · 9pm PST
Location
Summerlin Performing Arts Center 1771 Inner Circle #Drive Las Vegas, NV 89134
About this event
Ready for the holiday spectacular of 2021?!
Live In-person and Streaming!
***Scroll down to purchase tickets for the livestream***
A VERY VEGAS CHRISTMAS!
Acclaimed jazz vocalist Amanda King and Las Vegas headliner, Kelly Vohnn, will bring warmth, wonderment, and family-friendly fun to the holidays in their show, "A Very Vegas Christmas", live stream and in-person at the Summerlin Performing Arts Center in Las Vegas, NV at 7 p.m. PT / 10 p.m. ET on Friday, December 3rd and Saturday, December 4th, 2021.
This show is going to be in the grand style of the vintage television Christmas specials we all grew up on...remember the fun variety shows put on by Sinatra, Dean Martin, Andy Williams, Bing Crosby and Julie Andrews? We are very excited to share the stage with a lovely variety of special guests — from singers to comedians! DIFFERENT GUESTS EACH EVENING create a new show each night!
𝗦𝗽𝗲𝗰𝗶𝗮𝗹 𝗚𝘂𝗲𝘀𝘁𝘀 𝗼𝗻 𝗗𝗲𝗰𝗲𝗺𝗯𝗲𝗿 𝟯:
*͙*͙*͙ Jɪᴍᴍʏ Dᴇɴɴɪɴɢ
*͙*͙*͙ Dᴇɴɴɪs Bʟᴀɪʀ
*͙*͙*͙ Aɴᴛʜᴏɴʏ Bʀᴀᴅʏ
*͙*͙*͙ Aɴɴᴇ Mᴀʀᴛɪɴᴇᴢ
𝗦𝗽𝗲𝗰𝗶𝗮𝗹 𝗚𝘂𝗲𝘀𝘁𝘀 𝗼𝗻 𝗗𝗲𝗰𝗲𝗺𝗯𝗲𝗿 𝟰:
*͙*͙*͙ Zᴏᴡɪᴇ Bᴏᴡɪᴇ
*͙*͙*͙ Bʀᴇɴᴛ Bᴀʀʀᴇᴛᴛ
*͙*͙*͙ Lɪsᴀ Gᴀʏ
*͙*͙*͙ Gᴇᴇᴄʜʏ Gᴜʏ
𝐓𝐎𝐘 𝐃𝐑𝐈𝐕𝐄 & 𝐑𝐀𝐅𝐅𝐋𝐄
We're having a Toy Drive & Raffle to benefit 𝐂𝐮𝐫𝐞 𝟒 𝐓𝐡𝐞 𝐊𝐢𝐝𝐬 𝐅𝐨𝐮𝐧𝐝𝐚𝐭𝐢𝐨𝐧 which supports children and families through treatment of cancer and other catastrophic pediatric diseases.
There are 𝟔 𝐥𝐨𝐜𝐚𝐭𝐢𝐨𝐧𝐬 𝐚𝐫𝐨𝐮𝐧𝐝 Las Vegas 𝐰𝐡𝐞𝐫𝐞 𝐩𝐞𝐨𝐩𝐥𝐞 𝐜𝐚𝐧 𝐝𝐫𝐨𝐩 𝐨𝐟𝐟 𝐚 𝐭𝐨𝐲. For those that do, if they scan the QR code on the poster, they will get $5 off their ticket. OR if they bring a toy to the show and buy tickets at the door, they will get $5 off (or a free raffle ticket if they've already purchased their tickets).
A raffle will be drawn on Dec. 4 during the show. 𝗧𝘄𝗼 𝗝𝗮𝗰𝗸 𝗗𝗮𝗻𝗶𝗲𝗹𝘀 𝗟𝗼𝘂𝗻𝗴𝗲 𝗩𝗚𝗞 𝘁𝗶𝗰𝗸𝗲𝘁𝘀, 𝗮𝗻 𝗼𝗿𝗶𝗴𝗶𝗻𝗮𝗹 𝗝𝗶𝗺𝗺𝘆 𝗛𝗼𝗽𝗽𝗲𝗿 𝗽𝗮𝗶𝗻𝘁𝗶𝗻𝗴, 𝗮𝗻𝗱 $𝟲𝟬𝟬𝟬 𝗶𝗻 𝗺𝗼𝗯𝗶𝗹𝗲 𝗱𝗶𝗴𝗶𝘁𝗮𝗹 𝗮𝗱𝘃𝗲𝗿𝘁𝗶𝘀𝗶𝗻𝗴 are the prizes!
ABOUT AMANDA: Hailed by New York Times critic Stephen Holden as one of the nightclub world's "exceptional rising talents," and "an emerging star" by David Wiegand of the San Francisco Chronicle, Amanda's vivacious and captivating performances are throwbacks to the days of Ella Fitzgerald, Rosemary Clooney, and the golden age of classic performers. www.amandaking.com
ABOUT KELLY: Kelly is an award-winning singer who has headlined several Las Vegas shows including "Rockin' Country Christmas" and "Vegas Goes Country". Country Music News reported, "Kelly Vohnn delivers the goods," for her acclaimed show, "The Woman in Me," a tribute performance showcasing four legends of country music: Patsy, Dolly, Reba and Shania. A winner of the prestigious Nashville Entertainer of the Year Award for Indie artists, Kelly is a power-packed entertainer with an amazing vocal gift. She is releasing a Christmas CD in November 2021. www.kellyvohnnofficial.com
THE MUSIC: Musical direction for the show is provided by Patrick Hogan, a triple-crown musician: singer, songwriter, and pianist extraordinaire. Patrick's song stylings for both classic and newly-composed pieces are reminiscent of Michael Feinstein, Harry Connick Jr., and Chet Baker. He's a rising talent you don't want to miss! The DV8 Little Big Band, led by David Vincola, is comprised of some of the hottest musicians in Las Vegas. They may only be 9 pieces, but they make a wonderfully big sound!
Oh we need a little Christmas – right this VERY minute! A Very Vegas Christmas will be a great night of music, family fun and festivity.
Can't make it in-person?
Watch the livestream on Stageit.com!
Click the links below to purchase livestream tickets!
NEW TO STAGEIT? Here's a video on how to buy tickets:
DIFFERENT SPECIAL GUESTS EACH NIGHT create a whole new show!