Celebrate beloved author Eric Carle's birthday with Ms. Linda and Brightly friends plus read-alouds, a cute craft, and more party fun!
About this event
Join Brightly Storytime for a very fun birthday party celebrating Eric Carle, beloved children's book author & illustrator!
This hour-long online event will feature read-alouds of several Carle classics plus a few new books featuring favorite characters, a simple art activity inspired by the illustrator's signature style, and extra-special segments featuring an exciting look at The Eric Carle Museum of Picture Book Art, puppet friends from The Very Hungry Caterpillar Show, and an interactive song and dance from our friends at The Little Gym!
The impact of Eric Carle's bright and brilliant work is felt around the world -- especially in the way his stories and characters intuitively connect with the growing, curious minds of little readers. During this wonderful afternoon on Eric's own birthday, both little ones and lifelong Carle fans will enjoy sharing Eric's beautiful stories and leave inspired to make their own creative looks at the world around them.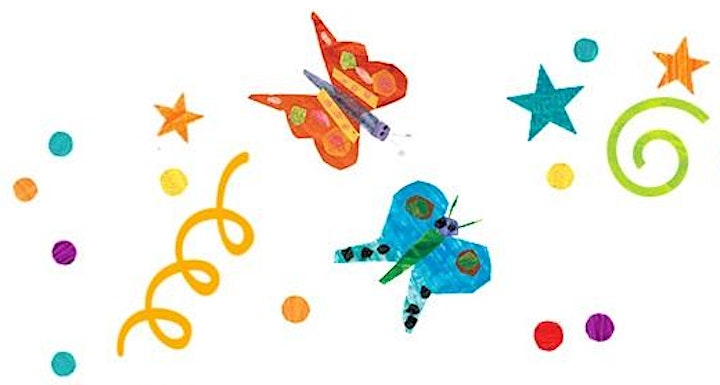 Fun Event Features
Book Read-Alouds
Listen along to live read-alouds of these Eric Carle books, shared by friends and fans of the author and featuring live page-throughs of each book's stunning artwork!
Museum Tour
Join Ms. Linda and a few staff members from The Eric Carle Museum of Picture Book Art in Amherst, MA for an introduction to the heartwarming story behind the museum including Eric's own inspiration in creating the space. Plus, we'll get a look at some of the staff's favorite museum features and behind-the-scenes stories on a few current exhibit artworks!
Interactive Song & Dance
After listening to all our featured stories and creating an art masterpiece, it's time to get up and move! Before we share our art, you'll have the chance to shake things up and celebrate Eric's birthday with a fun song & dance led by our friends from The Little Gym.
Art Activity
Before the event, we'll share a simple supplies list and easy instructions on how to create your own masterpiece inspired by Eric Carle's unmistakable art style. We invite you and your little artists to gather your materials and create as you watch the event. Then, at the end of the event, we'll invite you to volunteer to turn on your cameras and share your art with your fellow readers in a creative showcase honoring Eric!
Can't make the live event? Register anyway to receive a link to a recording after the event.
Check out Brightly Storytime on YouTube to watch past events & more fun storytime videos, and visit us on Brightly for even more reading recommendations!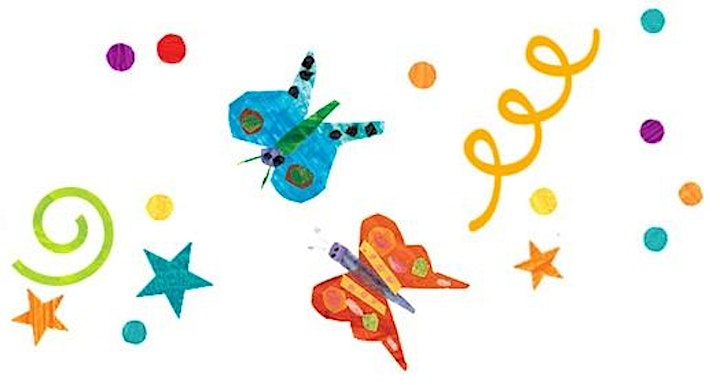 Special Thanks To
Brightly would like to send a big, warm thank you to our friends helping to make this show possible! Be sure to give them a visit and show them love.
The Eric Carle Museum of Picture Book Art
Eric and Barbara Carle founded The Eric Carle Museum of Picture Book Art in Amherst, Massachusetts, in November, 2002. The Carle, as it's known, has more than 8,500 illustrations, representing more than 200 artists and a century of picture books, in its permanent collection. The building has three art galleries, an art studio, a theater, and picture book and scholarly libraries. Bobbie's Meadow is an outdoor space dedicated to the memory of Barbara "Bobbie" Carle. Hundreds of programs a year give visitors the opportunity to view and make art, meet artists and authors, read books, and think carefully about their own important stories. Educational offerings include professional training for educators around the country. Learn more at www.carlemuseum.org!
The Little Gym
The Little Gym is the world's premier enrichment and physical development center for children ages 4 months through 12 years. Programs offer children a Springboard to Life's Adventures by using movement-based learning and imaginative play to help build the confidence and skills needed at each stage of childhood. Learn more at thelittlegym.com!
The Very Hungry Caterpillar Show
The Very Hungry Caterpillar Show by Rockefeller Productions has been dazzling audiences around the globe for over five years, faithfully bringing to the stage Eric Carle's timeless classics. Created by Jonathan Rockefeller, each production of the critically acclaimed show features a menagerie of over 75 magical puppets, including the star of the show – The Very Hungry Caterpillar. Alongside The Very Hungry Caterpillar, every production of the show features three other Eric Carle stories, meaning children and families will experience a different show every time they see it. Learn more at www.hungrycaterpillarshow.com!