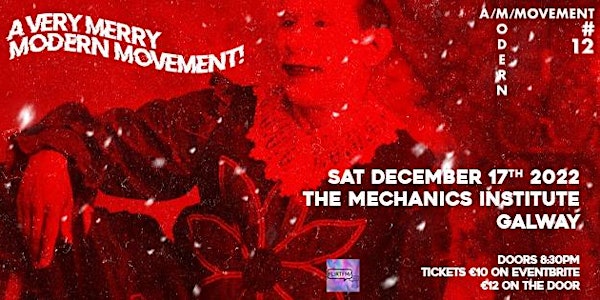 A VERY MERRY MODERN MOVEMENT - CHRISTMAS SPECIAL!!!!
A VERY MERRY MOVEMENT-Our very first Christmas special!!
When and where
Location
Galway Mechanics Institute Middle Street H91 XT6P Galway Ireland
About this event
A VERY MERRY MODERN MOVEMENT... Our very first Christmas Show, and what a better way to see the season in than to sit around with friends and listen to some acoustic tunes, with maybe a sprinkling of Christmas tunes in there as well. We've invited four of our favourite Galway based artists for a night of music in one of our favourite intimate venues.....
DEREK ELLARD
As all good stories begin, this one started with a breakup, Dereks first serious musical project, Set on Black, a post-hardcore band based out of Tipperary town.
Feeling dilapidated and having nothing to keep him in Ireland, he hoped to forge new ground with a fresh start in Barcelona, Spain. Although he continued to write and record on his trusty Tascam 4 track recorder, It just wasn't to be. Derek stumbled back to Ireland after almost 3 years... worse off than when he left but with a book full of songs.
Derek then moved to Galway and found himself surrounded by like minded musicians and artists in a vibrant and engaging environment. Immediately getting to work, Derek began gigging his new songs relentlessly, one hundred gigs in the first year alone, somehow finding the time record and release an EP entitled 'Candour' to critical acclaim.
It was here that Derek became infatuated with all things production and would later release another song called 'To each their own'. This was to be his creative tipping point. Growing weary of his previous releases, decision had to be made. The tumultuous artistic development of Derek had not run its course just yet
For people who like artists such as Band of horses, Frightened rabbit, Frank Turner, grizzly bear, Ben Howard and TTNG. Describing himself as an Indie folk rock artist, two years ago, Derek decided to remove all his previous musical releases from all platforms. A decision not taken lightly, feeling he had developed beyond their sound.
Derek has been lucky enough to support the likes of Gavin James, Admiral Fallow, Wallis Bird, The Riptide Movement and The Unthanks.
EOIN DOLAN
Eoin Dolan is a songwriter and producer from Galway, a seaside town on the west coast of Ireland. His music combines sublime and sometimes heartbreaking melody with lush instrumentation and a classic songwriting finesse to create a vintage psychedelic pop sound.
"Airy voice and effortless melodies form a fine transatlantic conductor for West Coast pop warmth" 🌟🌟🌟🌟
MOJO
"Makes eerily majestic psych-pop imbued with incredible individuality, matching Syd Barrett's cracked style against Brian Wilson's pristine pop."
Clash Magazine
EOIN DOLAN - THE BLACK GATE SESSIONS.
JACK LEE
Jack Lee and his brother Sam first discovered the value of harmony at a very young age, singing Paul Simon songs and Colgate jingles on a back yard swing. From then they were hooked and dove deeper into Simon & Garfunkel, The Everly Brothers and any good example of harmony they could get their hands on. This set the foundation for all of Jack's original writing, giving his music a very obvious focus on melody and emotion.
"Lee writes songs that stay in your head for days after you hear them. The folk/pop singer songwriter blends intricate acoustic guitar with powerful, infectious vocal hooks"
- Connacht Tribune
JACK LEE - THE BOOLEY SESSIONS.
SMYTHY
smythy is the stage name of Indie Pop Artist Andrew Smyth. Hailing from Tipperary and currently based in Dublin, smythy is looking to break into the Irish music scene with his uniquely pop inspired indie sound.
Having been involved with various musical projects over his 26 years Andrew Smyth has found the solo project of smythy to be the perfect environment to allow him to thrive musically.
Taking inspiration from artists such as Dayglow, Real Estate, Hers and Mac Demarco smythy crafts tunes that have a lo-fi indie feel bursting at the seams with catchy pop melodies that will have listeners singing along and eager to hear more.
smythy spent 2022 in Galway writing new material and perfecting his sound both live and in studio. In December of 2021 the Galway based musician began the recording process for a project that was released September 2022. Working alongside acclaimed producer and musician Rory Ryan smythy has created three tracks which combine pop melodies with synth rock elements.
smythy is currently working towards releasing his debut EP in 2023 and is eager for the world to hear the new sound he and his band are developing.